There's a new AR company in town called APF Armory. This Minnesota-based company has at its core a love of the AR platform and Midwestern values. I had the chance to meet company reps and their guns at the 2022 Lucid Optics Ballistic Summit at NRA Whittington Center in New Mexico, and found out they're building rifles that make the company a one-stop shop for a gun that's exactly what the hunter, competitor, or defensive shooter wants.
APF has nine lines of AR-based firearms, in addition to selling steel and carbon fiber barrels, muzzle devices, and other components. Custom colors are also a specialty; the company does in-house Cerakote treatments. That's cool, but admittedly not so unusual among gun shops. What makes APF products special is caliber options. They've perfected the adaptation of the Stoner design for chamberings normally considered hunting-specific. APF organizes its full-gun products into 12 categories. They are:
MLR – This category sports 22-inch barrels and chamberings suitable for long-range and big game. Included are 26, 28, 30, and 33 Nosler, 7mm Remington Magnum, and 300 Winchester Magnum. They have a generous 15.5 inches of MLOK around the forend, nitride-coated bolt carrier group, and muzzle brake, and .936 gas block. MLRs ship with a five-round magazine. $2,999.99.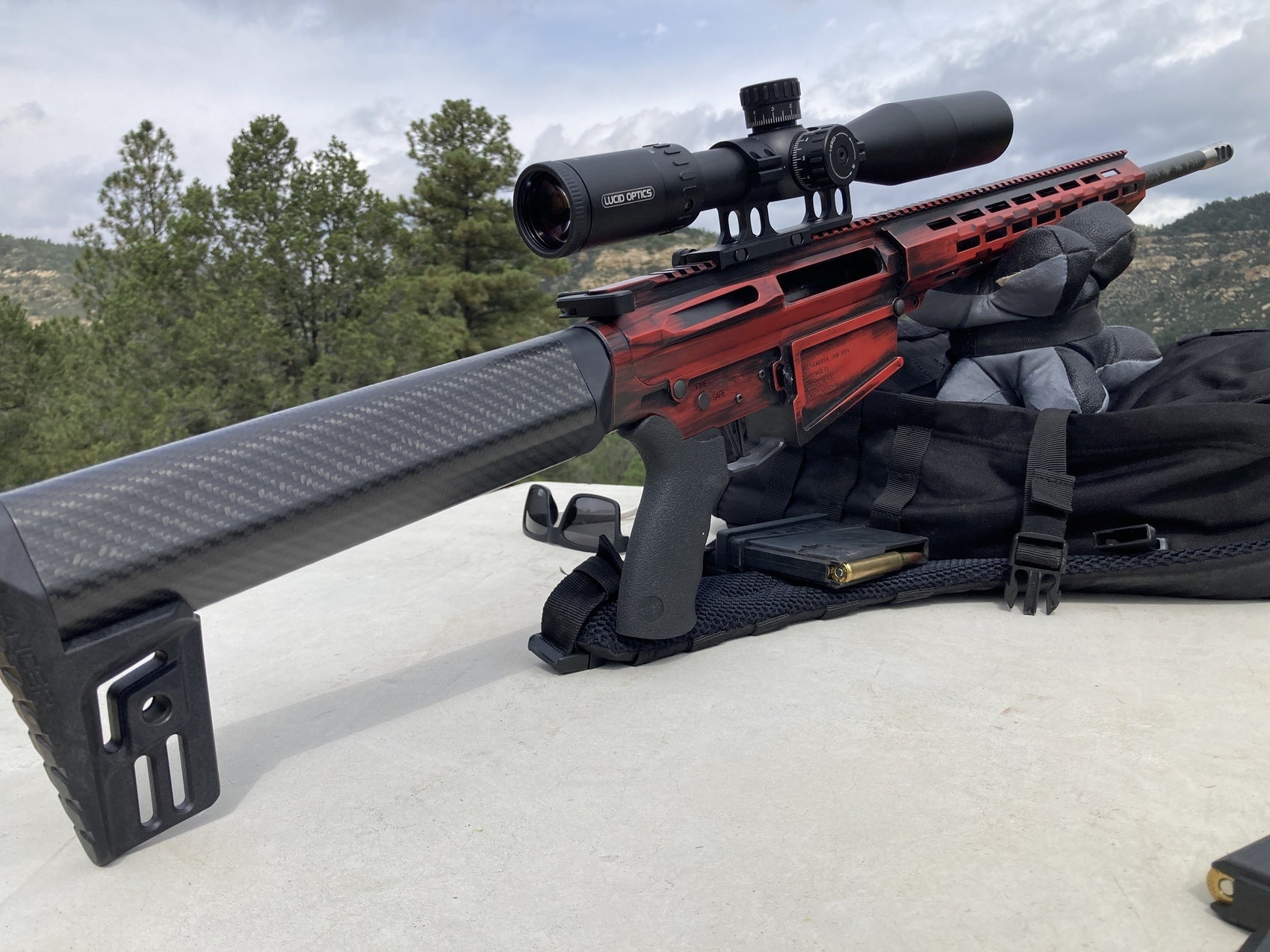 Carbine – This line features a standard 16-inch barrel, full-length Picatinny rail, and Magpul MOE six-position stock. Chamberings include 5.56 NATO, 40 S&W, 9mm, and 450 Bushmaster. Rifle calibers feature an adjustable gas block. $1,124.99-$1,499.99 depending on caliber
3 Gun Gen II – Chambered in 223 Wylde, this competition rifle has anodized finish, a .750 adjustable gas block, skeletonized flatblade trigger, and Mission First Tactical stock. $1,599.99, or just the upper for $974.99.
DMR – Here is where to choose a favorite caliber for an enjoyable big game hunt or target session. With a nickel boron-coated BCG, these rifles should run smoothly in any weather. The Magpul ACS six-position stock and a variety of color treatments on the tactical/natural palette will make this rifle blend in during the day, while the full-length rail and 15.5 inches of MLOK allow lots of room for accessories. Chamberings include 223 Wylde, 22 Nosler, 6.5 Grendel, 224 Valkyrie, and 308 Winchester. $1,599.99-$1,649.99
Varmint As the name implies, this is a series of medium-size chamberings for small to medium game. 20- or 22-inch stainless steel barrels and a Luth-AR brand MBA-2 stock, hefty weight, and field-friendly Cerakote choices enhance accuracy and make the Varmint rifle stand out among others in the ATV or truck. Offered in 204 Ruger, 223 Wylde, 22 Nosler, 22-250 Remington, and 243 Winchester at $1,414.99 to $1,669.00
Target – Get your platform game on with this series, featuring 22- or 24-inch Shaw barrels with full-length Picatinny rail on top, CMC Flatblade triggers, and Magpul's bench-friendly PRS stock. The target model is heavy, at 9.6-11.6 pounds. Chamberings include 223 Wylde, 204 Ruger, 22-250, 243 Remington, 6.5 Creedmoor, and 308 Winchester. $1,799.99 to $1,999.99
9mm Competition – This pistol caliber carbine is ready for action as a comp gun, with a Mission First Tactical stock and skeletonized CMC Flatblade trigger. A full-length M-LOK handguard with rail keeps the heat away while the muzzle brake tops off the aggressive look. This 6.8-pound shooter has black anodized finish. $1,174.99
Hunter – This rifle will take on a large or medium game, with an 18-inch barrel in 308 Winchester or 450 Bushmaster, or the 22-inch, 6.5 Creedmoor model. The Hunter offers lots of MLOK/rail space for accessories and has a Luth-AR MBA2 buttstock. Lots of colors to blend in with virtually any hunting environment are available. $1,414.99 to $1,539.99
Pistols – It's not every day one encounters a 5.56 billet pistol with takedown features to make a braced pistol even more portable, but AFP has it for $1,695.95. Also choose from standard AR pistol models in 5.56 NATO, 300 Blackout, 308 Winchester, 350 Legend, or 450 Bushmaster in rifle calibers. If handgun chamberings are more your thing, APF offers them in 40 S&W and 9mm. Barrel lengths range from 10.5 to 14.5. Metal is finished in nitride for rifle calibers or phosphate for handgun calibers. All have a single-stage milspec trigger. Prices range from $1,099.99 to $1,695.99, or just buy a pistol upper for a handy caliber change.
Alpha – The bread-and-butter entry level AR from APF. These gas guns have a 16-inch barrel and all that's needed to start on an AR journey or upgrade to a better upper. Offered in 223 Wylde and 308 Winchester, these rifles are even offered with an optional red dot optic. Flattop Pic rail/M-LOK furniture and no fixed irons allow the new shooter or school to appoint the Alpha according to preference. $749.99 to $1,074.99
Slim – Like the Alpha, but among AFP's lightest guns at 5.9 pounds. This basic 5.56 NATO AR still has 15.5 inches of M-LOK. The 1:9 twist, 16-inch barrel should deliver satisfaction for anyone looking for a good basic AR. $799.95
Elite – This is the emerging, new line of rifles with the upper and lower machined from the same block of aluminum billed, with matching numbers. They feature flared magazine wells and Proof carbon fiber barrels.
In addition to these full rifles, APF has alternate-caliber uppers for most, sells grade 5 titanium suppressors to fit rimfire and centerfire guns, and other components like stripped lowers and muzzle brakes, and a wide selection of barrels.
At the Lucid Optics Ballistic Summit, we got to test several APF wars on Whittington's scenic short and long ranges. During two full days of steady shooting by a dozen or so industry folks including other manufacturers, professional shooter/influencer types, and gun media specialists, it became clear that these rifles are well-made and ready for action in whatever field the buyer chooses. While civilian use of APF products is hard to measure, their eager adoption by more than 100 law enforcement agencies to date to the quality and reliability of these rifles.
If you've always wanted to "build" an AR but don't have time or expertise to perform that task at your own bench, APF stands ready to create a rifle, carbine, or pistol to your exact specs, and they encourage consumers to contact them directly to discuss their needs. Though the company has grown to serve many distribution outlets, they remain interested in serving and educating individual customers, too.