The Side by Sides (SXS) is quite unique and still a relatively new concept in the Powersports business. While the first true Side by Side can trace its origins back to the 1970s, the trend really didn't take off until more recently in the 21st century. Before side-by-side vehicles were common most farm/ranch crews, hunting parties, and maintenance departments were content with just using standard vehicles like jeeps, or small cars to get their work done throughout the day. The introduction of side-by-sides allowed users to get to places previously inaccessible to large off-road vehicles and work trucks but still allowed them to carry enough gear to get their chosen task done. In an effort to shore up the list of offerings in this particular class of vehicles, Honda recently announced the introduction of the new Pioneer 1000-6 Deluxe crew featuring many of the same great features from the original Pioneer 1000, but adding more crew space, and a load of subtle new features to compliment the original Pioneer's already impressive technical specifications. Honda Power sports recently invited me out to a media event in Montana to test out the new Pioneer 1000-6 Delux crew and today I'll give you an overview of my experiences with the SXS and the trip overall.
More Powersports Articles on AllOutdoor.com:
AO Review: The New Honda Pioneer 1000-6 Deluxe Crew SXS
So what's new with the Pioneer 1000-6 Deluxe Crew? The first and most notable difference between this version and the original released in 2016 is its "best in class" second-row seating that has been added. I and a fellow writer from OutdoorHub.com both had ample the opportunity to try out the new seating arrangements as well as test out the entire suite of stock and aftermarket features that are available on the Deluxe Crew. For the driving portion of the event, we were treated to a guided course around Bull Run Ranch in Cascade Montana. The course we drove around is not only packed with small trails having us drive up over 3,500-ft in elevation, but also motoring around the home of hundreds of Wagyu cattle.
Before we started our journey we were given a chance to take a closer look at the Pioneer 1000-6 Deluxe Crew and its features. The Deluxe Crew comes standard with a lot of neat features including a 12V bed-mounted power supply, Honda's renowned Dual Clutch Transmission (DTC), updated valve timing & throttle-body plate settings, an increased diameter cooling fan, and an increase of towing capacity up to 2,500lbs. However, one of the greatest features in my opinion is its new Tow/Haul mode which allows the user to instantly tell the onboard computer to keep the Pioneer in lower gears to provide better climbing, acceleration, and power during tough hill climbs or with heavy loads.
Honda also is offering a whole load of aftermarket accessories including Bluetooth enabled stereo system, dome lights, hard roofs (all of the models we tested came equipped with the roof), heaters, waterproof wind panels, steel front bumpers, and even a powered subwoofer for those who like to play just as hard as they work. Before any accessories have been added, Honda is listing the Pioneer 1000-6 Deluxe Crew for an MSRP of $21,899 without any accessories. My fellow writer from OutdoorHub and I selected the base model as our ride and after a quick safety briefing by the Honda employees, we hit the trails on the mountains of the Bull Run Ranch.
Driving Experience
The Pioneer 1000 has a ton of power at its disposal no matter how much you want to use it. On the initial drive up into the mountains, we rode along a winding path with plenty of turns and decently packed dirt that wove its way through the hills where the cows grazed. On this portion of the ride, I was pleased to get a good feel for its return to center-assisted power steering which was a huge bonus over a standard steering system. The steering features allowed our party to remain on course at higher speeds without needing to fight side by side for steering control. Meanwhile, the raw power and smartly programmed shift points kept the acceleration through the hills smooth and even automatically applied engine braking for steep hills meaning the brakes are saved from constant use.
The new Tow/Haul mode made for some really good hill climbing and allowed us to keep up with the convoy of Pioneers that was tearing through the mountainside even if we lagged behind a little bit. The Pioneer is supposed to have a top speed of about 60mph but the fastest we ever made it up to on our trip was about 35mph and the great auto-adjusting suspension made every second of the trip a smooth ride, even though some of the bumpier parts of the journey. In manual transmission mode, using the shifter paddles was a pleasant experience and the Dual Clutch Transmission really puts its work in when shifting gears or coming in and out of forward/reverse.
While we didn't bring a ton of gear with us, the bed is still a standard size for most SXS vehicles and features an integrated dump bed with cleverly hidden levers that are behind the last row of seating. With 6 people in the vehicle, there was still plenty of shoulder room in the back but the front might be considered a little cramped if you're packing 3 large guys in there. I think optimally this is a 5-crew vehicle and only a 6-crew in a pinch if everyone is friendly with one another.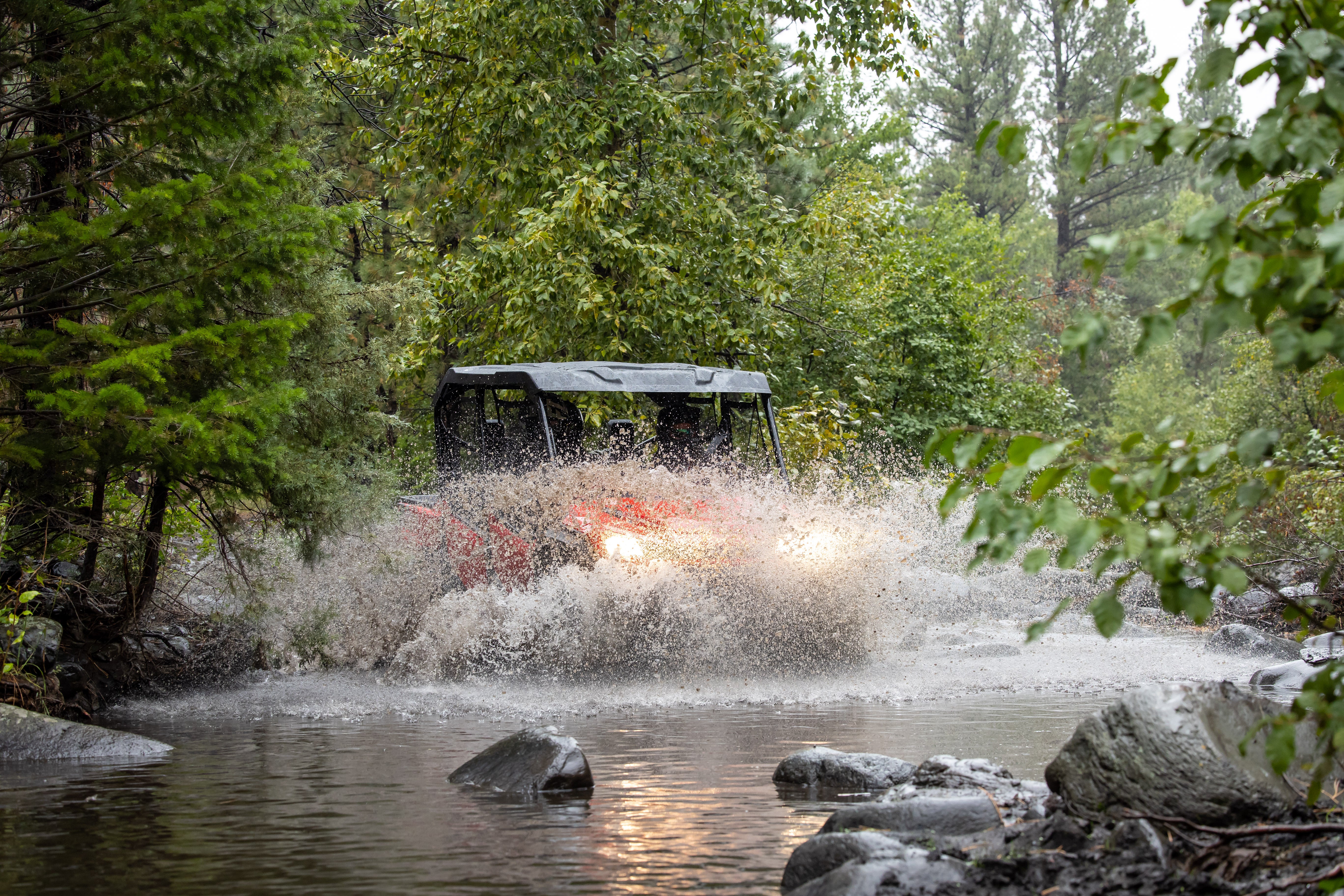 Final Thoughts
The end of our journey terminated at the Missouri river where we were treated to a world-renowned drift boat fly fishing experience. I caught several fish as did the rest of our party and it really capped off the entire experience by showing that the Pioneer 1000-6 Deluxe Crew can really do it all. Side-by-side vehicles are incredibly indispensable for those who are farmers, ranchers, or work with a small crew on large plots of land and need to frequently travel to locations on their property that regular vehicles would be appropriate for. The utility of this vehicle means that Honda has heard the cry of nearly 25% of their entire Powersports market and is giving them a vehicle that they can work, hunt, and play in without needing to purchase several different vehicles.
Another final note has to do with the immense storage capacity that the Pioneer 1000-6 now has. Both the front and rear seats feature a generous amount of storage space under the seats and Honda even has dedicated storage bags for those locations for people who like to keep their gear handy and neat in their working or hunting vehicle. I want to extend a personal thanks once again to the folks from Honda Powersports for inviting us out to the event and for treating us to an experience that allowed us to really test out what their new SXS is really capable of!