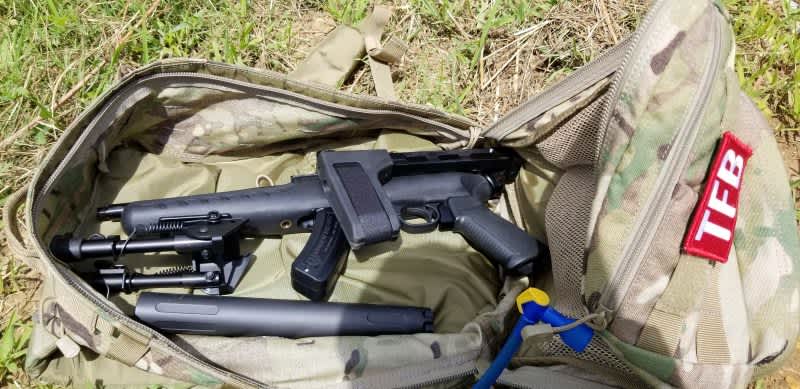 +
–
Table of Contents

1. Glock 29SF 10mm
SALE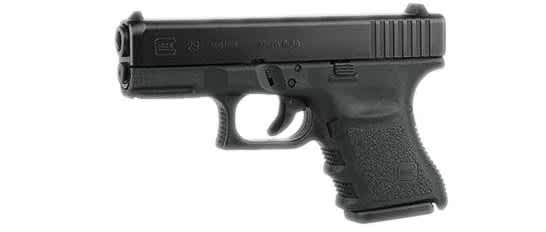 The Author's Pick
The venerable Glock 29SF is a compact pistol that packs a punch if you're concerned about concealability on the trail but don't want to sacrifice power. Chambered in 10mm, the Glock 29SF has a standard magazine capacity of 10-rounds and you'll typically find ammunition ranging from standard ball ammunition all the way up to hollow points optimized for self-defense against smaller targets, or hard-cast ammunition which penetrates deep and can be used to a significant effect against bears if push comes to shove. If you're looking for a super reliable and hard-hitting pistol, check out the Glock 29SF. If the Glock 29 is too small for your tastes, you can upgrade to the Glock 20SF in 10mm as for a larger frame and sight radius if concealment isn't a concern for you.
Pro/Access to deep penetrating ammunition good for bear defense and anything smaller. Decent magazine capacity.
Cons/Stout recoil and a smaller, lightweight frame.
Bottom Line/A no-nonsense pistol that can cover all your needs if you can handle the recoil.
2. FkBrno PSD
SALE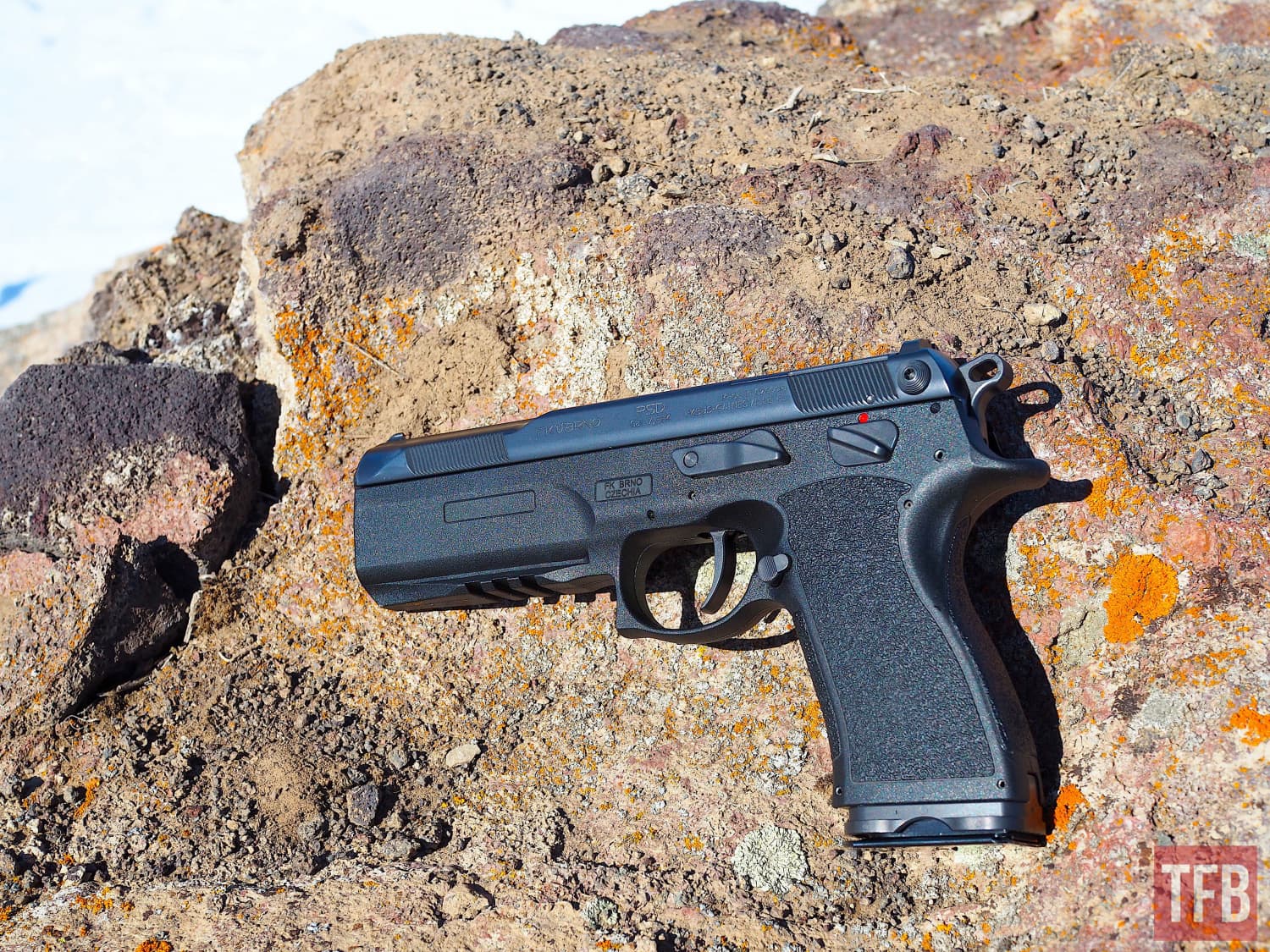 The Editors Pick
Rusty's pick for the best trail gun is the hot FkBrno PDS pistol chambered in the 7.5 FK cartridge. This spicy hot load travels at a whopping 2000 feet per second delivering a roughly 100-grain projectile to its target with authority. To quote rusty "Basically an AK in a hip holster." If you're interested in learning more about our Editor's pick this week, you should check out his full review of the FkBRNO PSD pistol here.
Pro/Longer sight radius, super powerful 7.5fk Cartridge, changeable barrels so can also use powerful 10mm cartridge with the full benefit of a 6″ barrel.
Cons/Fairly large, Expensive and rare ammunition.
Bottom Line/A great multi-tool with a generous sight radius and optics capability
3. Glock 33 .357 SIG
SALE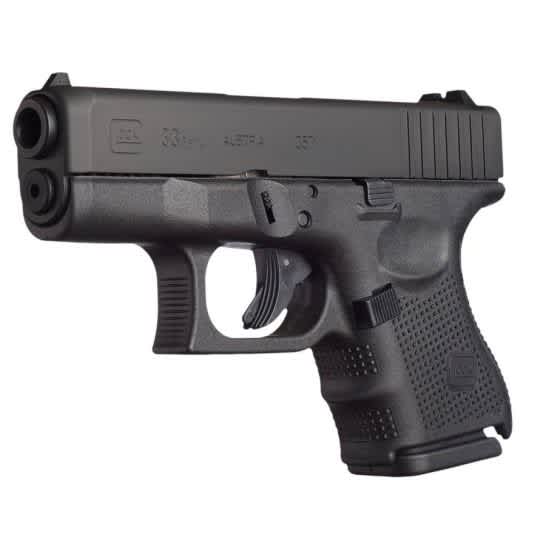 The GLOCK 33 Gen4 offers convincing concealment capabilities, but with the formidable performance of the 357 SIG round. Meet the accurate, powerful, and snappy G33 Gen4 with its ergonomic external controls and grip options. 357 SIG and 10mm Auto share very similar characteristics but with the Glock 33, you're sacrificing one single round of capacity for a slightly smaller and more compact handgun. The huge downside here is that ammunition is ridiculously hard to find and you often don't find 357 SIG with hard cast bullets.
Pro/Powerful round in a compact pistol – affordable to start with.
Cons/Ammunition is expensive
Bottom Line/A good all around handgun for self-defense purposes.
4. Ruger 10/22 Charger Takedown
SALE
The venerated Ruger 10/22 has been in existence for well over half a decade and any gun owner out there is sure to know its ins and outs. The charger takedown model is an ultra-compact pistol version of the 10/22 carbine that can also be fitted with a specialized chassis to allow pistol braces or stocks to be attached after the proper paperwork has been filled out and filed. This makes for an extremely compact and potentially higher capacity option for those who like to source their food in the wild and can be used to hunt coyotes, squirrels, rabbits, and other small game animals that either pose a threat or are valuable to you in you some useful way.
Pro/A handy and somewhat modular semi-automatic rimfire gun.
Cons/22LR is quite limited on its stopping power and terminal performance
Bottom Line/If youre more focused on hunting or collecting pelts on your hike, this is a great compact option
5. KelTec P50 – 5.7×28
SALE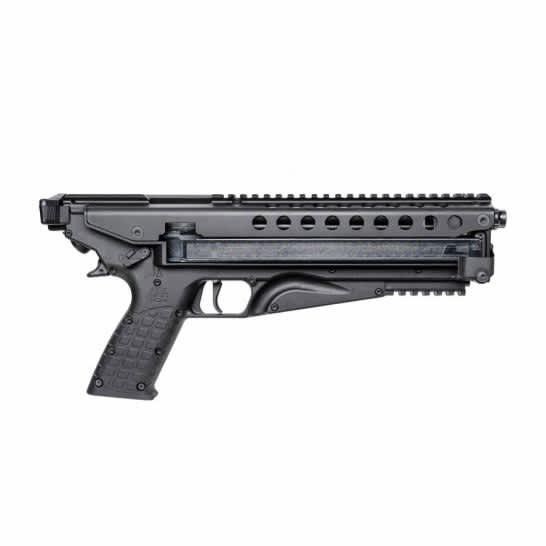 Although relatively new, the KelTec P50 is an extremely compact and affordable option that boats the same 50-round capacity as the FN P90. The P50 can be fitted with compact optics and a stabilizing brace right from the factory and the 5.7x28mm cartridge gives you access to targets much further away for much easier shots beyond smelling distance. It doesn't come with a white Ferrari and salmon blazer, however, it does come with some other amazing features including two 50-round magazines from Palmetto State Armory.
Pro/50-round magazines, spicy flat shooting cartridge, supressor, optic, and brace ready.
Cons/Fairly wide
Bottom Line/Small enough to pack away in a backpack, large enough to be shot with great accuracy
6. Springfield Emissary 1911
SALE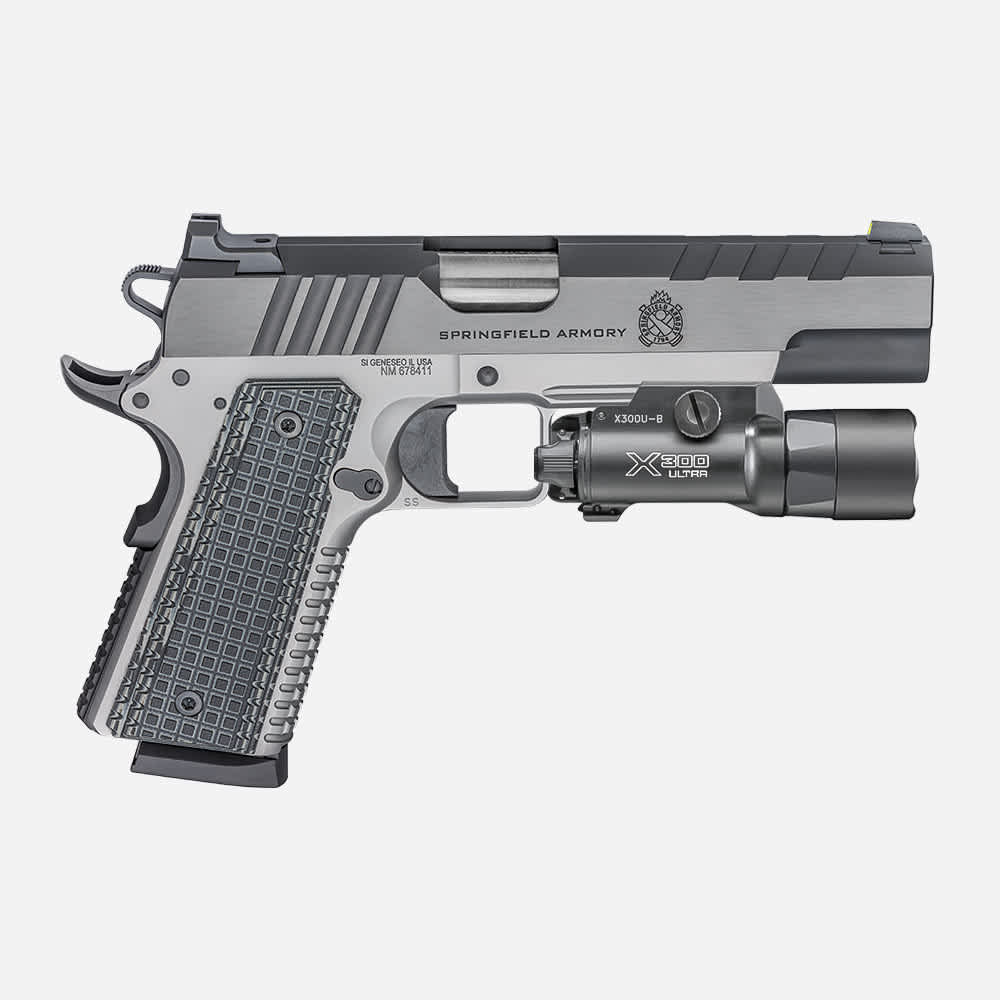 Combining compact dimensions with qualities inspired by custom-grade 1911 pistols, the Emissary 4.25″ in .45 ACP is ready for everyday carry. Its Tri-Top slide features light-diffusing 40 line-per-inch serrations along the sighting plane, and a heavy-profile forged stainless steel bull barrel ensures maximum accuracy. With a forged hot salt blued slide and forged stainless steel frame with squared trigger guard and grenade-pattern checkering, you get a pistol ready for display or defense.
Pro/Powerful cartridge with access to a wide variety of bullet styles.
Cons/Slow round with a significant amount of drop at moderate distances
Bottom Line/Great, classic choice for those who know and love their 1911s
Is it leagal to carry guns in State or National Parks?
On federal lands administered by the National Park Service (NPS) and the US Forest Service (USFS), possession of a firearm must be in compliance with the law of the state in which the federal land is located. Before you decide to start packing, its a good idea to check the local laws and regulations for your park as it pertains to not only differents law, but other hiking and camping details like open pit fires and local harvesting of wildlife.
What type of ammunition is best for bear defense?
Bears have pretty tough skin and therefore you need a fast round that has a very dense bullet to get through all of that skin, fat, and muscle. Bears can shrug off smaller or less hard hitting calibers if they are angry enough and not all bears will run away at the sound of a gunshot. That is why many people who hunt bears or carry a pistol for protection against bear will opt to use either hard cast bullets, or bullets that are optimized for deep penetration such as the Lehigh Defense Xtreme Penetrator bullets.
Is it legal to activley hunt while hiking?
Hunting for the most part is not allowed in United States National Paks and Forests (as well as other federally owned land with some rare exceptions). However, places like the Appalachian trail and Beaureau of Land Management property is publicly accessible, and also legal to hunt on. Recent legeislation has allowed hunters to openly carry differents through national parks with the correct permits but Park rangers will often discourage you from doing so for varioius reasons. It's best to check with your local national park website for the most up to date rules but that being said, it isn't strictly phrohibited if that is where you want to go hunting.
We are committed to finding, researching, and recommending the best products. We earn commissions from purchases you make using the retail links in our product reviews. Learn more about how this works.