+
–
Table of Contents

1. Aimpoint T2 Micro Red Dot
SALE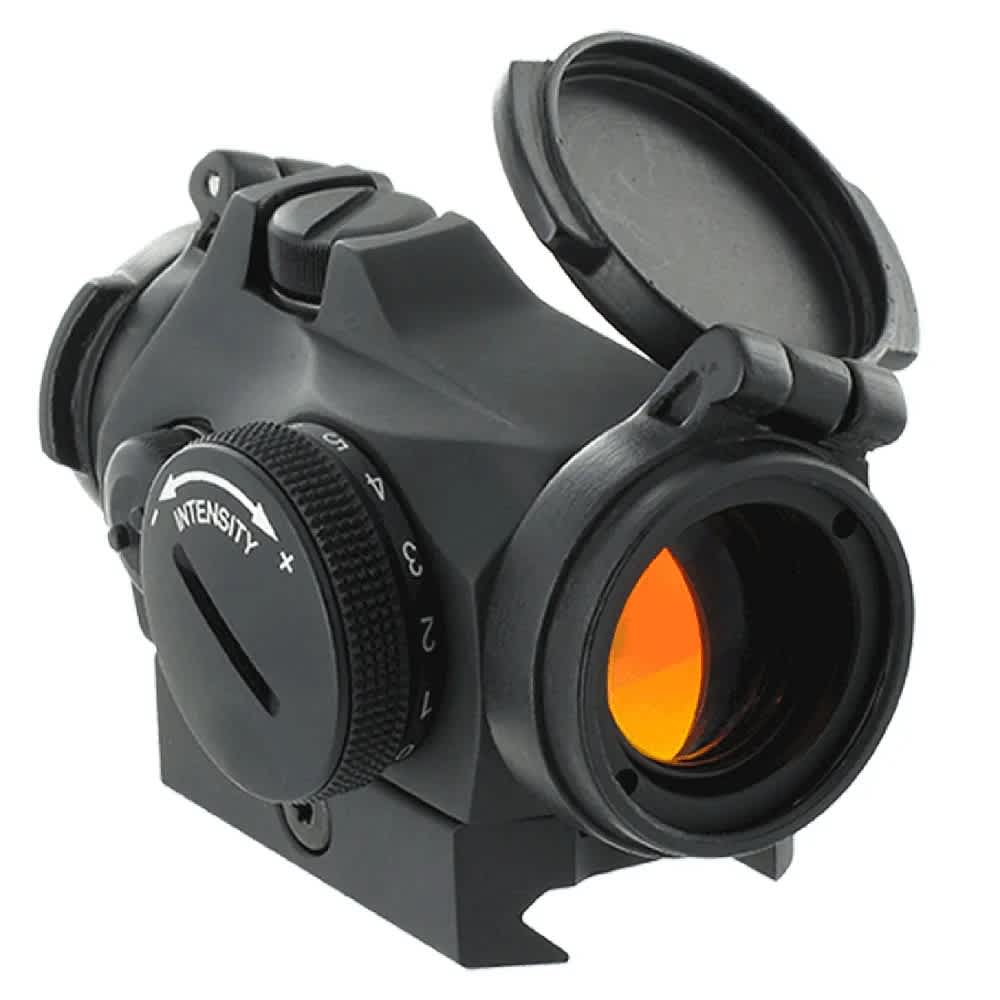 The Editor's and Author's Pick
The Aimpont Micro T-2 is the perfect red dot sight for any gun on any mission and has been redesigned to be even more rugged and clear than its predecessor. It provides a light weight and incredibly fast aiming point that will work with or without night vision and with new lens coatings it has unparalleled clarity. It will run for an incredible 50,000 hours on a CR2032 battery with 8 different daylight power intensities and 4 night vision settings. These qualities make the Aimpoint T2 Micro both the editor's and author's picks.
Pro/Extremely durable with an impreceptable refresh rate making for great night time or night vision shooting
Cons/Very expensive
Bottom Line/A buy once cry once optic that is good to go right out of the box
2. Crimson Trace HRO (Heavy Recoil Optic)
SALE
This week's bonus!
This optic isn't out yet but I got to take a good look at it during SHOT Show 2022 and this is one for all the big bore boys out there. The HRO (Heavy Recoil Optic) is the next generation of quick acquisition tactical reflex sights. Packed with best-in-class features like CT Motion "shake-to-wake" sensor and integrated Pic Rail mount, the HRO™ looks good and performs even better. Features a 50,000-hour battery life, and a 2MOA dot for precise shooting.
Pro/High durablity designed specifically for heavy recoil guns
Cons/It's not out yet (but is't coming soon as of April 2022)
Bottom Line/A beefy optic worthy of your beefiest boar hunting guns
3. Holosun HS503CU
SALE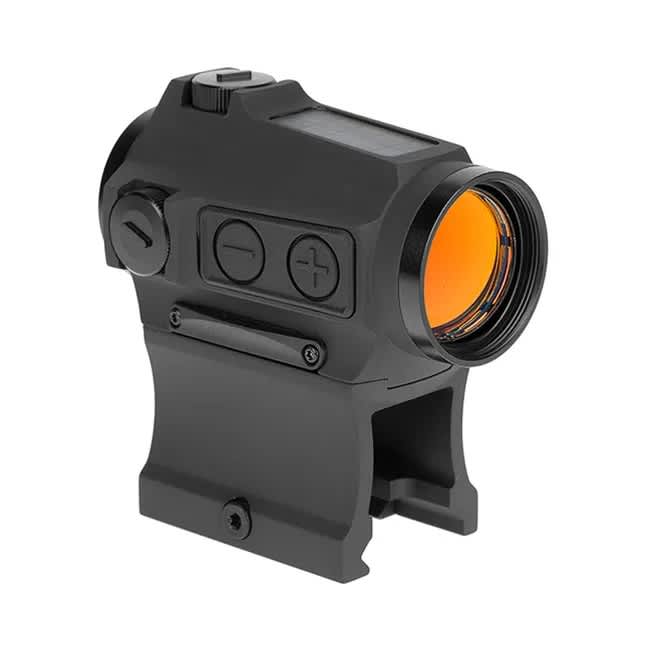 The Holosun HS503CU is a 20mm Micro Reflex Sight created with Solar Failsafe which means you won't have to worry about battery failure. With the added feature of automatic brightness adjustment, you'll be able to use your red dot in almost any lighting condition. Add to that the convenience of Shake Awake™, the user-programmable LED shut-off technology that wakes with the slightest movement, and you have one of the most battery-efficient micro reflex sights on the market. Topping it off is T6 aluminum housing and a multi-reticle system making this a must-have optic for any rifle or PDW.
Pro/Compact frame and night vision compatible with zero flicker when performing swinging shooting manuvers
Cons/Made in China
Bottom Line/An affordable yet dependable red dot optic
4. Vortex SPARC Solar 2
SALE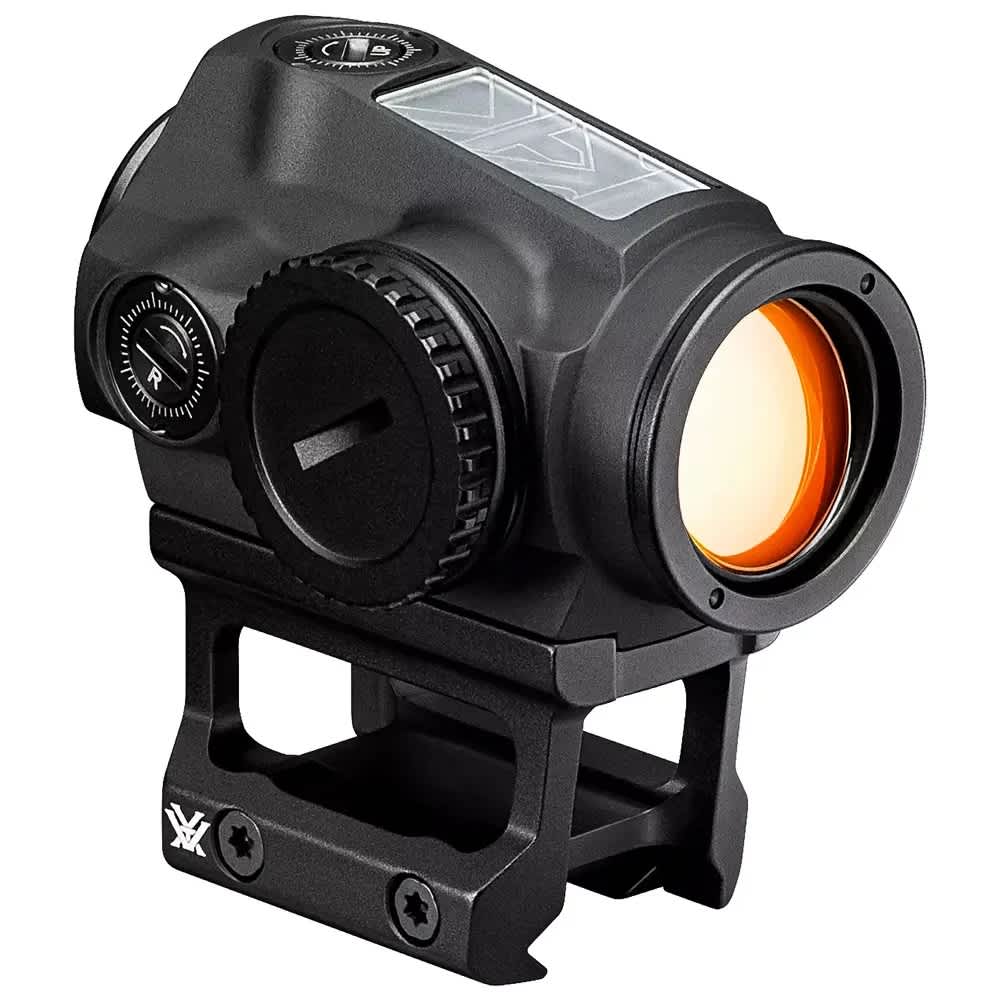 The Vortex SPARC SOLAR delivers one of the longest-lasting red dots available, offering users up to 150,000 hours of battery life. It achieves this with Auto D-TEC technology and an integrated solar panel/backup CR2032 battery power source. The Auto D-TEC automatically switches between solar power and the backup battery based on the ambient light conditions and features 12 illumination settings, two of which are night-vision compatible. Because it has such a long battery life, the SPARC SOLAR has a 14-hour automatic shutoff, allowing users to keep the optic active for as long as they need without having to worry about power levels, and a motion activation feature means the red dot will always remain at the ready.
Pro/Affordable and features a back-up power option for daytime use
Cons/Not as durable as other optiosn on this list.
Bottom Line/The newest item in Vortex's growing lineup of red dot optics – worth trying out!
5. EOTech EXPS3-2
SALE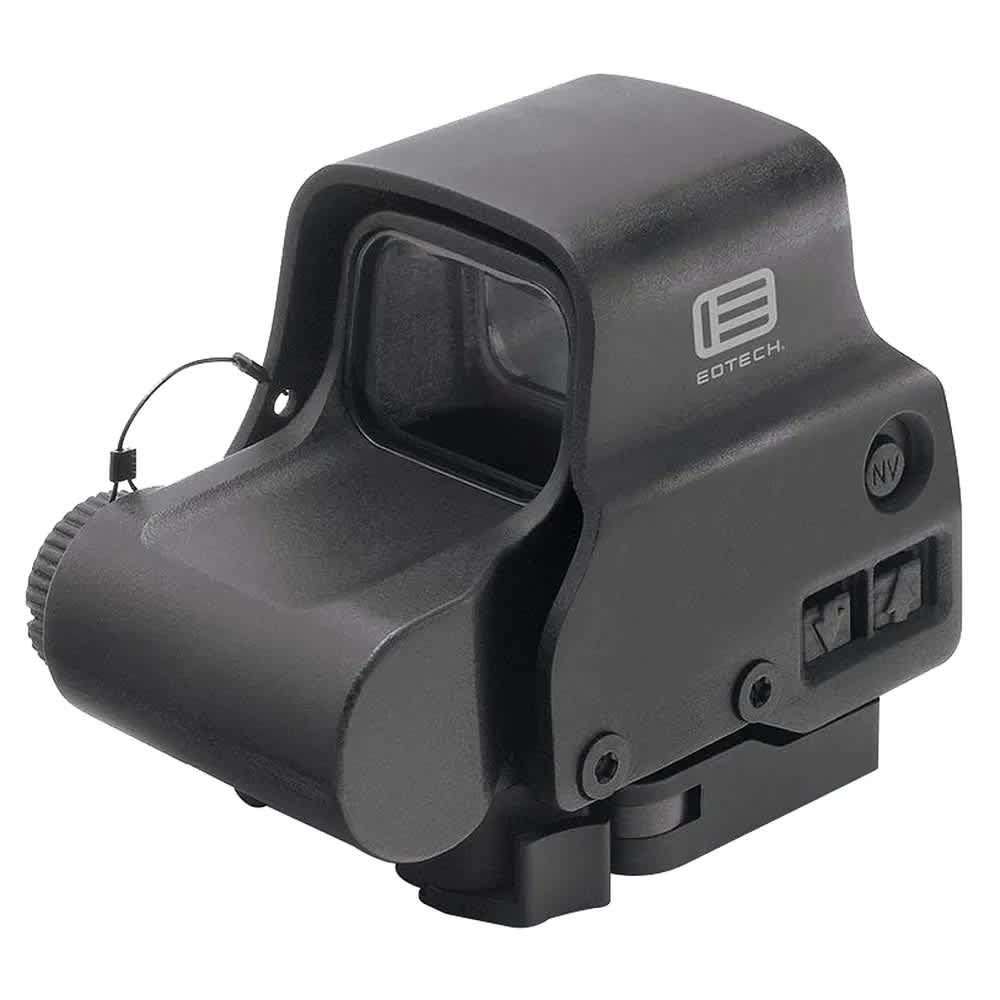 The curveball pick
The EOTech EXPS3-2 is not exactly a red dot optic. Instead it is a holographic sight. However, to most people, this won't make a lick of difference and to operators in the US military it has been a dependable and reliable sight for use with either night vision or during daytime use with 20-regular daytime settings and 10-different night vision compatible settings. The EXPS-2 is also compatible with EOtech's G33 magnifier which allows you to gain a 3X sight picture for longer range shots on escaping or lone boar.
Pro/Battle tested and probably the most versatile and adaptable day/night sight on this list
Cons/short battery life (only 600 continuous hours on setting 12)
Bottom Line/A great sight if you don't mind paying a little extra dough for the tech!
Why do some red dots flicker and others don't?
A flickering red dot can be caused by two different things. One is a broken or intermittent connection between your power source and the LED emitter. The other one is far more common and has to do with the inherent refresh rate of the optic. This is a technology called "Pulse Width Modulation" or PWM. PWM is an energy-saving method that quickly turns the LED on and off in order to preserve battery life while still providing what appears to be a solid dot. However, some red dot sights feature a refresh rate that is too low and as a result, when you're tracking a target or the battery starts to run low, you'll notice a distinct "flickering" or the dot blinking on and off .
Some red dots don't have this effect because they use a "constant on" emitter but this usually results in a drastically reduced battery life.
What are "NV" settings on my red dot and how come they don't work?
An "NV" setting on a red dot stands for "night vision" and this usually means that the emitter will produce a dot that is nearly invisible to your naked eye even in the dark. However, when viewed under a night vision device such as a PVS-14, the dot is clearly visible without being visible to your naked eye. Normal red dot brightness settings will cause your night vision device to have an unusable picture and that is why NV settings exist on a large number of modern red dots.
Shouldn't I be using a riflescope or thermal rifle scope to hunt boar?
You could do that, but since wild boar are basically blind you can often sneak up on them or approach them rapidly in a vehicle before they start to run off. This actually happens to be one of the most common ways cullings are performed as wild boars will tend to run in large groups once one of them is spooked and this makes it easier to take down many of them at the same time. When you're doing this, it's far better to have an optic that you're able to get a fast sight picture with and adding to that, one that you can take quick tracking shots with (this is why flickering is an issue for boar hunters). If you're just taking down a lone boar then a riflescope will work just fine.
We are committed to finding, researching, and recommending the best products. We earn commissions from purchases you make using the retail links in our product reviews. Learn more about how this works.