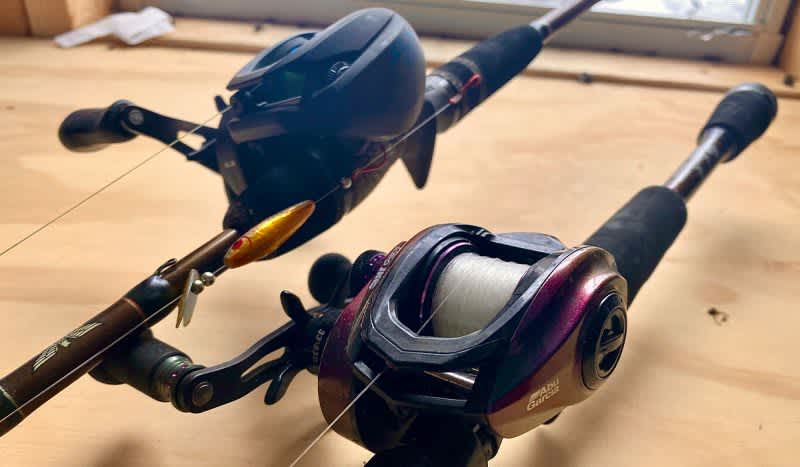 +
–
Table of Contents

1. Lew's Tournament Pro Speed ​​Spool LFS Baitcast Reel – Pro Pick
SALE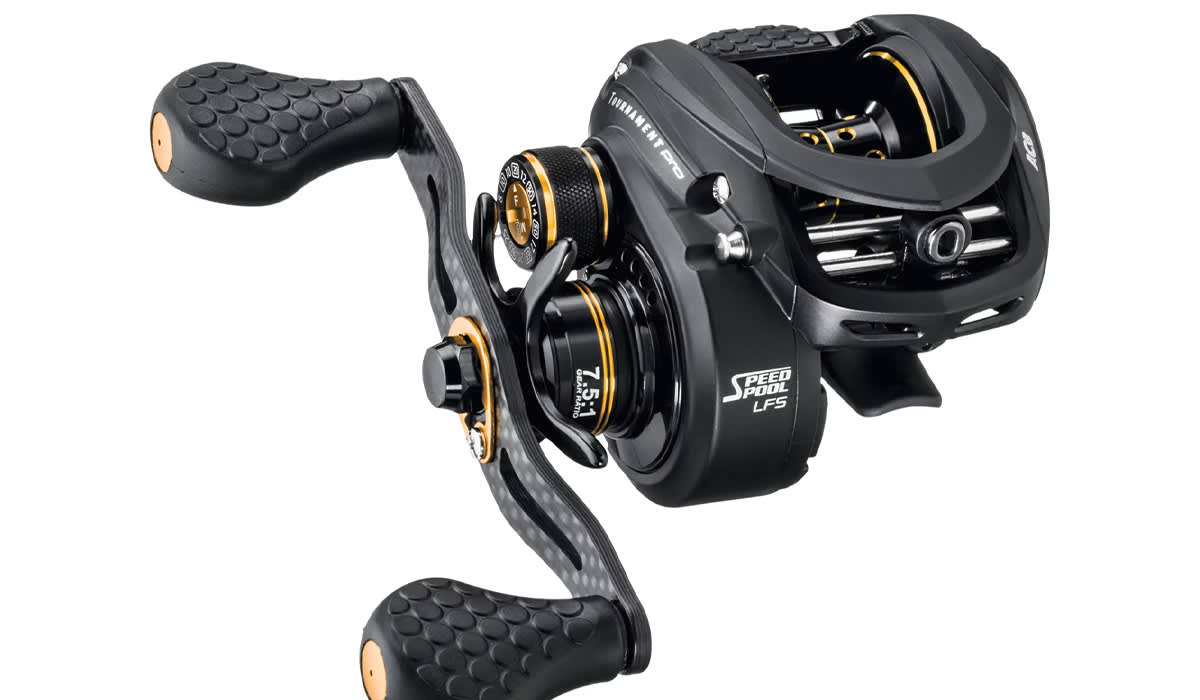 Want to hit the water with the same reel the pros use?
One of the best baitcasting reels you'll find, the Lew's Tournament Pro Speed ​​Spool checks off all the boxes for a premium reel that can elevate your adventure fishing.
"In comparison – the best bang for the buck! Had to wait awhile but well worth it. Far cast and a 20lb drag you can literally pull a hog out of the water. I highly recommend this reel for just about any species," Joe SND
This pro-level reel has Lew's P2 bearing-supported pinion gear technology with high-strength aluminum Speed ​​Gears made on high-end, precision machinery. Want some power and speed? Choose from 6.8:1, 7.5:1 and 8.3:1 gear ratios. What all that means is – this is one of the smoothest reels you'll ever use. Got a huge fish on the other end that doesn't want to come in? It doesn't matter thanks to the carbon fiber drag with up to 20 lbs. of drag power and a sweet, audible-click bowed anodized aluminum drag star adjuster. This reel has a low-profile one-piece aluminum frame and a cool, removable carbon palming sideplate. It has a forged, double-anodized 34mm drilled aluminum spool and rides on a 10+1 bearing system with double-shielded stainless steel ball bearings and Lew's Zero Reverse 1-way clutch. The 6-pin/27-position QuietCast, externally-adjustable centrifugal brake is about as flawless as a reel braking system can get. Lew's also added their Speed ​​Dial line indicator and Speed ​​Keeper hook keeper. Durability is aided by the Zirconia line guide and an external lube port.
Pro/Everything about this reel is a pro – it's pro level
Cons/It's a little pricey for novice anglers
Bottom Line/One of the best baitcasting reels available today
2. Shimano SLX DC Baitcast Reel – Editor's Pick
SALE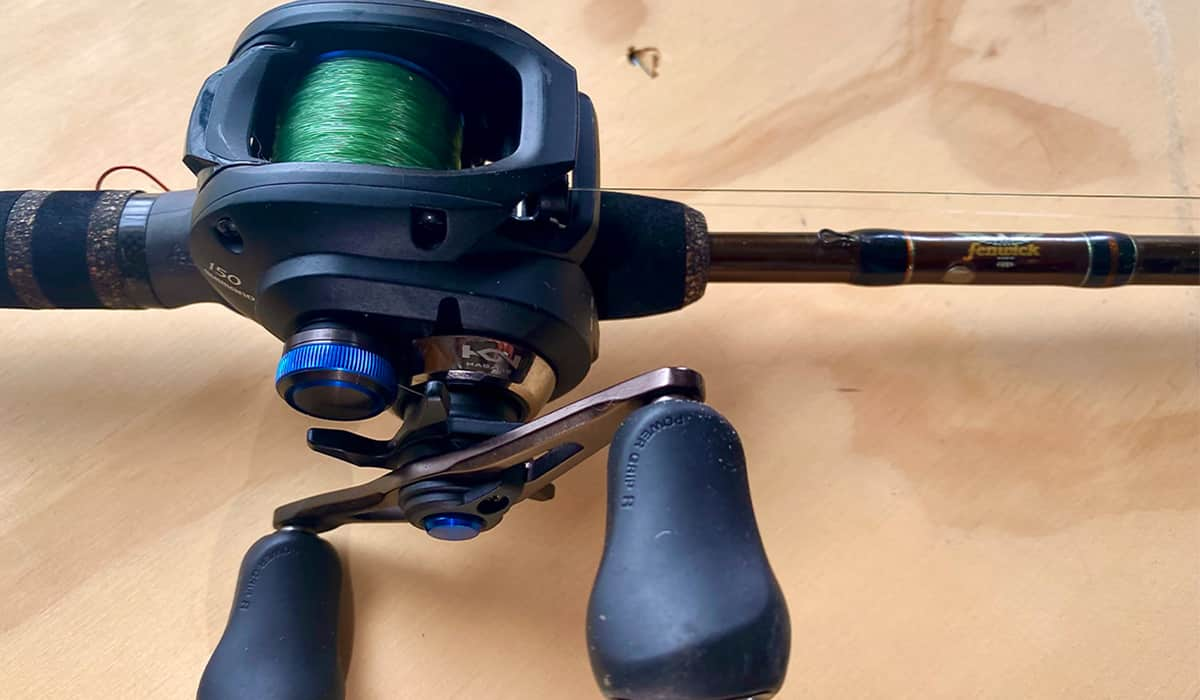 The author's personal pick for a baitcasting reel
When I got my hands on this reel, it instantly became my go-to baitcaster. The reason is Shimano's amazing DC brake system that basically has a tiny computer inside the reel to monitor the reel's spool speed. It does so 1,000 times a second to monitor the line and it automatically applies braking force to the spool to maximize the casting distance and help prevent the dreaded backlash. I've tested other reels in the past that have touted amazing anti-backlash technology, and many of them either didn't have any effect upon backlash, or made the reel nearly impossible to get a decent cast. This reel actually works and does exactly what it claims to do. The reel has a 4+1 bearing system that, while initially not as smooth as others, actually feels and works very well. The 12lb max drag is also efficient. Shimano has designed a reel that checks a lot of the boxes for me as a baitcaster, and the digital brake pushes it over the top. It comes in 6.3:1, 7.2:1 and 8.2:1 gear ratios and can be had in right or left handed retrieve.
Pro/The digitally-controlled braking makes casting easy, even in difficult conditions
Cons/It could be a tiny bit smoother
Bottom Line/The most technologically advanced fishing reels I've ever seen
3. Pflueger Supreme Spinning Reel
SALE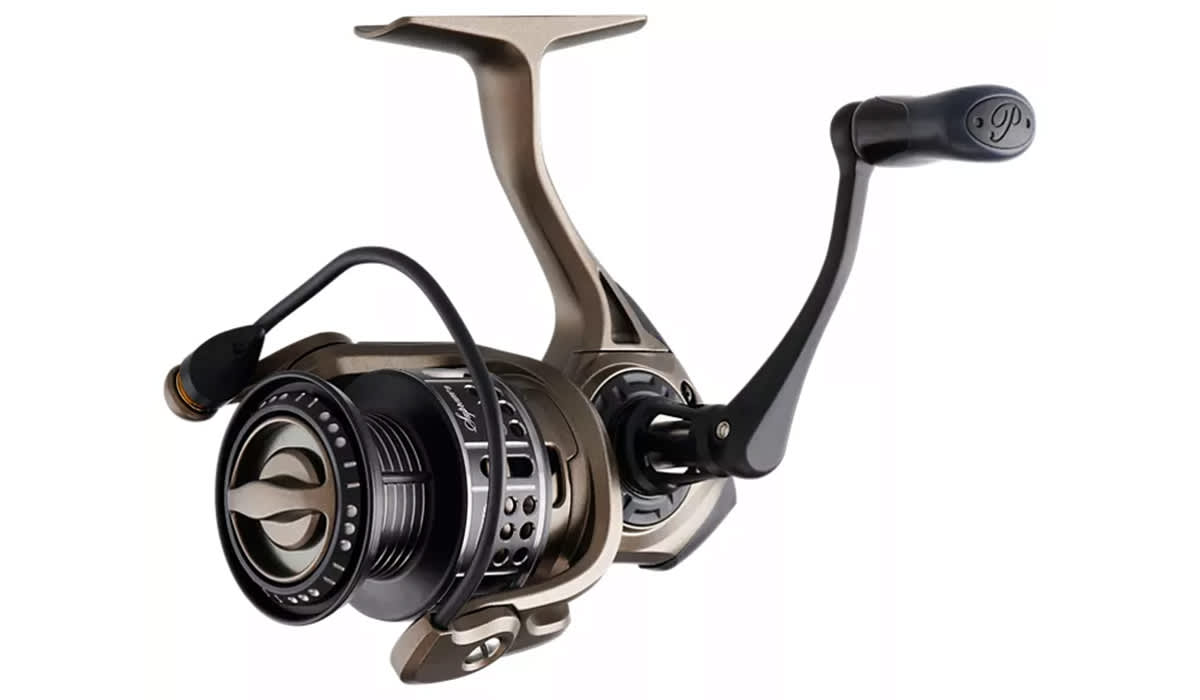 The latest version of a sweet spinning reel
Spinning reels are extremely popular and every angler should have a few spinning rods on the boat whenever they head out. Pflueger is one of the premier manufacturers of excellent spinning reels. The latest version of their Supreme reels, this reel exhibits everything you'd want in a spinning reel. It is extremely lightweight with a magnesium frame, and a machined aluminum spool that can handle tough braided lines as well as monofilament. The main gear is machine aluminum and the whole system rides on a 10 bearing system (9+1). It has a slower 5.2:1 retrieve that really helps with finesse fishing. This is a great reel for slow walking a worm, like a Powerbait worm rig, and I'd love to get this reel setup for a walleye trip, as I think it'd do great for presenting live bait. The reel comes in 4 size options to match the line and rod used.
Pro/Smooth action, great drag and comfortable
Cons/None
Bottom Line/The perfect spinning reel for finesse fishing
4. Bass Pro Shops Johnny Morris CarbonLite 2.0 Baitcast Reel
SALE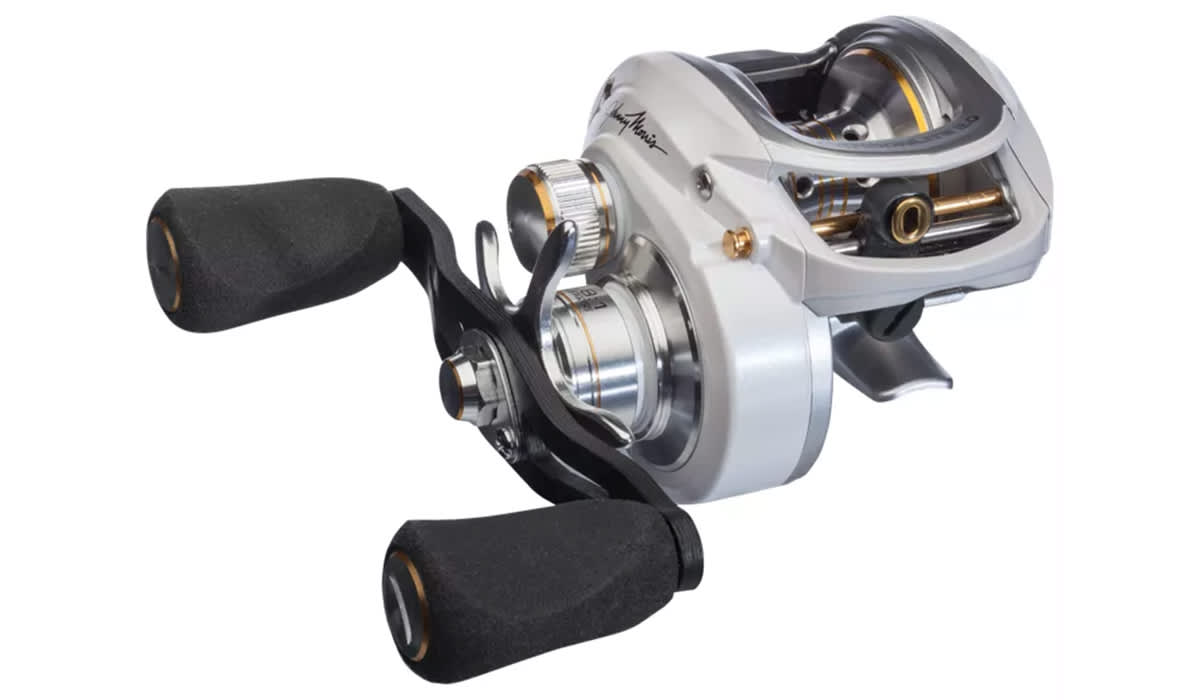 One of the best from Bass Pro Shops
One of those bang for the buck reels, the CarbonLite 2.0 is a worthy reel to carry Johnny Morris' name.
"Bought this reel last summer, zero issues. Almost no backlashes and it fits my hands better than the more expensive Abu Garcia and Lews reel I own. Very good reel for a 1st time bait caster owner or an experienced one." LakeJacomoBASS
This reel has a lot to offer for the money. It comes in three gear-ratio options – 6.8:1, 7.5:1 and a very speedy 8.3:1 for fast action baits. It rides on a smooth 10-bearing system that includes double-shielded stainless steel ball bearings and BPS' Powerlock instant anti-reverse. A 6-disc carbon-fiber drag system helps you put on the brakes to those monster fish and liberal usage of carbon fiber in the construction makes this reel extremely light. Available in left and right handed models, as well as a sweet combo.
Pro/Good range of gear ratios available, smooth action
Cons/Braking is a little less than expected
Bottom Line/One of Bass Pro Shop's most popular reels for a reason – Buy the combo for a balanced set
5. Abu Garcia Revo SX Spinning Reel
SALE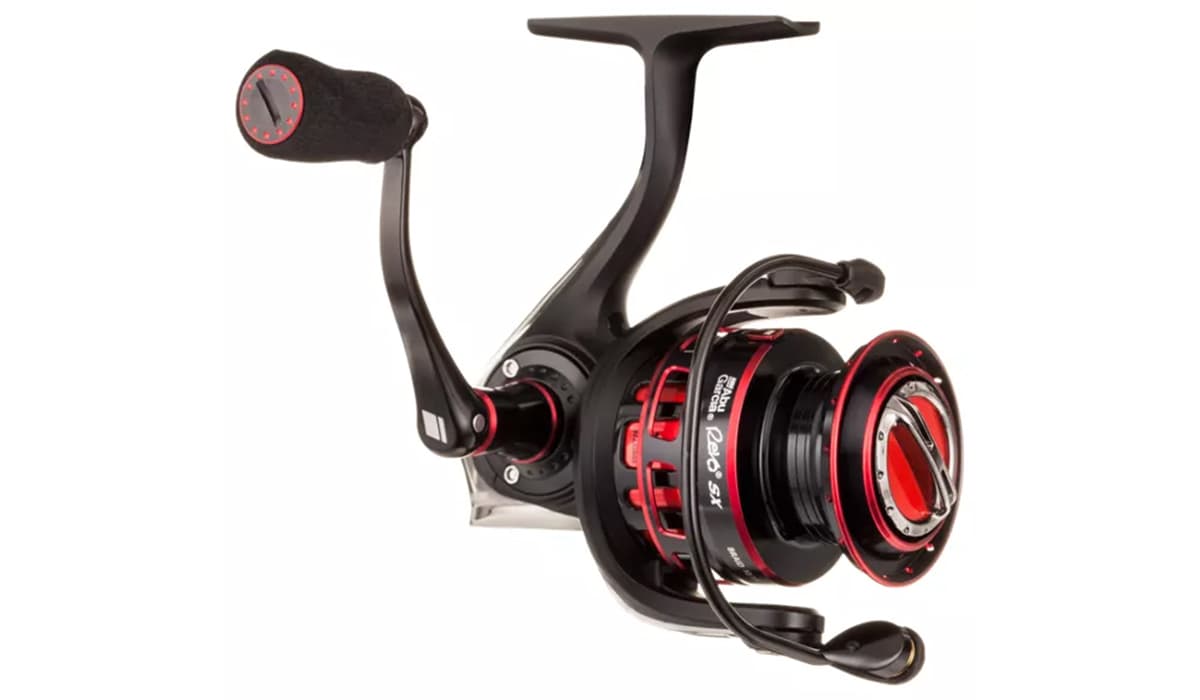 One of the most popular spinning reels on the market
How could we have a list of the best fishing reels and not have the Abu Garcia Revo SX? It is one of their most popular spinning reels and an excellent choice for anglers.
"I bought size 10 for a med/lt 7 foot rod. It casts a mile with 1/8th oz. jig. I will definitely buy another one for my carbonlite 2.0 m/h." Bonafide ss127
The Revo SX is light, thanks to the strong, Insert-Molded C6 carbon body and one-piece X-craftic aluminum gearbox. Abu Garcia loaded that gearbox with computer-optimized, smoother-meshing AMGearing machined aluminum gears. The Revo SX has a graphite rotor with the company's Everlast bail for long life and aiding the light feel. Casting further is also helped by Abu's Rocket line management system with a braid-ready machined aluminum spool with the company's Rocket spool lip design. Reeling in finesse presentations even with the faster 6.2:1 gear ratio is possible due to Abu Garcia's Slow Oscillation system that gives you optimal control, regardless of the lure or line choice The Revo SX rides on eight stainless steel HPCR bearings + 1 roller bearing for The K-Clutch anti-reverse combined with Abu's Carbon Matrix hybrid drag system means you have a smooth reel, with great control and power to haul in the hawgs.
Pro/Faster 6.2:1 ratio, Abu Garcia quality
Cons/None
Bottom Line/A great reel that Abu Garcia stands behind

Gear ratios explained
Simply put – The gear ratio is how many times the spool does a complete revolution for every complete revolution of the handle. The higher the ratio, the faster the reel is.
Some baits require a fast retrieve to work right, and for the pros fishing tournaments, you want to be able to maximize the time on the water, so those few seconds you can make up between casts and retrieves are crucial. It also affects the bait. You want a slower reel for subtle baits, like select soft plastics or crankbaits, but you want a faster return for spinner baits.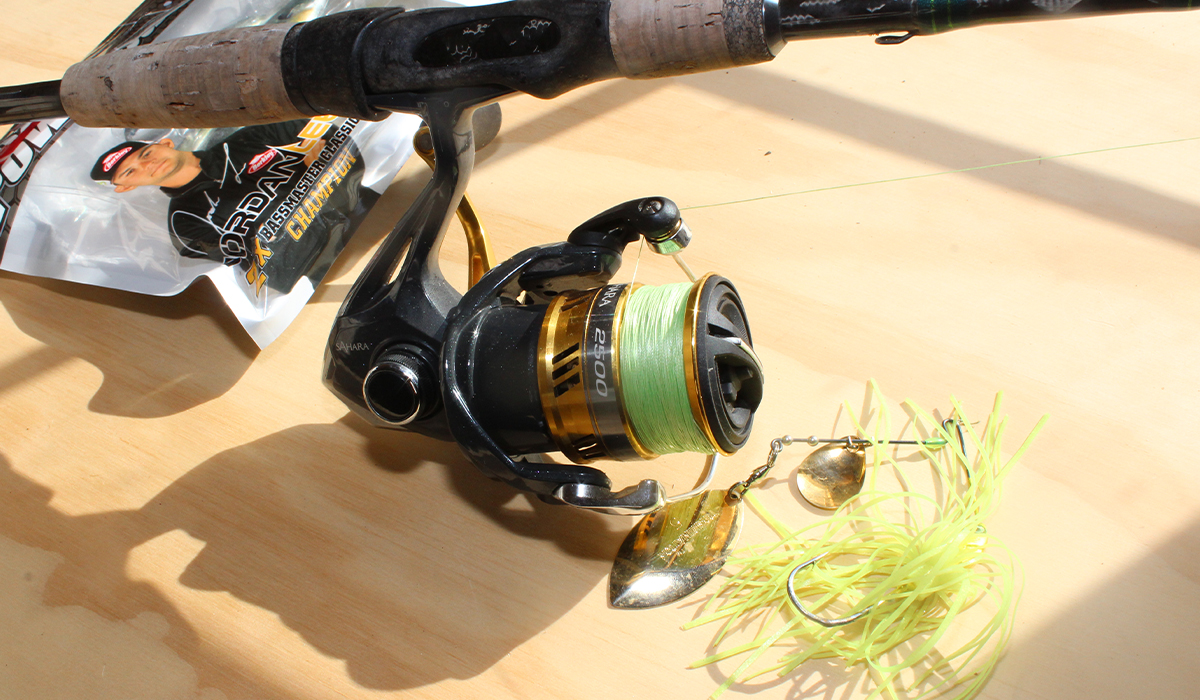 This is one of the main reasons you see many angles with multiple rods all rigged up and ready to go. They may have three of the same rod and reel combination, but the lure and gear ration is different, so they can get the best presentation possible.
Spool braking types
Most every baitcasting reel has some form of spool braking to help you dial in how the reel performs. We all know that the most important brake is our thumb, as we use it to control the spool, line and cast. And we all know what happens when we don't use enough thumb. The reel's adjustable brake helps by putting some friction or force on the spool to help you. Some reels let you add so much brake, it's hard to cast. That is what you look for, however, when casting big baits, like when you fish for muskies or catfish.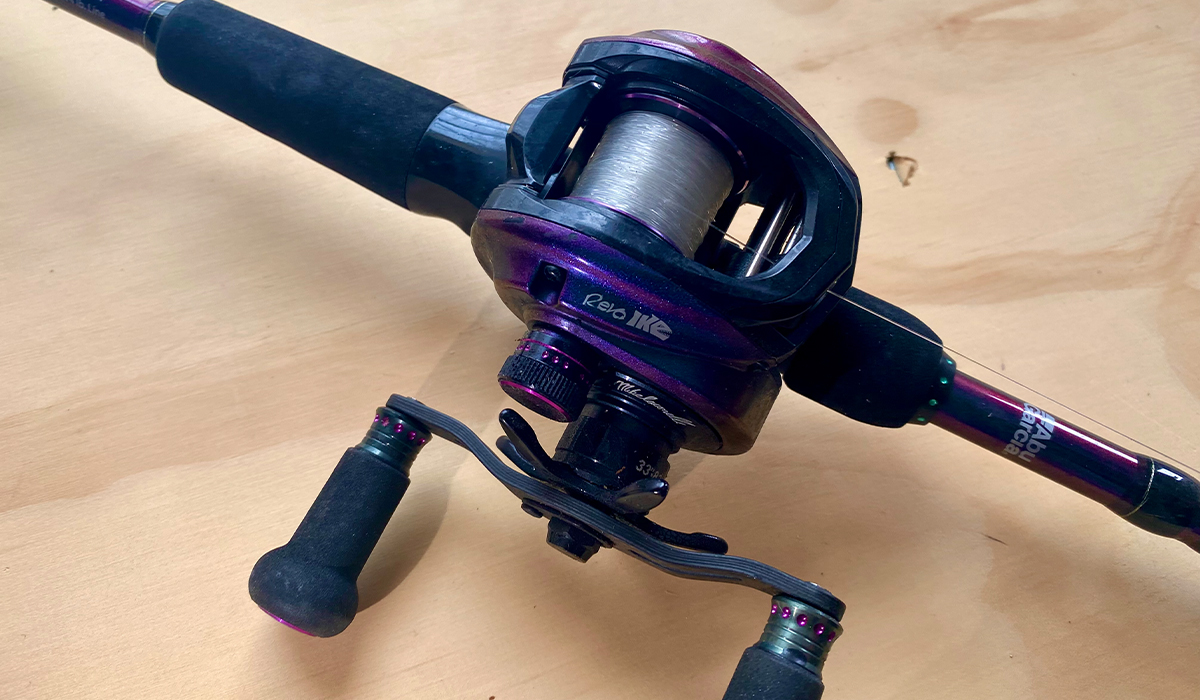 There are two basic types of baitcast reel braking system – Magnetic and mechanical. Magnetic brakes are far superior in that you can adjust them quite a bit to suit your style and bait size. The latest advancement is a reel like the Shimano SLX DC. It digitally controls the magnetic brake, giving you amazing control over the reel.
Mechanical brakes use a system similar to automotive brakes, where friction is the stopping force. These systems tend to be found on the lower priced baitcasters and don't have as much adjustability. However, they can really clamp down on the spool, so for those just starting to get the handle on using a baitcaster, this isn't a bad idea.
How do I know what size fishing reel to get?
The various sized reels are based on line capacity, with bigger reels being set up for heavier line and in larger amounts. These reels are better suited for fighting bigger fish.
How do I pick the best fishing reel for me?
You need to know what type of fishing you plan to do, but if you're looking for an all-around reel for many types of fishing, get something in a medium size with a medium-level gear ratio. Also, set a budget for yourself and look for the better reviews in that price range.
We are committed to finding, researching, and recommending the best products. We earn commissions from purchases you make using the retail links in our product reviews. Learn more about how this works.