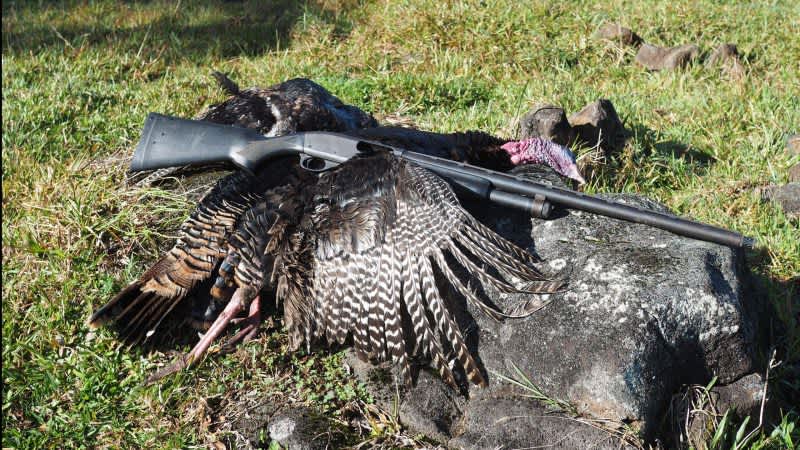 +
–
Table of Contents

1. Lynch's World Champion Box Turkey Call
SALE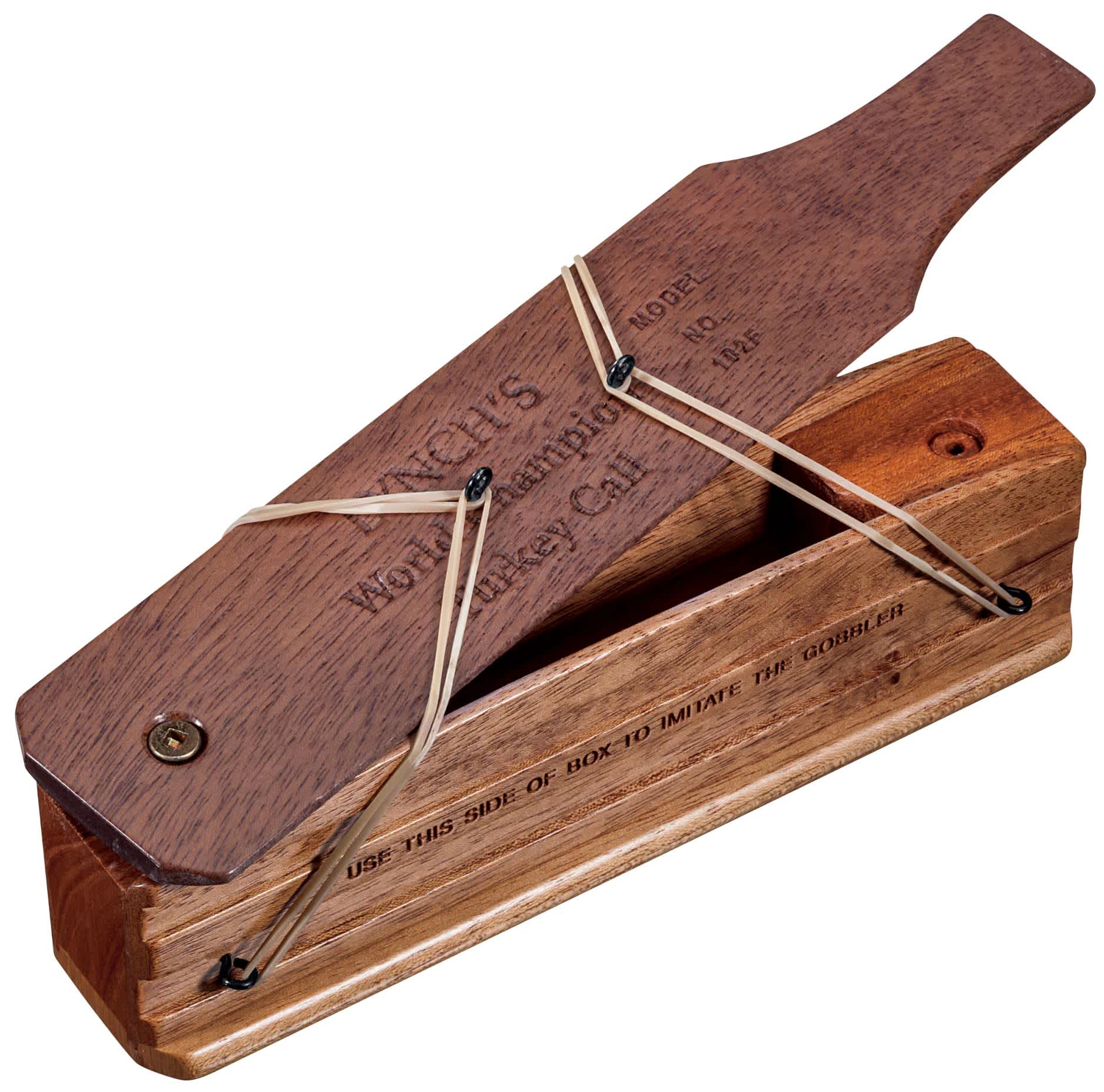 A favorite of both spring and fall turkey hunters for more than 60 years, the World Champion Box Turkey Call from Lynch produces a full range of calls. Made of select straight-grain mohagany, this hand-tuned call's double-sided design reproduces quality hen sounds on one side and gobbler sounds on the other side. Centered pivoting lid for easy use. 3″ x 4.5″ x 11.75″.
Manufacturer model #: 102F.
Versatile, time-tested, double-sided box call design
2-sided design for calling versatility – when sound on 1 side, gobbler calls on the other
Great for spring or fall season hunting
Straight-grain mahogany construction
Hand tuned
Pros/Can be used as both a locator call and mimic call
Cons/Like most box calls, it's hard to control the volume of this call
Bottom Line/A great all around call that is affordable and capable
2. Primos Hunting Tall Timber Gabriel Turkey Call
SALE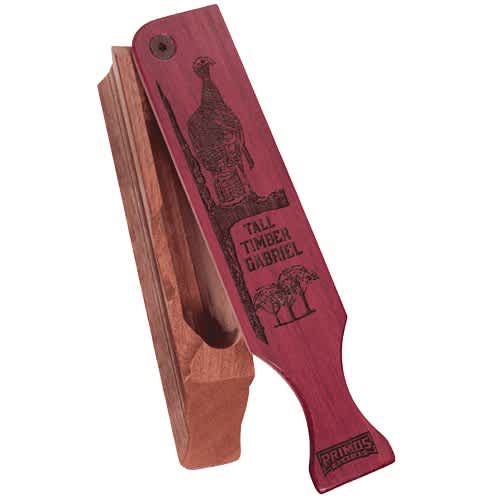 The Tall Timber Gabriel is a Premium Box Call that features double thumbholes on the box to allow for easy and perfect clucks and cuts. We have put all that we know and cherish about the box call as an instrument into this call: the choice of woods the curves of the striking surfaces the shape and cutouts of the sideboards as well as the finish to give you the finest instrument in reproducing the sounds that Old Gabriel so badly wants to hear.
Pros/Backed by a lifetime service guarantee
Cons/On the higher side of price for box calls
Bottom Line/Made from some of the best premium hardwood and backed by a great company with a mind for customer service
3. Primos Hook Hunter PS1252 2 Pack Turkey Call
SALE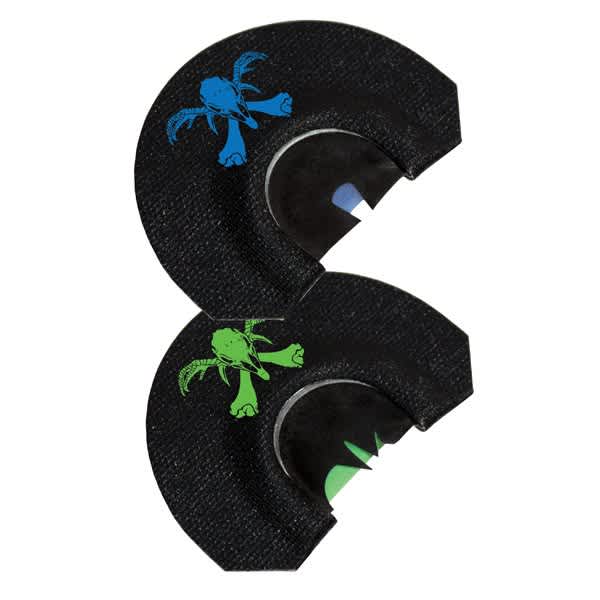 The Primos Hook Hunter Series produces incredibly real and unique pitches that even the wisest ol' tom can't resist. Custom designed by combining 100 plus years of experience by passionate, determined turkey hunters with premium gauge reeds and precision hand-made cuts. You'll be hooked by how effortless these calls are to use; he'll be hooked when you speak his language.
Features 2 inch Hooks
Features Sharp Hooks
Includes Pin Box
Pros/Affordable and customizeable to your specific region
Cons/Can be difficult to learn to use
Bottom Line/A combo pack of calls that can be customized to fit your needs
4. WoodHaven Custom Calls Cherry Classic Crystal Friction Turkey Call
SALE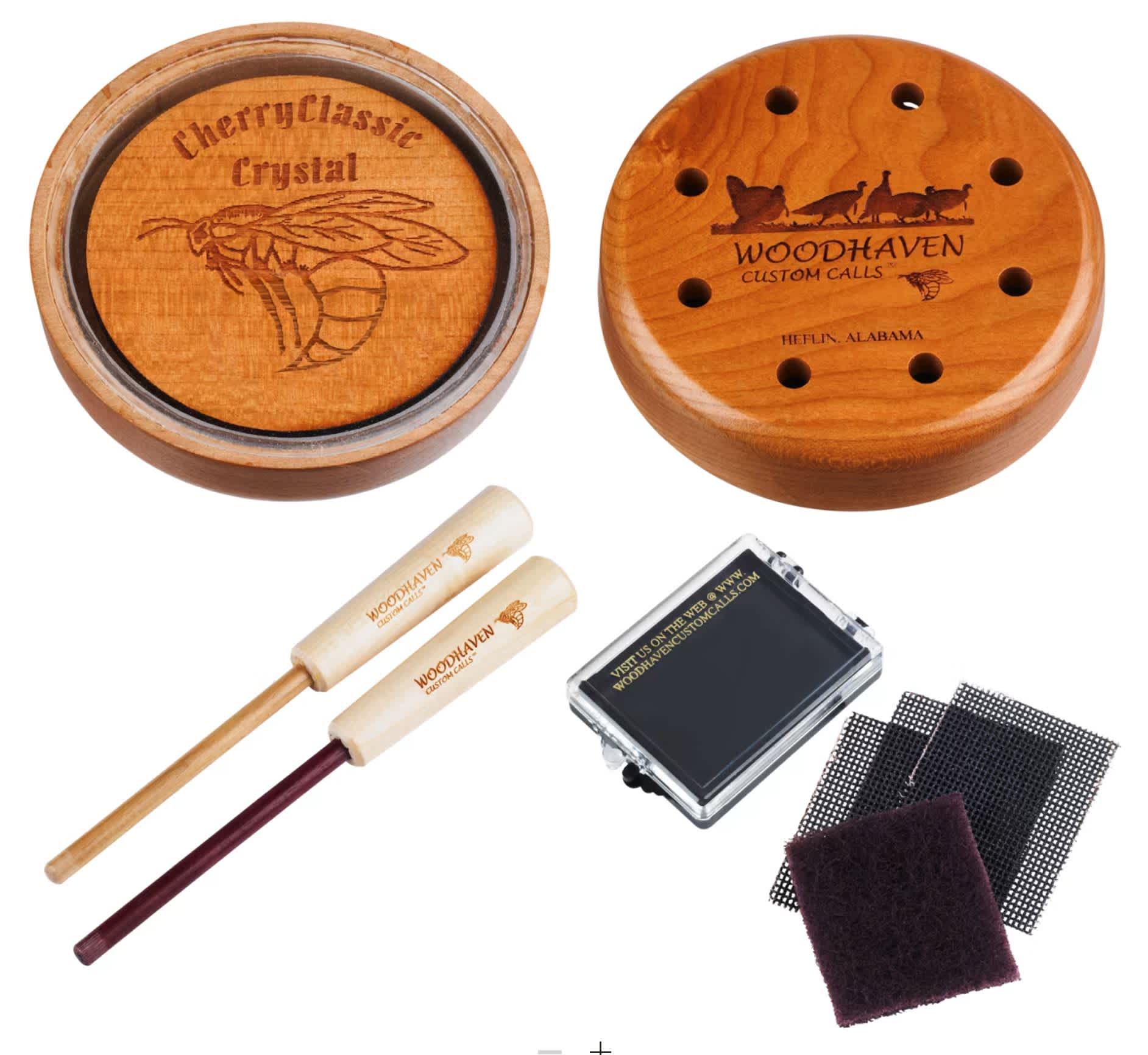 After its first use, you'll understand why we use the word quality to describe the WoodHaven Custom Calls™ Cherry Classic. A sounding board made of quarter sawn cherry produces a nasal/throaty tone. Crystal surface provides higher pitched, longer range calls. Comes with Surface Saver™ lid to protect the calling surface. Two matched strikers for calling variety. Includes conditioning kit and instructions. Made in USA.
Manufacturer model #: 055.
Special sound thanks to the quarter sawn cherry sounding board
Surface Saver lid
Two matched strikers for a variety of calls from a single surface
Conditioning kit to prepare and maintain calling surface
Instructions included
These calls are not for the average hunter. Simply the best for the best. No hype, no gimmicks—just simple, time-tested turkey calls! Quality is dictated by quantity. As quantity gets out of balance, quality suffers. WoodHaven Custom Calls will not allow that to happen! As quality will always control quantity, they will only build as many calls as maximum quality will allow. Simple, isn't it?
Pros/Made in the USA and comes with its own maintenance kit
Cons/A little expensive and the strike area is a little small
Bottom Line/This call sounds as close to real life hens as I have ever heard from a call.
5. FOXPRO Ghost Spur Turkey Call Combo Pack
SALE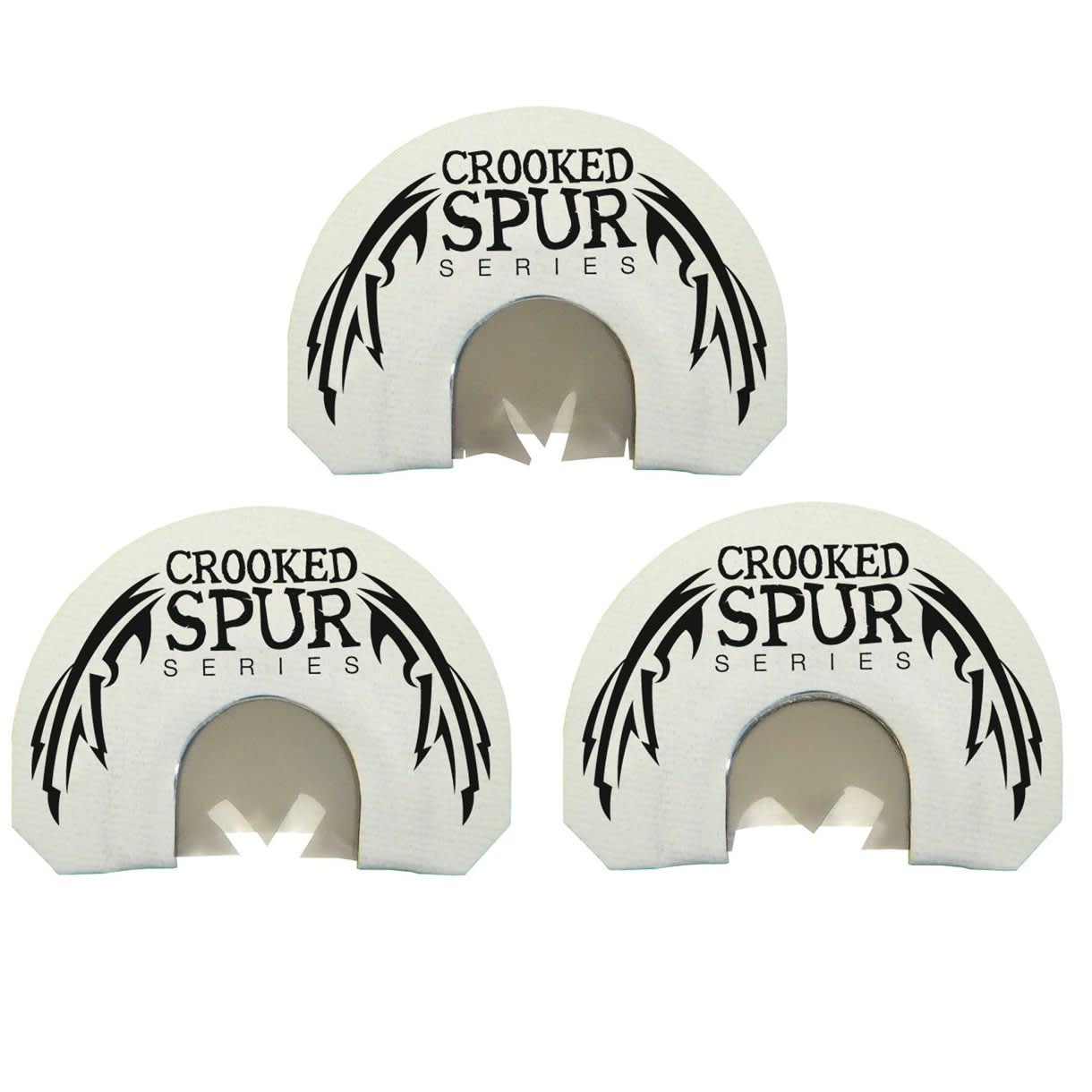 FOXPRO's Crooked Spur Series Mouth calls offer a wide range of tones, pitch, and realism and are easy to use. Turkey hunters know when prophylactic is stretched properly it can produce the most realistic sounds available in a diaphragm call. Our Crooked Spur Series calls offer a combination of prophylactic and latex to give you the best advantage in the woods. They feature a pad-printed design on each call and are offered in their own unique color for quickly choosing the right call. Each Crooked Spur Series mouth call is individually stretched and hand-made to ensure a perfect call every time.
Pros/A great value with three calls per pack for only $20
Cons/No colored bodies to differntiate each specific call – can be frustrating to find the right one quickly
Bottom Line/A great way to learn which call works best for you without spending too much money
Are decoys necessary when turkey hunting?
Gobblers are a proud bunch, and mature ones will hardly enjoy a jake trying to move in on the hen. If you set up a hen decoy in your hunting area, it's sure to attract an aggressive 2-year-old longbeard. Or you can use a jake and hen combination to irritate the boss tom and make him come to claim the hen.
However, if you're in an area where a dominant bird is known to visit or there is a pack of sub-dominant gobblers, a strutter decoy may be an ideal choice. The look of an intruder in full strut is enough to send an alpha gobbler in.
Do Turkeys have good eyesight? Is camouflage necessary?
Turkeys can't see long distances, but they have keen eyesight up close. Their sharp eyes will be able to discern between the natural surroundings and something that shouldn't be there – meaning you. This is why it's essential to remain completely hidden during the hunt. Dressing in full camouflage from head to toe allows you to blend in with the grasses, tree bark, fallen timber or rocky terrain.
Before heading out on the hunt, make sure you have a camouflage shirt, jacket, gloves and a mask, pants, and face paint, covered in a print that mimics the local surroundings.
How often should I call for turkeys?
Less is more. Calling every 15 minutes or so and starting off quieter and then getting more aggressive/louder as the day goes on are good rules of thumb. If you hear a hen, try to mimic her exact vocalizations. If she does a soft 4-note yelp, you do the same – if she gets loud, you get loud, too. By imitating the hen's calls, you may be able to call her close to you and a gobbler might follow her. If you hear gobbling and the gobble is getting louder, that means he is getting closer to you – so stop calling.
We are committed to finding, researching, and recommending the best products. We earn commissions from purchases you make using the retail links in our product reviews. Learn more about how this works.