+
–
Table of Contents

1. Mossberg Silver Reserve II Field
SALE
The Mossberg Silver Reserve II is a value priced overunder for hunting and sporting. This shotgun features an ambidextrous tang safety that doubles as a barrel selector set of five screw-in F IM M IC and C choke tubes 3 chamber (2 in the 28-gauge) ported vent rib blue finished barrels black walnut stock and forend single bead front sight (fiber optic available in sporting models) shell ejectors dual locking lugs and wrap around scroll engraving on the receiver.
Pro/Classic Over/Under design and works very well as a waterfowl hunting shotgun
Cons/A little on the higher end in terms of "budget" pricing
Bottom Line/A solid shotgun from a legendary maker of firearms
2. TriStar Viper G2 Sporting Shotgun
SALE

Featuring a very modern and very loud bright blue receiver finish and sporting all sorts of modern features, TriStar's Viper G2 Sporting shotgun allows you to shoot light target loads to heavy pheasant loads. The chrome-lined barrel is constructed of steel and has an adjustable comb, a raised target rib, and fiber optic front sight. The barrel also comes with four interchangeable extended Beretta Mobile style choke tubes (IC, M, F, SK), choke box, and choke wrench. A great all-around shotgun that does more than look pretty at the sporting clays range.
Pro/Affordable all around semi-auto shotgun capable of hunting duty.
Cons/Reciever color might be a bit too much for some more traditional sportsmen
Bottom Line/A great all-around shotgun that does more than look pretty at the sporting clays range.
3. Winchester SXP
SALE

While a pump-action isn't the first type of shotgun that comes to everyone's mind when it comes to sporting clays, the Winchester SXP is no slouch and brings along an unique inertia-assisted slide-action that a well-trained shooter can cycle fast enough to go through three rounds in less than half a second. It has a 12 gauge, 3″ chamber and comes with three Invector-Plus choke tubes (F, IM, M), and TruGlo fiber optic front sight with ivory mid-bead sight.
Pro/Reliable pump action operating system
Cons/Pump action usually puts sporting clays shooters at a huge disadvantage
Bottom Line/A great budget option that won't break the bank and is still fun to shoot at the sporting clays course
4. Stoeger Condor Over/Under Shotgun
SALE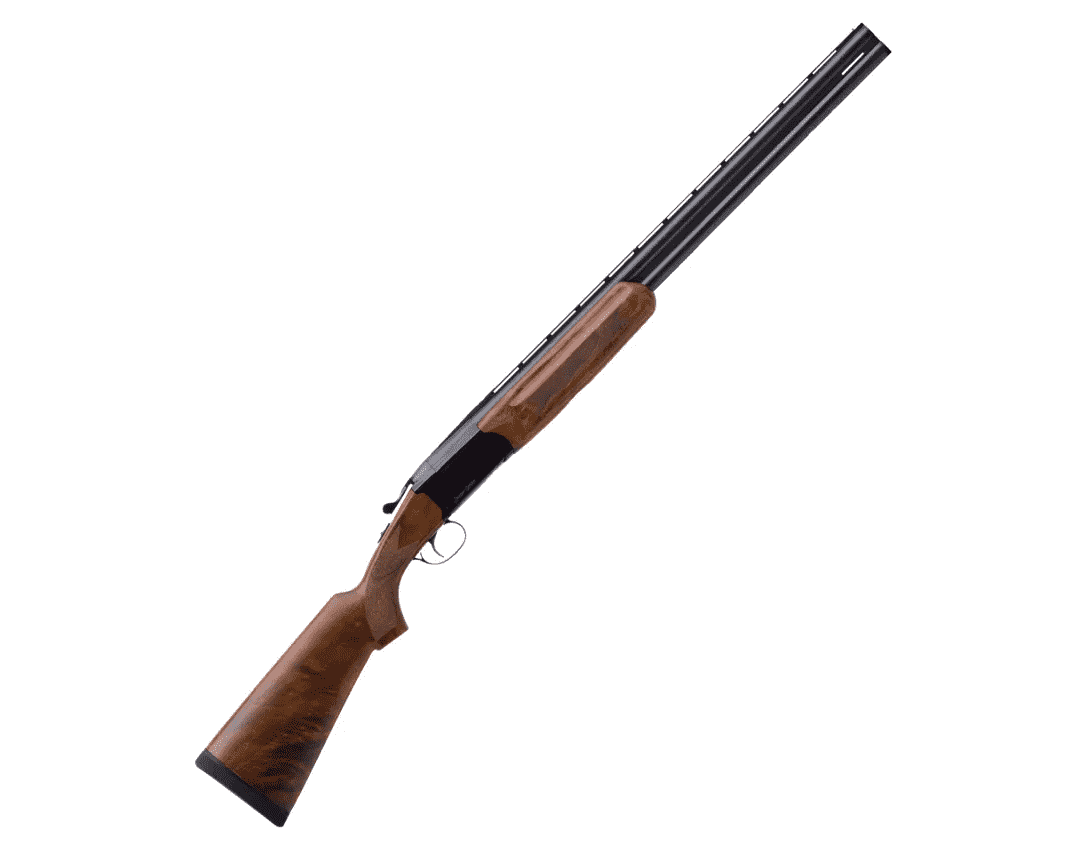 Ideal for hunters and competitive shooters alike, the Stoeger Condor Over and Under shotgun offers superior reliability and impeccable accuracy at a distance. The Condor Over/Under Shotgun features a handsome Grade-A American walnut stock, complemented by a highly-polished, blued receiver and machine-turned monobloc sides for reliable field performance and an elegant appearance. The vented rib features a brass bead front sight for quick, intuitive target acquisition while screw-in IC and M choke tubes deliver consistent patterns at distance for superior reliability. The polished shell extractors make for reliable extraction for speedy reloads, while a single trigger ensures easy, quick firing without requiring muscle memory to find a second trigger.
Pro/American Walnut stock and affordable price
Cons/Furniture fit and finish can be hit or miss on these shotguns
Bottom Line/A great budget option that won't look out of place on the range and can still be competitive when reliable.
5. SDS Imports AR-T02HP
SALE

If you're looking for an extremely versatile and extremely affordable sporting clays shotgun you'll probably only use a handful of times per year with your friends at the course then this is it. This shotgun features a 26″ barrel and a 4+1 capacity. This shotgun is designed to shoot both light and heavy loads and includes an extra piston so you can easily make the change.
Pro/Adaptable to different shotgun loads and less than $250 brand new
Cons/SDS doesn't have the greatest reputation for longevity or reliability
Bottom Line/A good budget option if you're just curious about sporting clays and want something semi-auto
How much does a typical sporting clays course cost to shoot at?
Most of the time you'll have to bring your own ammunition and your own shotgun but your clays are covered in the price of the course. Most sporting clays courses are basically like golf courses for gun guys so every course has a "greens fee" that you'll have to pay in order to shoot through the course. In general, these courses cost somewhere between $25 and $75 depending on the club and local pricing of clay pigeons. About on par with what you'd expect to pay at a moderately priced golf course. (pun intended)
Where did sporting clays originate?
Though relatively new to America, the sporting clay shooting dates back to the early 1900s, when British shooting schools began using clay targets rather than live pigeons for trap shooting. America got its first official introduction to this form of fast-flying shooting in a feature article entitled "A Clay Target Game for Hunters," published in the July 1980 issue of Field & Stream. Written by sportsman Bob Brister, the piece detailed how some American marksmen visited a shooting school in England and got the idea to replicate the high-crossing target game common there. They created the first known American version by setting up a trap machine on top of an oil storage tank to replicate the duck tower stations used in England.
How long does a typical sporting clays course last?
Kind of like golf this will largely depend on your skill level and your group size. You can normally go to a sporting clays course with a big group of friends, rent a golf cart, and have all your shotguns, ammo and non-alcoholic drinks loaded up and drive you around the course. Experienced shooters can typically clear through an entire sporting clays course in about 30-45 minutes but in my experience, most courses take somewhere between one to two hours to get through with two or three friends who are at least familiar with how to handle a shotgun .
We are committed to finding, researching, and recommending the best products. We earn commissions from purchases you make using the retail links in our product reviews. Learn more about how this works.