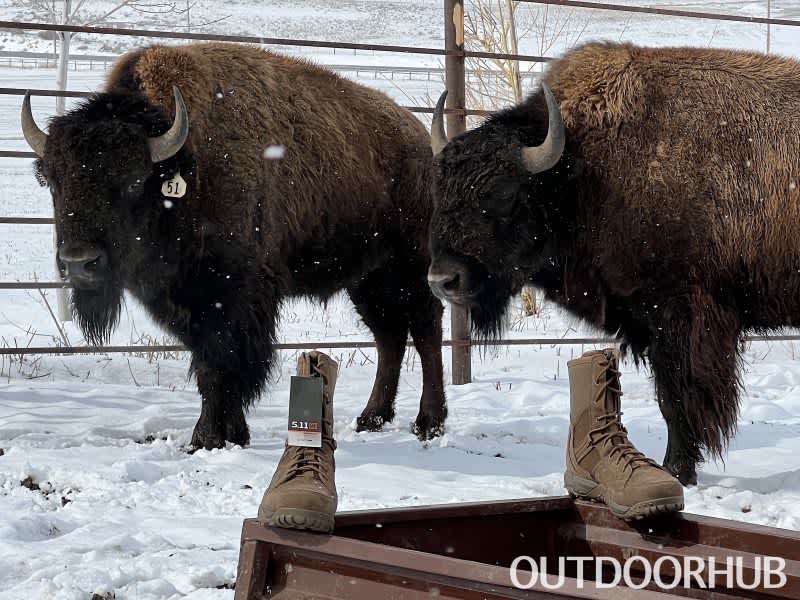 5.11's A/T 8″ Waterproof Boot: One Seriously Good Three-Season Contender
I recently wrapped up testing 5.11's A/T 8″ waterproof boots over spring, summer, and fall use in a ranching, hiking and hunting context. These boots have seen a lot of miles, both in the past and on and off-trail in the high deserts and mountains of the American Mountain West. How'd they do? Read on and let's find out.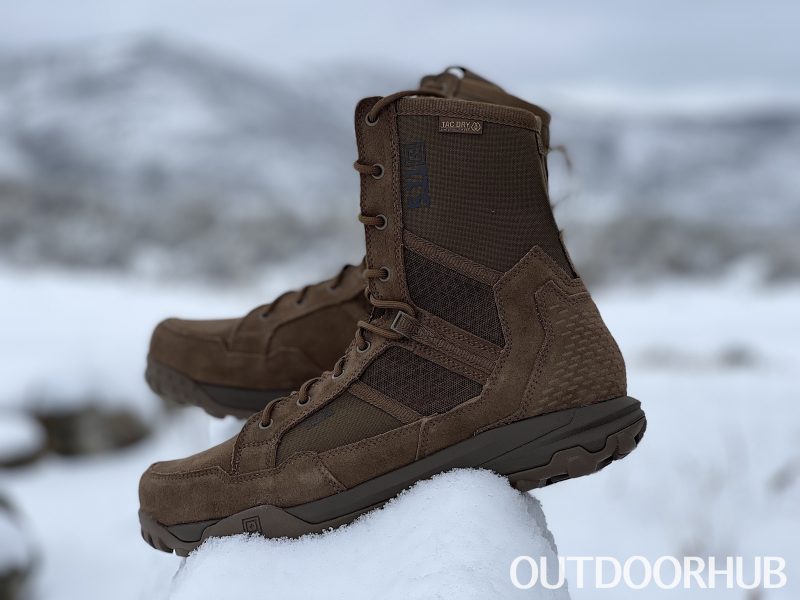 Specs, for 5.11:
All Terrain Load Assistance System for complete support and stability
5.11 Tac Dry® Waterproof and Blood Borne Pathogen resistant membrane
Waterproof suede upper and breathable nylon mesh panels
Dual Density PU midsole with 5.11® Echo high rebound foam in the forefoot and 5.11® Force shock absorbing foam in the heel
Removable 5.11® support plate to support carrying a heavier load
Locking instep lace eyelet for a personalized fit
Slip and oil resistant full rubber outsole
Multi-direction outsole lug pattern
Ortholite® insole
Ortholite® Achilles pad for better heel hold
Sizes: Men's 5-14, both regular and wide
Color: Dark Coyote
MSRP: $185
Out of the Box
My first impressions out of the box were that these boots were made of thinner, lighter material than I usually select for a boot, especially a waterproof one. The boots have the appearance of a combination of suede and heavy duty nylon. The tread is the standard A/T, with large lugs on the front and heel portions of the boot, and small studs around where your arch is. Getting my feet into a size 13 sample of these boots required me to totally loosen the laces. The boots fit very snug in the upper at first-and that never changed. Be prepared to give yourself time to get in and out of these boots. If you need boots that you can get on and off quickly, get the side-zip versions.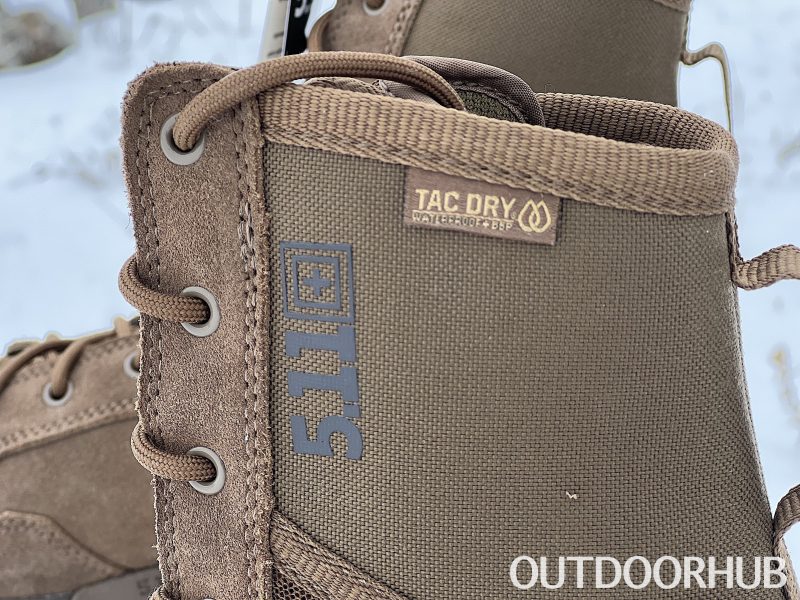 Overall, they've the appearance of a working/tactical boot. Fine for ranch work, hunting, and enjoying the outdoors, but maybe not the best choice for a boot you can also wear out to a nicer restaurant, if you're into that sort of thing…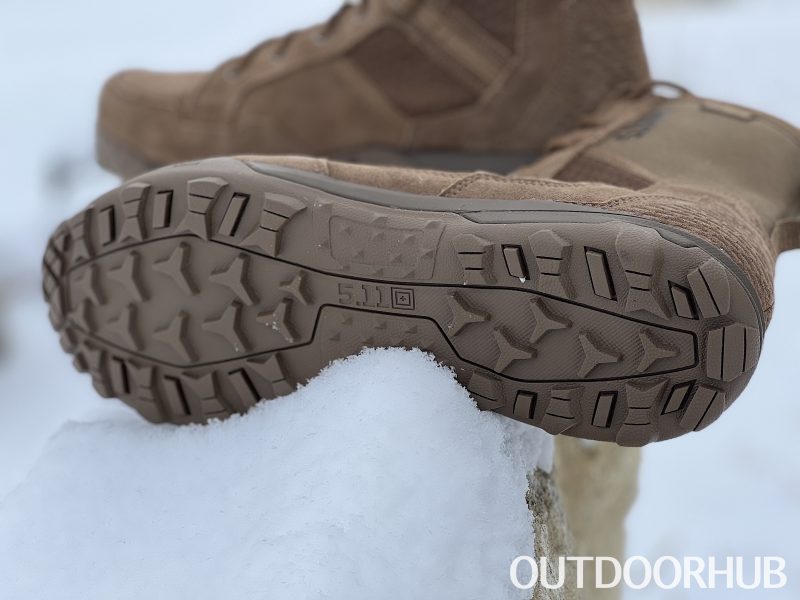 First Steps
We had some typical mountain spring weather when I first laced these up, in the form of a balmy mid-April snowstorm. I immediately went about my workday, noticing that the boots held their own on snow-covered pasture, slick, deep mud, gravel, wet rangegrass, and other harsh terrain that makes up my daily grind. The most impressive grip was on snow covered boulders that I was climbing up while checking on a fence line. I also did not get any blister in the first 50 miles I put on these boots, including a 2000ft ascent I took them on in the first week.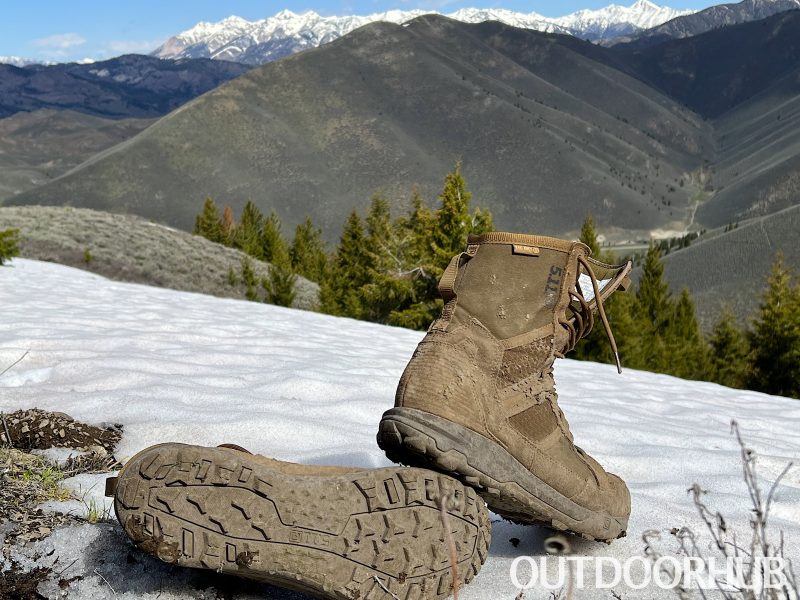 There were two areas where the boots had some issues in the spring: The outsoles would clog up pretty easily with heavy clay mud, and I had a few slips on snow-covered boards on the catwalks of my working corral. My feet did stay completely dry, however, despite constantly working several hours out in wet, muddy and snowy conditions. Another plus was that despite being a thinner boot than I normally wear, my feet stayed warm enough in temperatures ranging from 20-60 degrees while wearing mid-weight wool socks.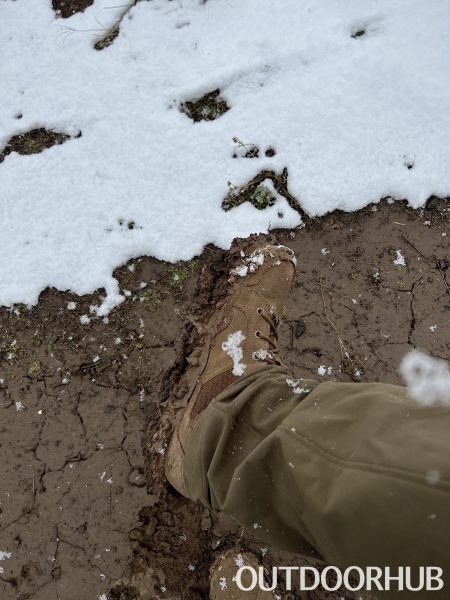 Hot to trot
Moving into the second season of my 5.11 boot test, summer was a good test of how well these boots could handle hot temperatures. My feet typically get hot pretty easily, so I was reasonably pleased with how the waterproof A/T boots handled the heat up to 90 degrees. I was building a fishpond for a lot of the summer, so work would alternate between hot/dry and wet. The A/Ts were a good choice until the temperatures reached into the triple digits, when they'd start to get uncomfortably hot. I did notice that the outsole of the A/T boots (the combined w my 200lb weight) is pretty loud when walking on rocks. This precluded me using them as a hunting boot, especially during bow season.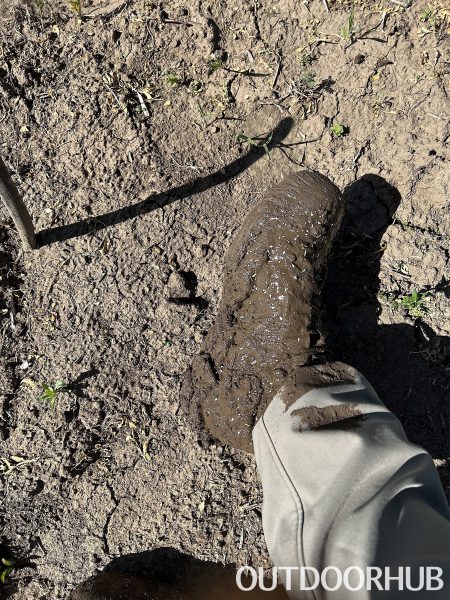 I did ford a lot of streams with the waterproof A/T boots, and the tight fitting 8″ upper has a big benefit in keeping splashing water from flooding into the boots. My feet stayed pretty dry for most of my stream crossings, but these boots also dry out pretty quickly in summertime if you do inadvertently flood them. The insoles were seriously comfortable, and my feet would not ache even after a typical 10 hour summer workday, carrying loads of up to 200lbs while walking on gravel and dirt.
On that note-I kept the support plates in the boots all the time, being that I was either carrying heavy loads at work or hiking with a pack (and usually a rifle) when not at work. For a lighter boot, however, one can slip out the rigid support plates if one prefers.
Ready for the fall
Fall saw me use these boots heavily in steep hikes while scouting game before rifle season. The high upper kept all the brickers and burrs from attaching to my socks or getting into the boot. I did notice that although these are 8″ boots, there is not really the level of ankle support I prefer in a hiking boot. Typical hikes for me are off-trail, and involve 2000-4000 feet of vertical gain/loss, with a lot of sidehilling thrown in. The famously brutal scree slopes of the mountain west began to take a toll on the soles of the boots as well, wearing out the midsole tread of the right boot.
That being said, the side of the outsole, as well as the entire upper, was amazingly free of any cuts or scrapes after three seasons of hell that I put these boots through. That is a minor miracle for boots to accomplish in these parts, let alone mid-priced ones such as the 5.11 A/T. The outsole tread got worn down a tad after 7 months, but nowhere near as much as the midsole.
Overall impressions
Overall, I would not hesitate to recommend the 5.11 A/T waterproof boot to anyone in the northern tier of states as a great 3-season work boot if you work in the mud and the dirt. The Dark Coyote color handles the dirt just fine, and these are pretty great boots for the money. They'll keep your feet dry as well, as long as you don't wear them in temps hotter than 90 degrees, and that'd be the sweat's fault.
For other temperate climates, you could get away with wearing these boots all year long, as they handled 20 degrees and 4-5 inches of snow just as fine as they did the summertime. The only thing I would not recommend these boots for is a serious vertical hiking boot, and the loudness of the sole prevents my recommendation for a dedicated hunting boot.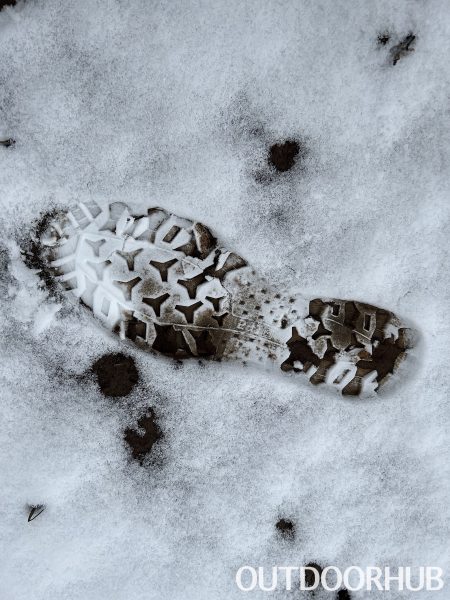 If the 5.11 A/T seems like the ticket to keeping your feet dry, you can give them a look and purchase them if you'd like over at 5.11's site, or go to one of their stores and try them on.
Pros:
Reasonably priced
Waterproofing didn't fail in the course of testing
8″ upper keeps out burrs and debris
Non-slip sole kept its grip on most surfaces/conditions
Very comfortable insole
Cons:
Not the stealthiest sounding outsole
Packs up with mud pretty bad
Small midsole lugs wear out easily
Overall:
A solid three season waterproof boot for dirty jobs or dirty fun.