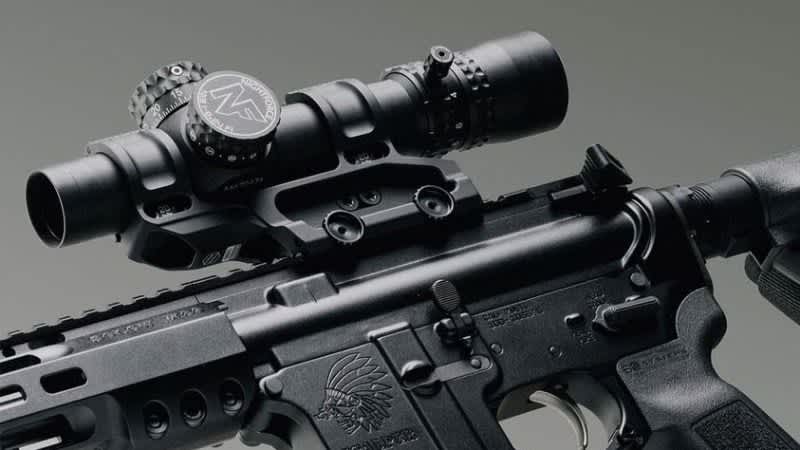 +
–
Table of Contents

1. Scalarworks LEAP/08 lightweight QD canteliever mount
SALE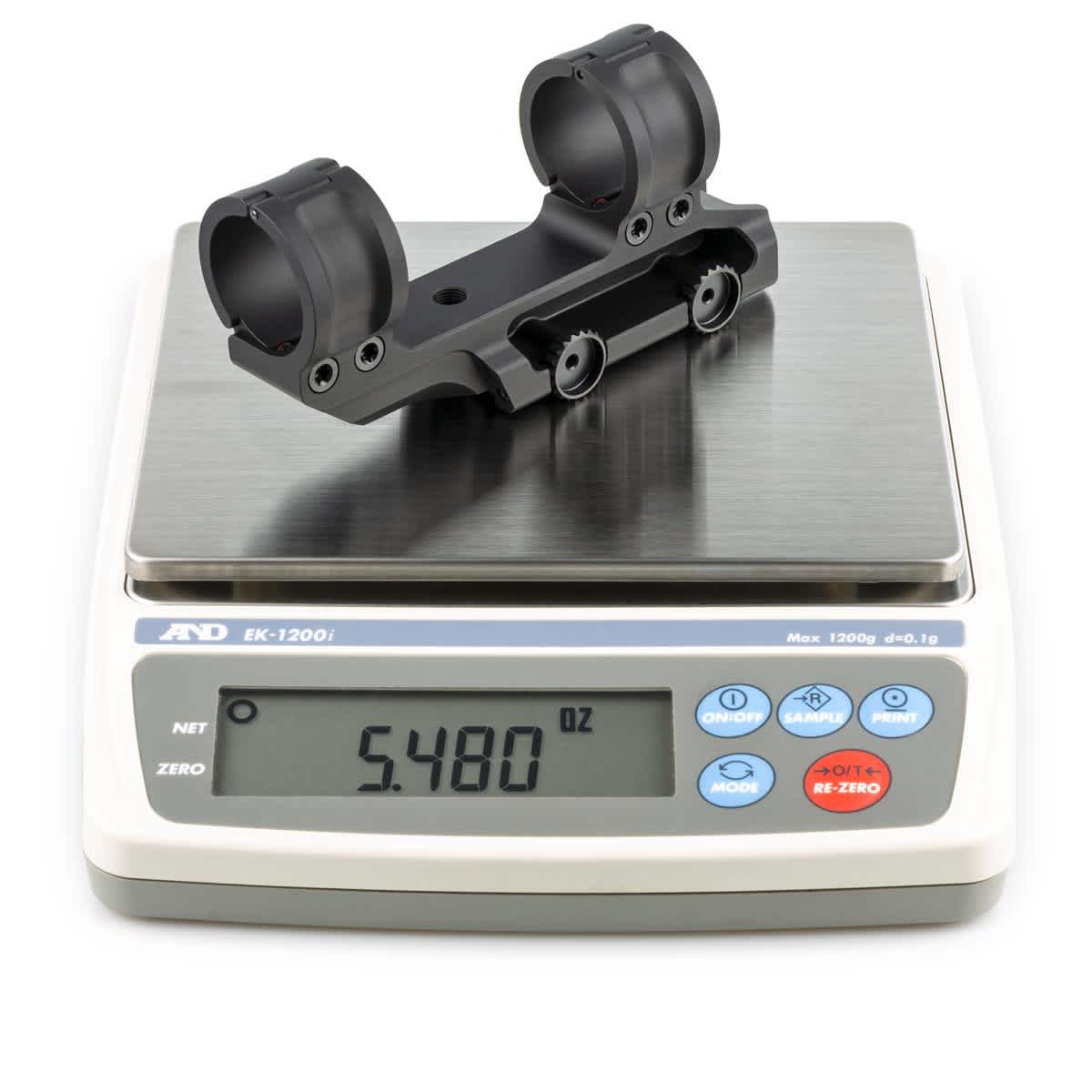 The Editor's Choice
Rusty's pick for this week is the Scalarworks LEAP/08 lightweight QD canteliever mount. The Scalarworks scope mount is machined from 7075-T6 aerospace-grade aluminum and blended with 4140H steel hardware. Scalarworks understands that this combination provides the rigidity you'll need during field operation. One of the highly-rated LEAP/08 1.93″ 30mm scope mount features is the absence of a separating ring system. Scalarworks builds this LEAP/08 with a high-strength hinge that ensures even pressure around the optic tube. Scalarworks holds the scope in place with oversized shoulder screws, which guarantees rigidity while reducing weight.
Features:

Fit: 30mm Tube
Weight: 5.74 Ounces
Inclination: 0 MOA
Material: 7075-76 Aluminum/4140H Steel
Style: Quick Detach
Pro/The undisputed champion of Lightweight QD scope mounts
Cons/Very expensive
Bottom Line/If you don't mind the price, this is the best option for nearly any rifle out there that can accept it.
2. American Defense Recon 30mm Scope Mount
SALE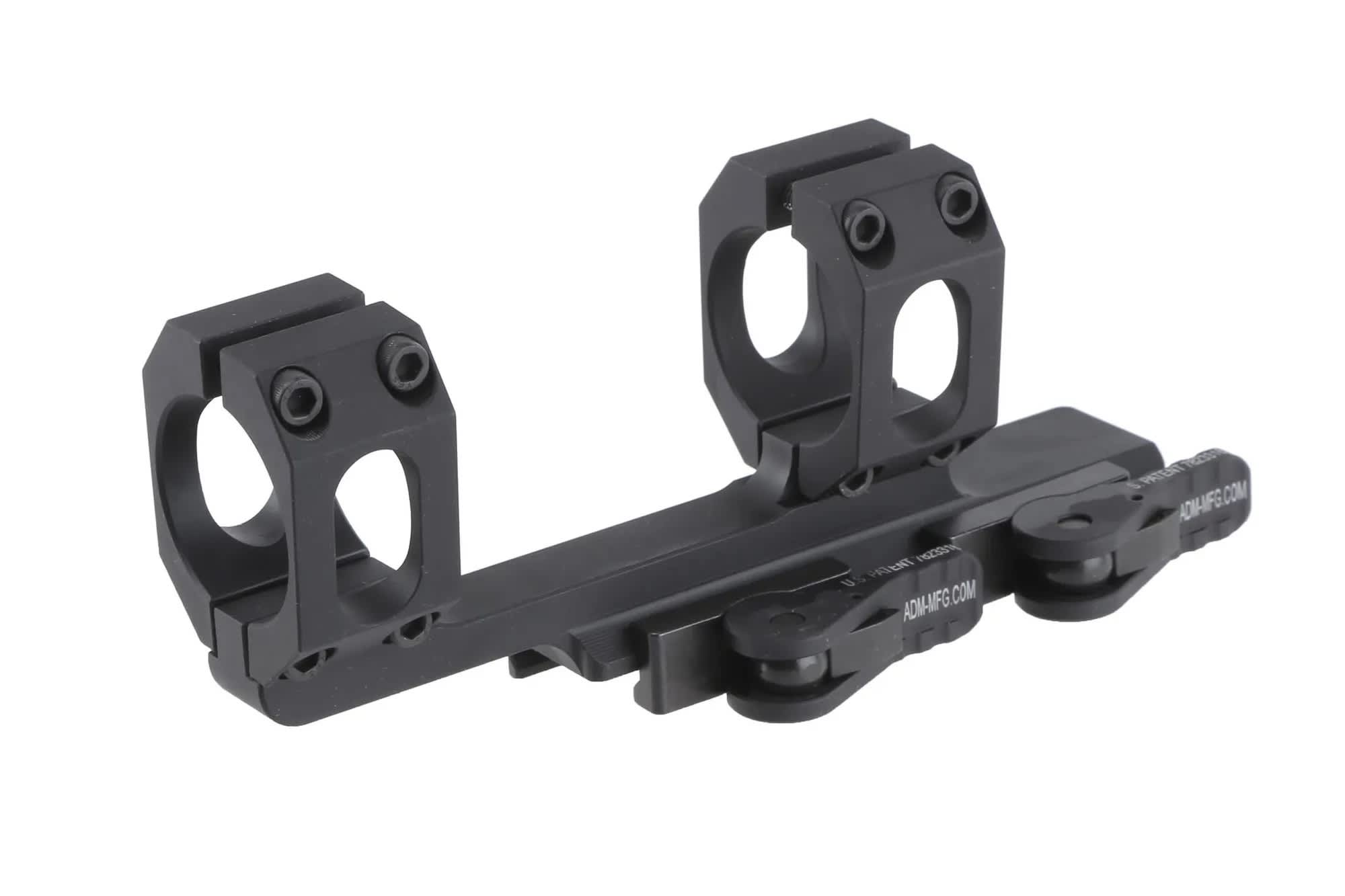 Author's Pick
American Defense Manufacturing makes some seriously high-quality and innovative accessories for a wide variety of rifles and optics. Their 30mm Recon Scope mount combines the best of lightweight design and convenient QD mounting to give you a solid scope mount that can withstand both the elements and quite a bit of abuse. The American Defense Recon Mount is designed for scopes with a 30mm tube diameter and up to 56mm objective lens. This American Defense mount is low profile to get the center of the optic as close to the bore as possible. Featuring the ADM Auto Lock lever system for quickly attaching and detaching your scope without losing zero. The quick detach lever offers plenty of adjustability for use on Picatinny rails whether they are Mil-Spec or not. The cantilever design allows you to place the scope farther forward giving you more room to adjust for the perfect eye relief. The ADM Recon Mount 30mm is the scope mounting solution for your AR-15 that you have been looking for.
Pro/Wighs only 8 ounces and is made from durable 6000 series aluminum and finished off with a Hardcoate Anodize
Cons/QD mounting system is quick to swap between rifles but adds about 3 oz to an otherwise lightweight design.
Bottom Line/A good combination of neat features and lightweight design for a durable and useful combination .
3. Wheeler Pic Rail Scope Rings 30mm
SALE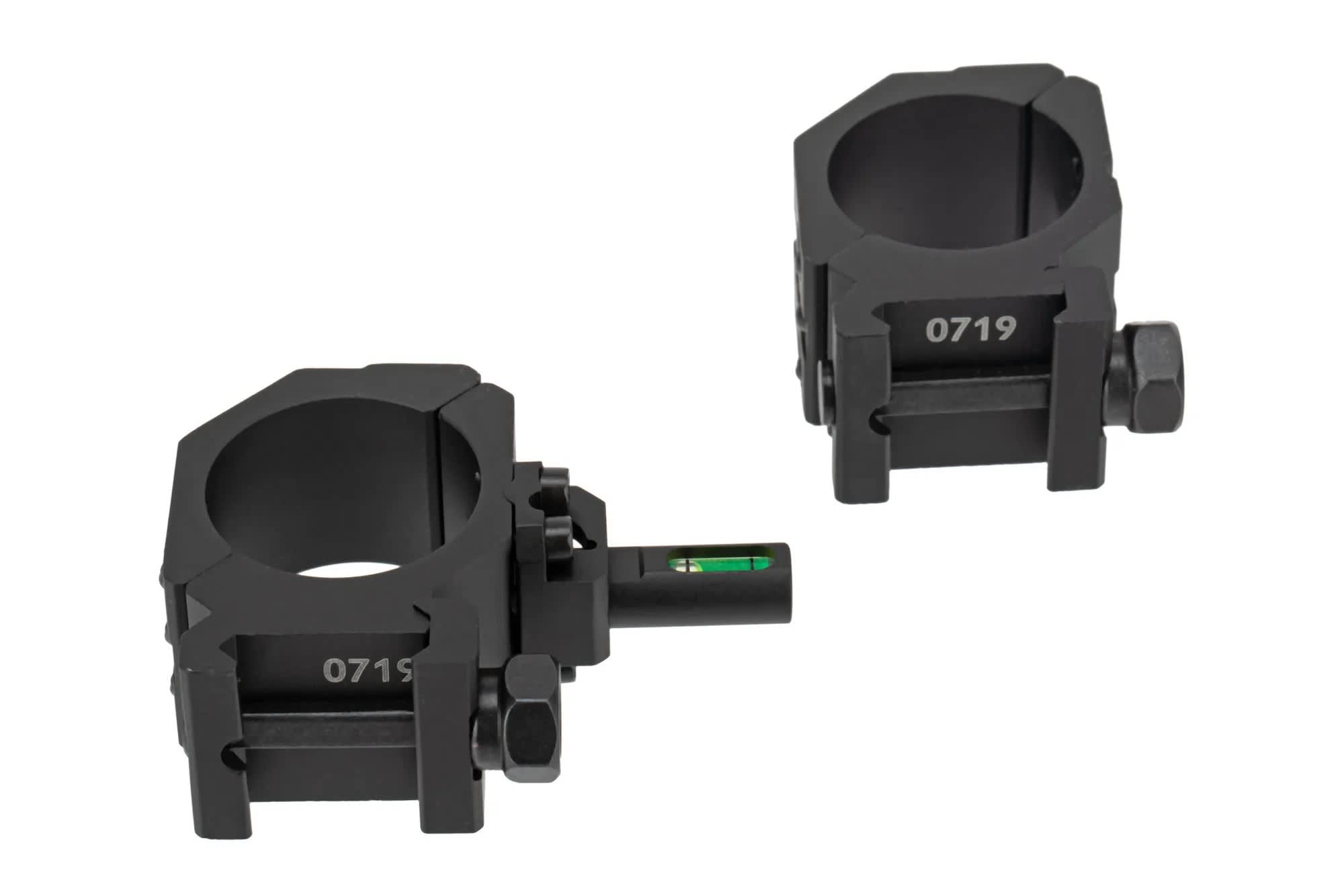 Wheeler Pic Rail Scope Rings 30mm Medium are perfect for mounting your favorite scope to an AR-15. It is a two-piece mount with a 6-hole ring design and retained 1/2″ lock nuts that secures the mounts to a picatinny rail. It boasts a 2″ cantilever extension allowing the scope to be mounted at a comfortable distance preventing eye strain and fatigue. The Wheeler swing out anti-cant level helps keep the rifle scope reticle level while shooting at a distance promoting a more accurate and consistent shot. The Pic Rail Scope Rings are specifically designed for the AR-15 platform with 6061 aluminum construction and flat top ring. The mounts 6 screw design prevents the optic from being moved during recoil and makes mounting a scope to your AR-15 platform quick and simple. Looking to upgrade your AR-15 with a good optic? The Wheeler Pic Rail Scope Rings are a perfect complement to any AR build. They allow the scope to be mounted at a comfortable distance, help keep reticle level during shooting and secures the optic during recoil.
Pro/Integrated bubble level for precise aiming and offset mounting pattern for an easier time mounting and leveling the scope
Cons/Bubble level adds a bit of weight
Bottom Line/A great two-piece set of alloy scope rings suitable for long range precision shooting.
4. Aero Precision
SALE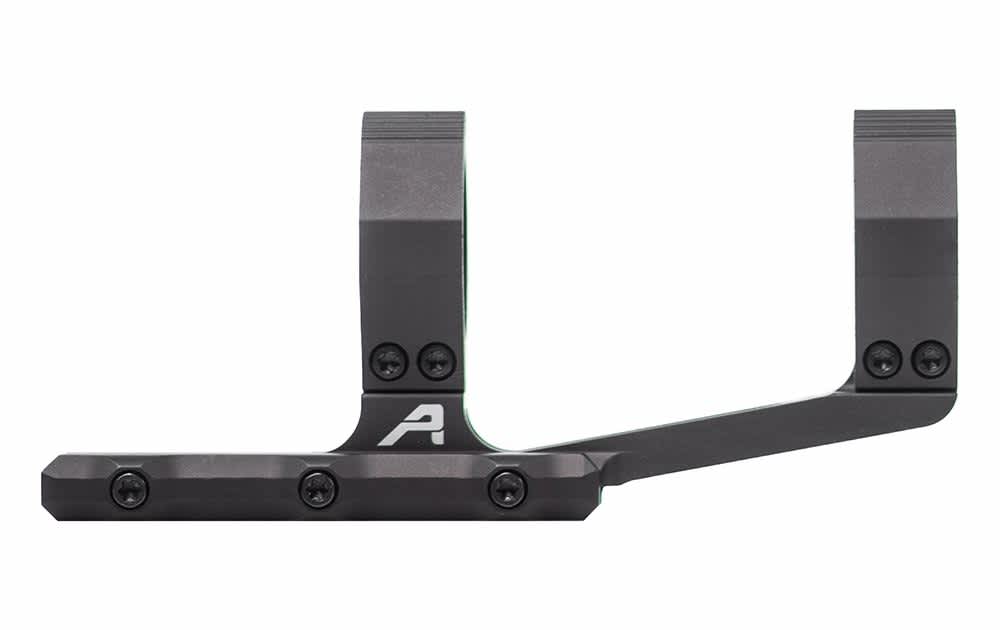 The Ultimate in Lightweight Design
The Aero Precision Ultralight 30mm SPR Scope Mount features a rear ring that is pushed forward 2 inches resulting in better eye relief for most LPVOs and scopes and is specifically designed to fit AR-type upper reverse with standard Picatinny rails. The mount features a cross-slot keyway that offers excellent recoil protection and basically frees the rest of your setup of any unnecessary bulk, or weight and resulting in one of the lightest scope mount options in the industry.
Pro/Extremely lightweight – only 3.36 oz
Cons/Not a great option for bolt action rifles without the use of an extended eye-relief scope.
Bottom Line/If your end goal is to be as light as possible this is the only option for you.
5. Leupold IMS Mark AR 300 Mount
SALE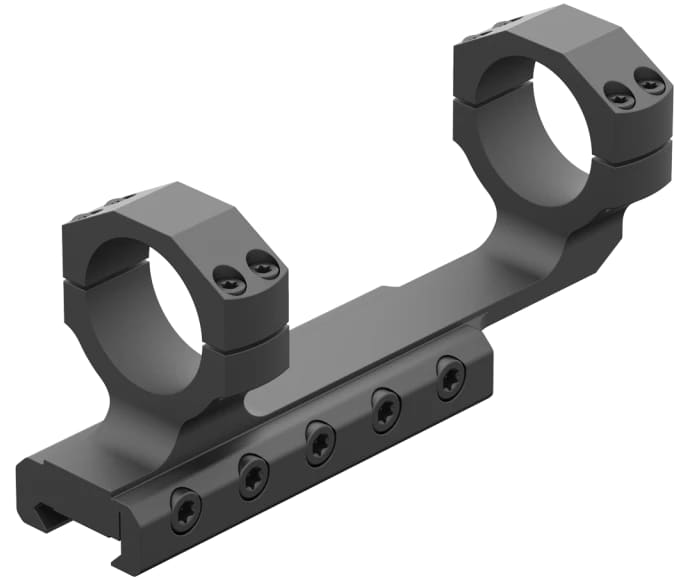 This Mark AR mounting system features an aluminum 1-piece integrated base and rings. It is designed to fit a Picatinny rail and any scope with a 30mm main tube. The Mark AR mounting system is made from aircraft-grade aluminum and has a total weight of just 5.8 ounces making it fairly light, but just a bit more robust than the Ultralight from Aero Precision.
Pro/Good balance
Cons/A little more expensive than other options
Bottom Line/Another solid option if you don't mind two extra ounces on your rig.
6. Talley Light WEight Scope Rings
SALE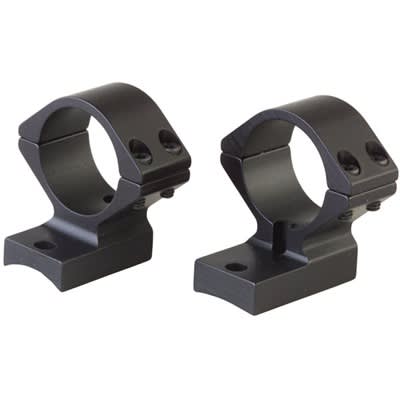 These lightweight scope rings bring all the durability of steel without any of the heft! One-piece construction blends the ring and base into a single unit. Eliminating the ring/base joint not only keeps weight to a minimum, it provides a stronger mount. Each ring cap is 5⁄8″ wide, with four, TORX screws, to keep large scopes from slipping or shifting. Designed by Mel Forbes of New Ultralight Arms.
Pro/Solid Construction with a durable deisgn that's affordable
Cons/None really
Bottom Line/With a wide variety of options for both scopes and mounting methods, you can't go wrong with these competitivley priced scope rings from Talley
We are committed to finding, researching, and recommending the best products. We earn commissions from purchases you make using the retail links in our product reviews. Learn more about how this works.