When it comes to modern sporting rifles or AR-15s, long gone are the days of hum-drum, predictable configurations. Manufacturers are crafting complete rifles that are more gnarly than ever and if you are savvy enough, you too, can build a rifle that will turn heads at the firing line. You simply need a bit of know-how, source some quality components, and make your vision become reality. For a shooter like me who loves the aesthetic of classic revolvers yet keeps in stride with new technology, Sharps Bros offers an appealing plus highly-functional option for the AR-15 platform. Today, we will look at their enhanced Livewire AR-15 Lower Receiver as well as additional components of theirs such as the Badlands Integrated Muzzle Brake and Blast Deflector to see how they fare in ease-of-build and durability. Let's dive in!
Sharps Bros News Coverage
Specifications – Sharps Bros Livewire AR-15 Lower Receiver & Additional Components
For those who might be unfamiliar with Sharps Bros, they make aftermarket enhanced components for AR-15s and nothing about them is ordinary. They boast unique feature sets, premium upgrades, and a pleasing aesthetic that will make your range buddies jealous. Sharps Bros was gracious enough to provide us with 5 different components of theirs to finish off an AR-15 build. All of those pieces are highlighted below: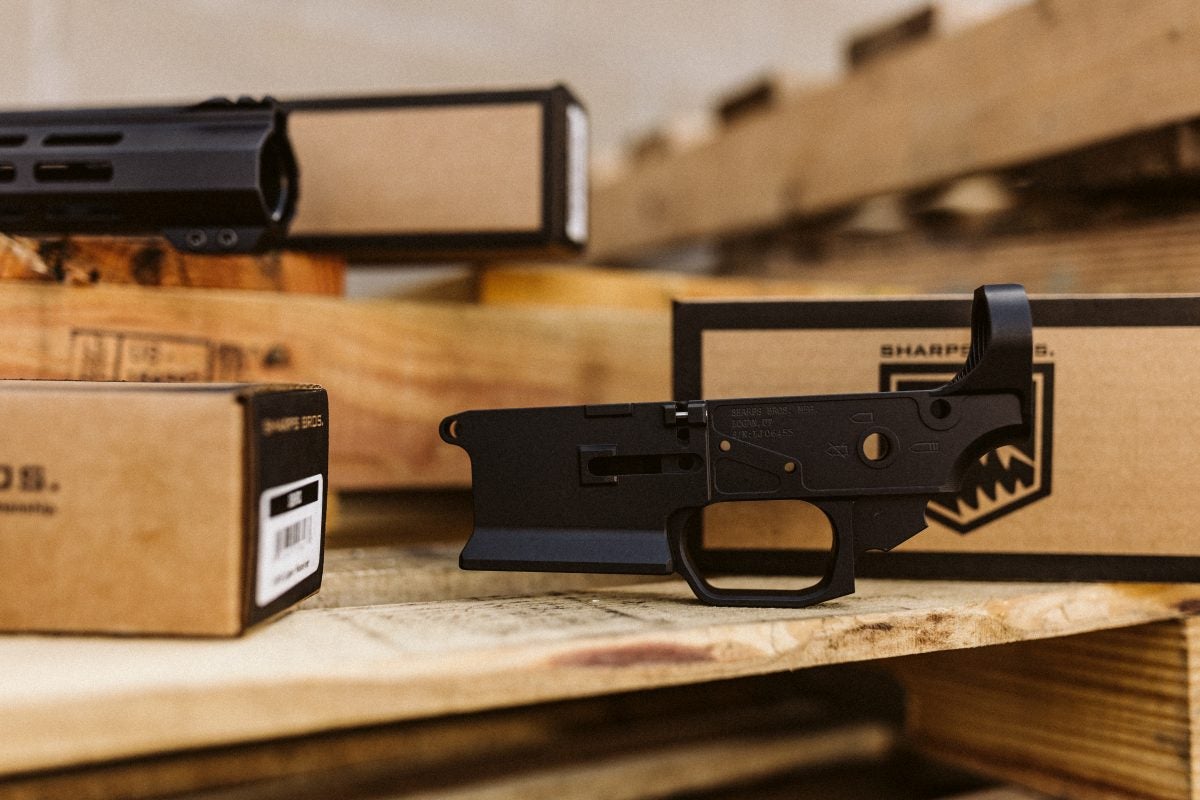 Sharps Bros Livewire (AR-15) Lower Receiver – MSRP $129.95
Oversized & Integral Trigger Guard
Ambidextrous Bolt Release
Beveled Magazine Flare
Machined Top-to-Bottom from 7075-T6 Aluminum, a Peak-Strength Corrosion-Resistant Aluminum Alloy
Hard Coat Anodize Finish per MIL-A-8625, the Anodizing model for most Military and Aerospace Products
Full Compatibility with ALL Mil-Spec Internal Parts
Full Compatibility with ALL Other Aftermarket Mil-Spec Upper Receivers
Full Compatibility with GI Standard Issue Magazines as well as PMags
Multi Caliber mark
Weight: 8.7 Ounces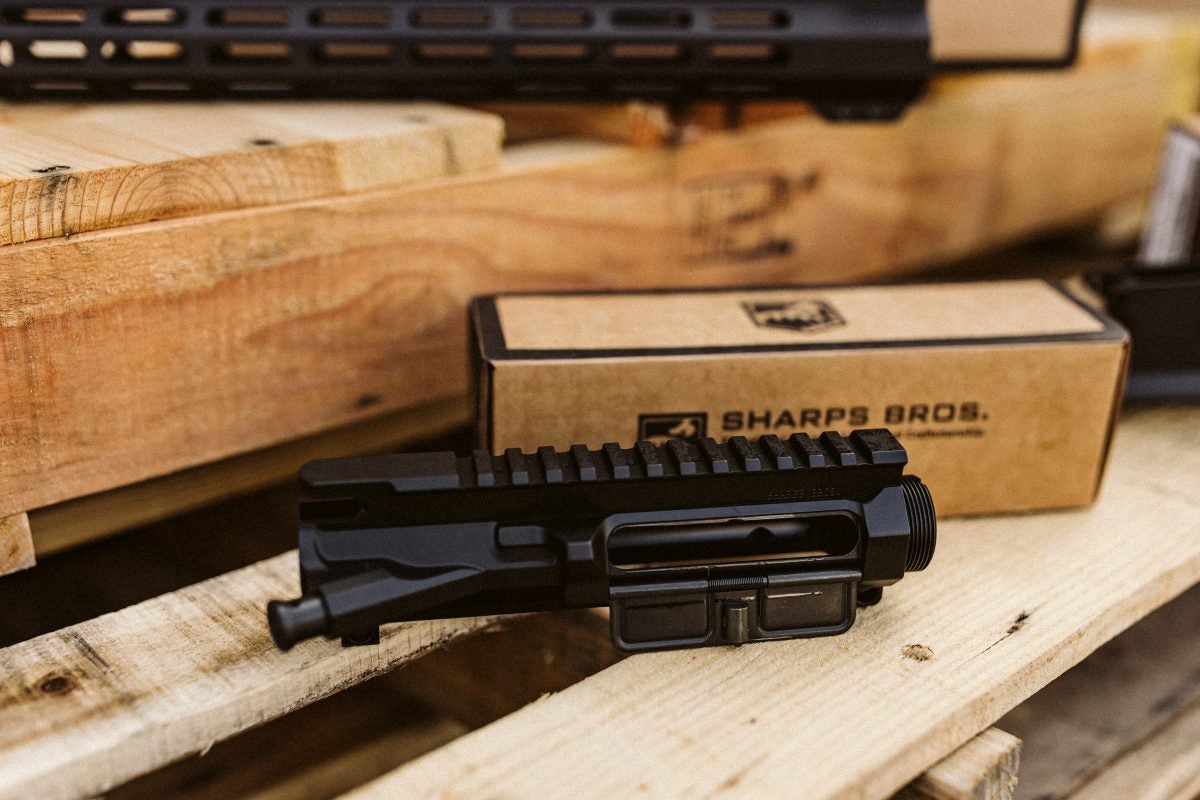 Sharps Bros Billet Upper Receiver – MSRP $194.70
Made from 7075-T6 Aluminum just like our Lower Receivers; Anodized Black; Comes with Forward Assist Kit and Dust Cover Installed
Made from Billet 7075-T6 Aluminum
Mil-Spec Type III Hard Coat Anodize
"SHARPS BROS" discretely Engraved on Both Sides
Weight: 9 ounces
Sharps Bros 15″ Ultra Lite MLOK Handguard – MSRP $144.95
Includes Barrel Nut and Hardware
Made of 6061-T6 Aluminum
Anodized Black per Mil-Spec MIL-A-8625F, TYPE III, CLASS 2
Handguard weighs 9.8 ounces | Barrel Nut and Hardware weigh an additional 1.3 ounces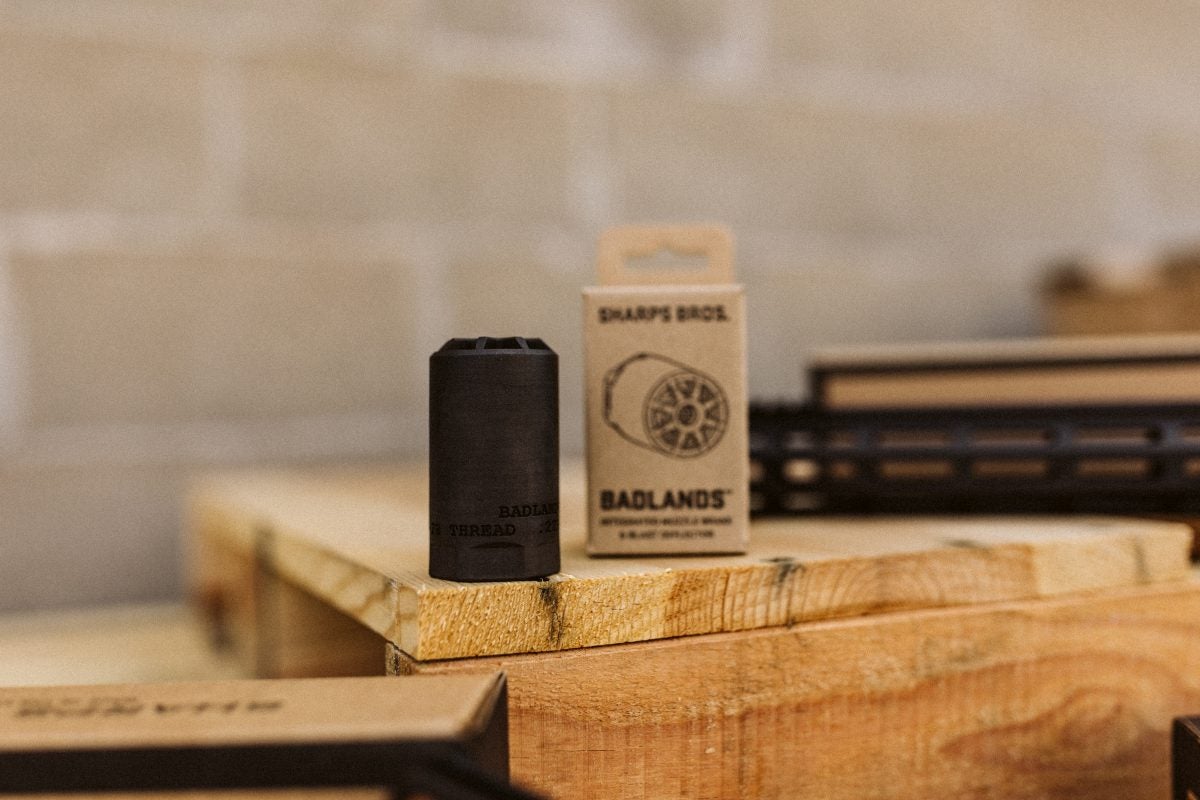 Sharps Bros Badlands Integrated Muzzle Brake & Blast Deflector – MSRP $129.95
1st Integrated Muzzle Brake and Blast Deflector 3D-Printed as 1 Cohesive Part!
Made from High Strength 17-4 Stainless, Heat Treated to H900, and Nitrided with a QPQ process for Extremely High Corrosion Resistance
The combination of the Material, the Heat Treat process, and the Hard Coating enable the Badlands to withstand Full-Auto Fire
Available in Direct Thread 1/2″ x 28 TPI or 5/8″ x 24 TPI
Suitable for .223 – .354 Calibers
Outside Diameter 1.5″
Overall Length 2.75″
Weight 7.1 ounces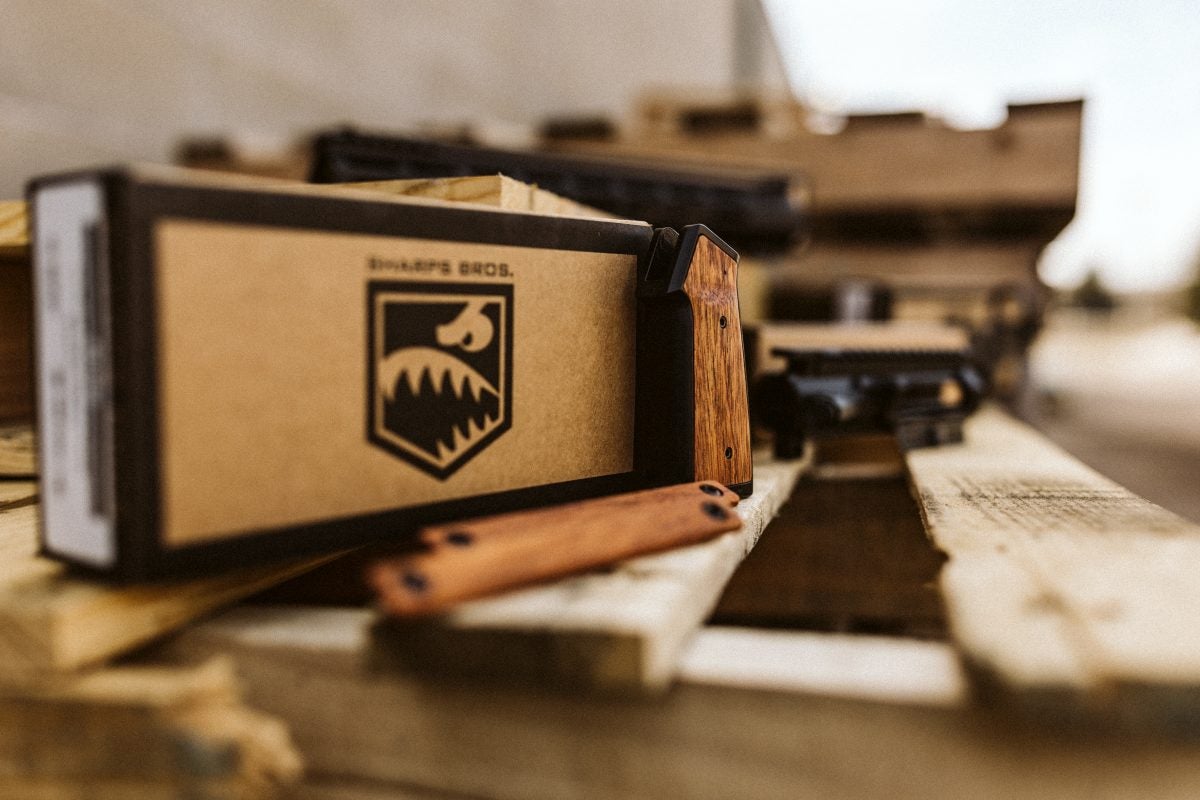 Sharps Bros Aluminum/Brazilian Cherry AR Grip & M-LOK Handguard Panels – MSRP $120.20
Grip frame is CNC Machined from Billet 6061-T6 Aluminum and Anodized Black
Wood is Brazilian Cherry hand coated with Tung Oil to give it a Rich, Natural, Protected Finish
Ships as a set (Grip + two M-LOK Handguard Panels)
Each Handguard Panel measures 5.5″ Long
Grip Panel Hardware, M-LOK Hardware, Grip Screw, and Allen Wrench all Included
Build Process – Sharps Bros Livewire AR-15 Lower Receiver & Additional Components
Most of us who are not new to the AR-15 platform intuitively know how to build one from start-to-finish. With all of the enhanced components we are working with from Sharps Bros, that still holds true. While Sharps Bros affords shooters with specialized features no other manufacturers offer such as Brazilian Cherry wood accents plus beveled and flared, Billet magwells among other elements, you can still assemble a complete AR-15 with remaining Mil-Spec pieces.
To finish off our Sharps Bros build, the remaining puzzle pieces were all standard Mil-Spec components and everything mated together beautifully. Not only did all of the components – Sharps Bros and other Mil-Spec pieces – match perfectly in their black finish, but they also fit like a glove. Deploying a very simplistic punch set, AR armorer's wrench, and a few other miscellaneous tools, this entire build process took roughly 30 minutes as captured in our time lapse in the video below.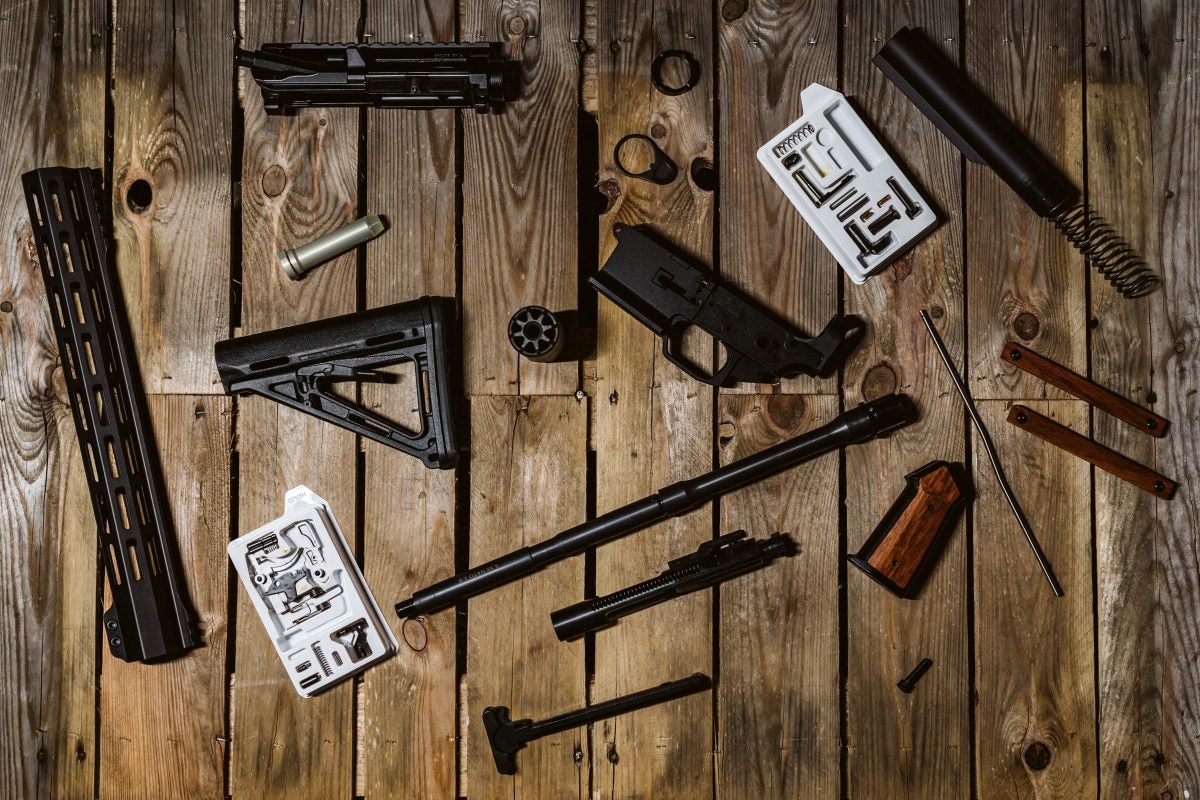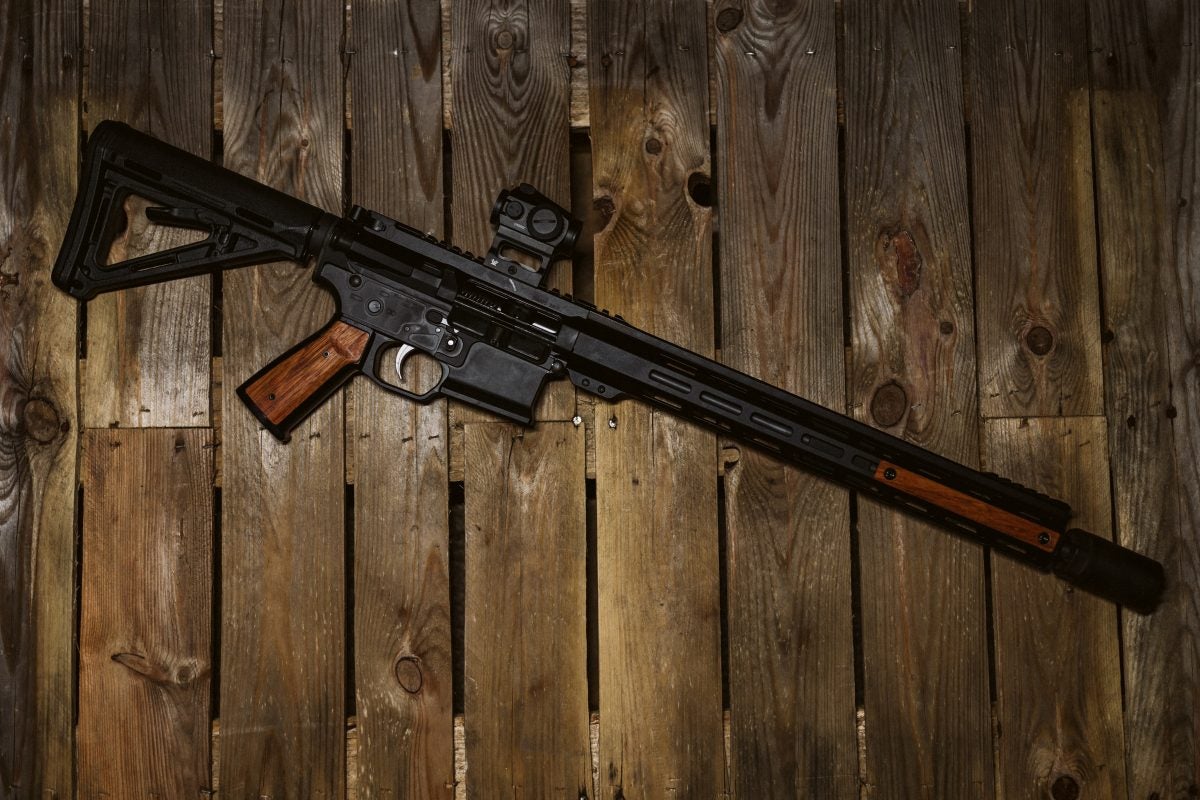 Rapid-Fire Torture Test – Sharps Bros Livewire AR-15 Lower Receiver & Additional Components
Once our rifle build was complete we performed some rudimentary function tests and everything checked out. The build turned out phenomenal with the slick look of the Anodized Black Sharps Bros components coupled with that aesthetically pleasing appearance of the Brazilian Cherry wood accents in the pistol grip and M-LOK handguard panels.
Our final test was to shoot ten (10) 30-round magazines of ammunition – 300 rounds in total – as fast as we could at the range to see if this build would fail. We landed on the figure of 300 rounds because if This semi-automatic rifle was to inevitably fail, it would surely occur within that volume of rounds while firing as fast as possible. Also, we did not shoot more ammunition because 2022 ammo prices are sickening. Inter, we utilized multiple magazine types (Magpul, Mission First Tactical, Daniel Defense, unknown metal mags, etc) as well as a smorgasbord of ammunition flavors: unknown steel case, 55 Grain M193, 62 Grain M855, 69 Grain SMK OTM (Sierra MatchKing Open-Tip Match), and many others from days long past.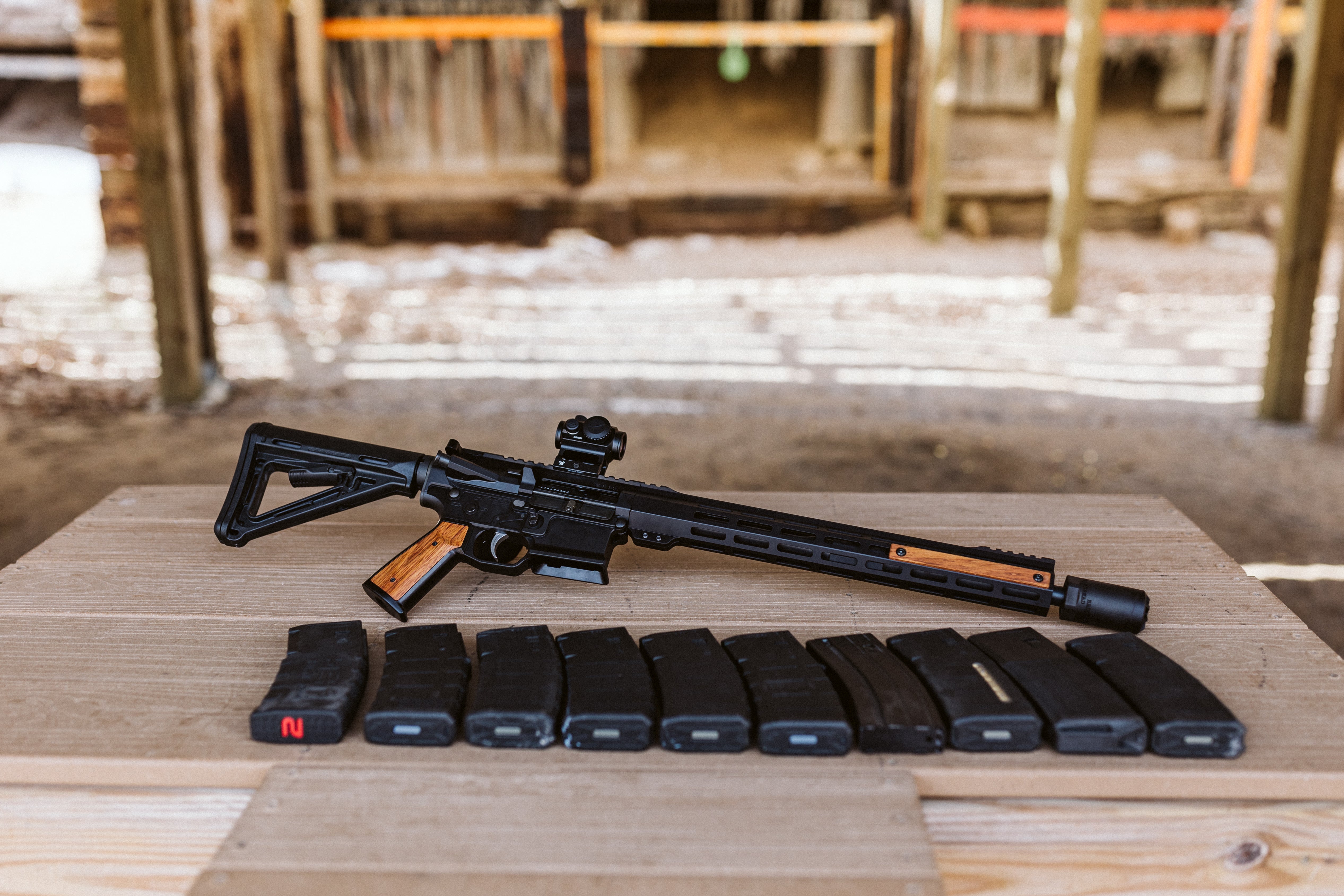 While shooting this aggressive firing schedule on a par-for-the-course, frigid Minnesota day, the Sharps Bros Badlands Integrated Muzzle Brake & Blast Deflector did a superb job of expelling all of the carbon, gas, and the bulk of the concussion downrange away from the shooter. Also, if not for the Brazilian Cherry M-LOK handguard panels coupled with the wood inlayed pistol grip, we could have not achieved this blistering pace of fire. The gun got so hot (all of the metal components) that the only thing we could touch and not get burned on was the wood (which was still hot, but safe to touch). Without the Brazilian Cherry wood, we would have needed a pitcher's baseball glove or something similar. I authentically feared we might melt a standard winter glove that's comprised of an assortment of plastic and polymers.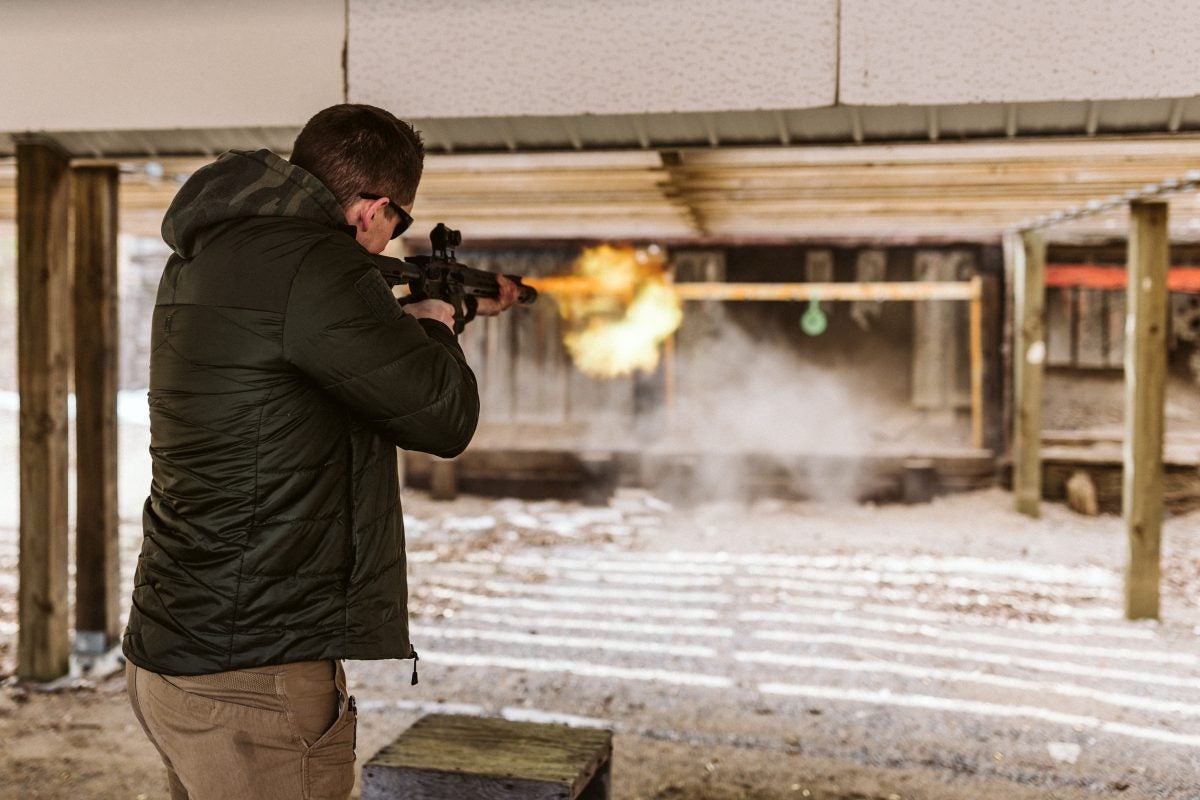 So, how did the AR-15 build run?… Nearly flawlessly. There was one shooter-induced Failure-to-Feed (FTF) by myself when I haphazardly gripped the magazine while shooting because the gun was so hot. Realizing my error, I cleared the malfunction, more carefully gripped the Brazilian Cherry M-LOK handguard panels, and the rifle kept chugging along without a stoppage. Our videographer Jens helped in tilling the soil in the bunker and he never experienced any issues at all.
For a rifle that had its components removed from their packaging, hastily assembled by a Northwoods hick like myself, and then force-fed a varietal diet of inconsistent ammunition – all under 1 hour in total – this rifle ran like a champ and earned my respect . I would have no qualms deploying this rifle for a league, hunting, and/or defense. It has officially earned its stripes. The Sharps Bros components delivered on their promise of enhanced features with universal, intuitive functioning. Nothing more could be asked of them.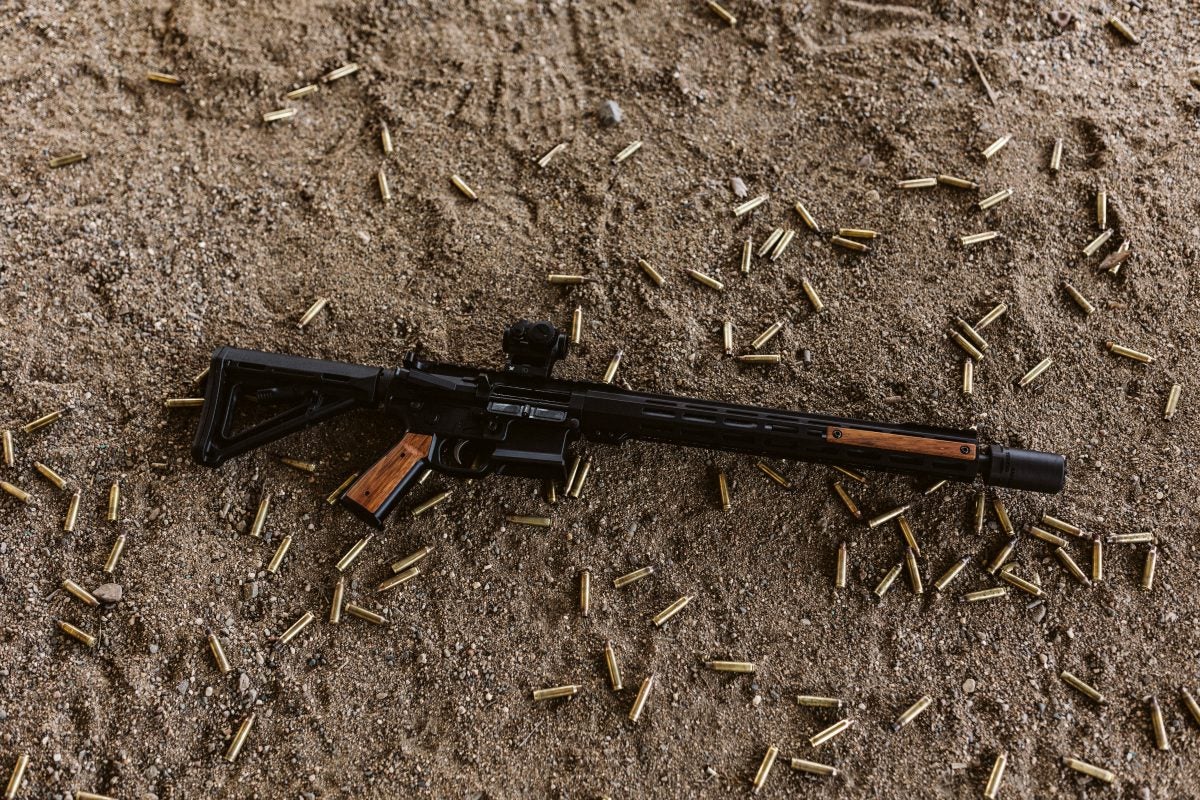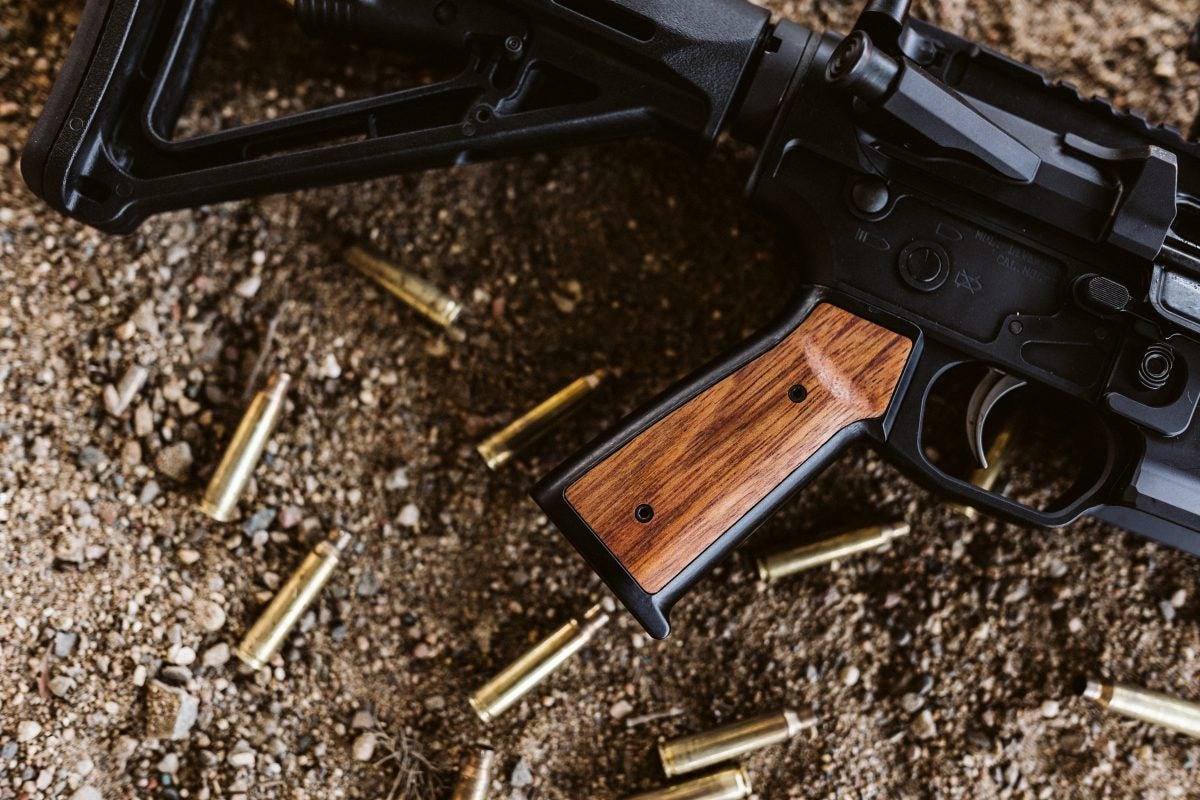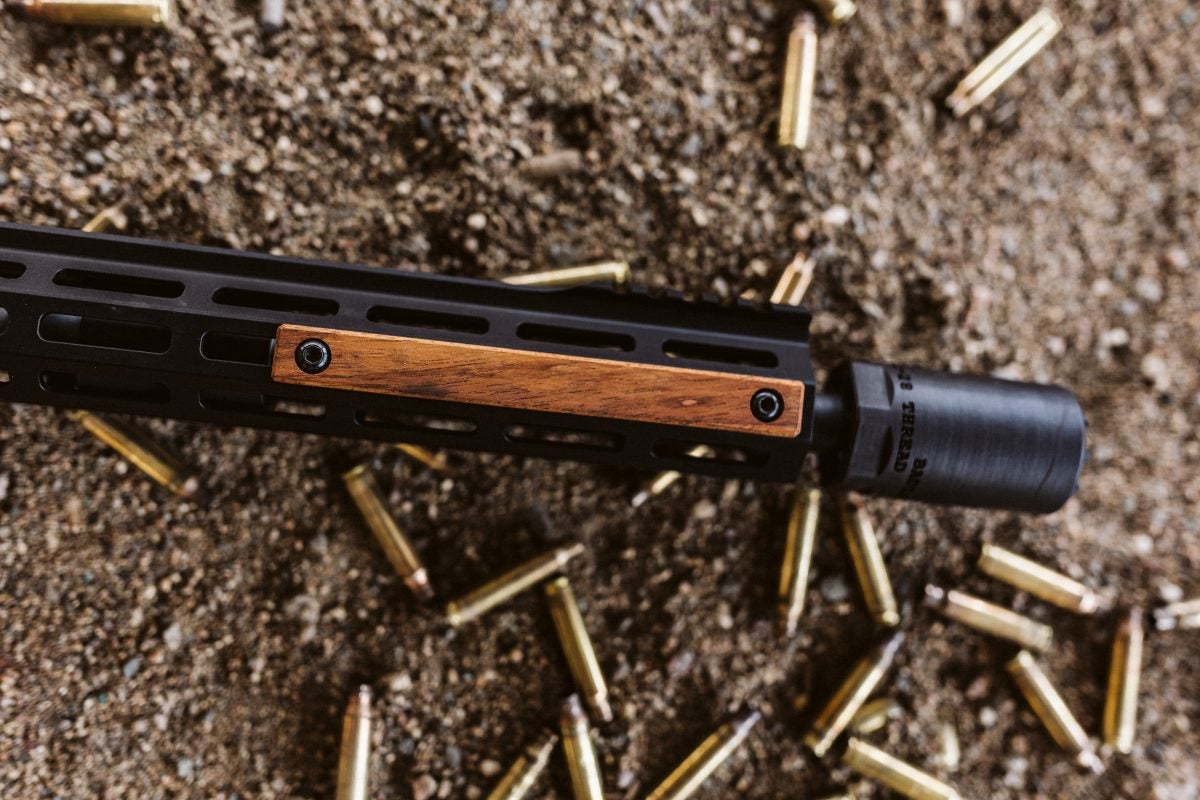 Final Thoughts – Sharps Bros Livewire AR-15 Lower Receiver & Additional Components
So, what are my final thoughts on the Sharps Bros Livewire AR-15 Lower Receiver as well as the other premium components sent to us?… Overall, they all have fair asking prices and they perform as advertised if not significantly better. Nobody wants a modern sporting rifle these days that blends in with everybody else. We want a touch of flair, a boost in functionality, and less drag holding us back. Sharps Bros delivers all of that. If you want to kick your next build up a notch, give them a look.
In closing, I want to say thank you to Sharps Bros for allowing AllOutdoor and myself the opportunity to try out their Sharps Bros Livewire AR-15 Lower Receiver as well as several other enhanced components. That is always greatly appreciated. Also, we would like to know what all of you guys and gals think? Do you believe that the Sharps Bros Livewire AR-15 Lower Receiver as well as their other enhanced components are worth spending your money on? Would you shoot a league with this build? Use it as a hunting rifle? For defense? As always, let us know all of your thoughts in the Comments below! We always appreciate your feedback.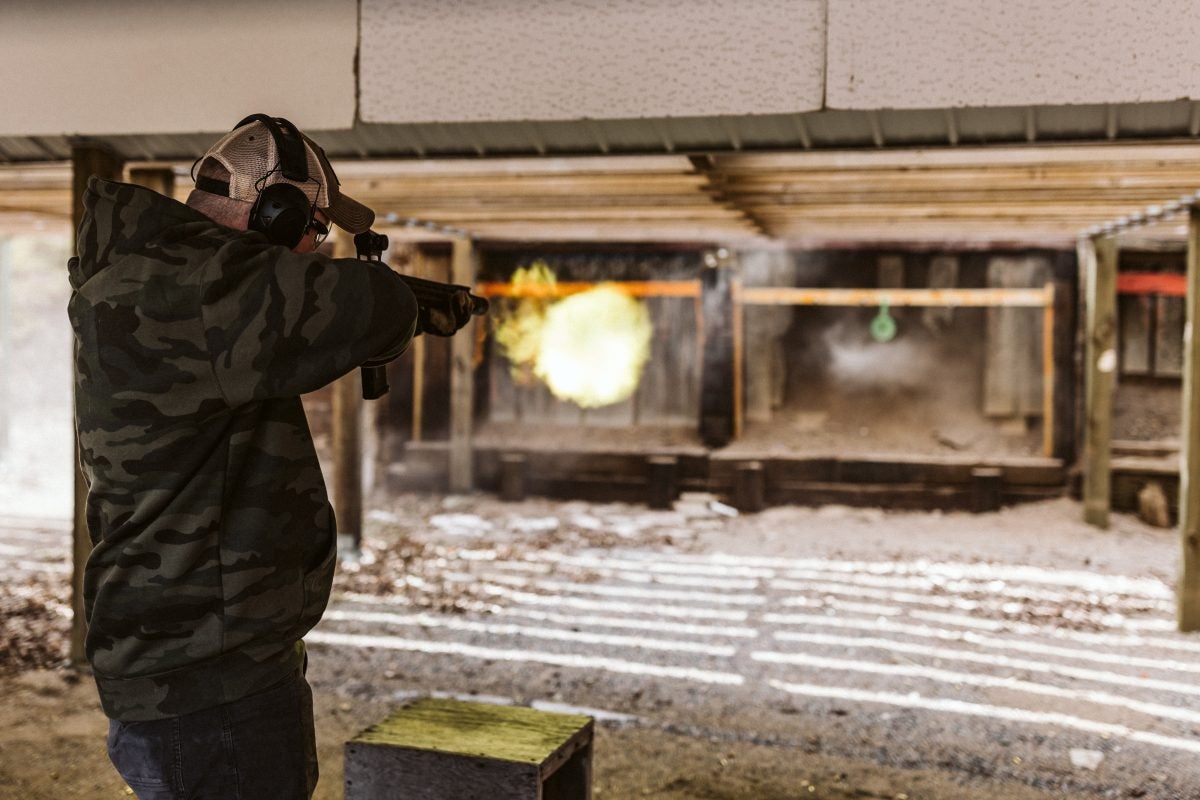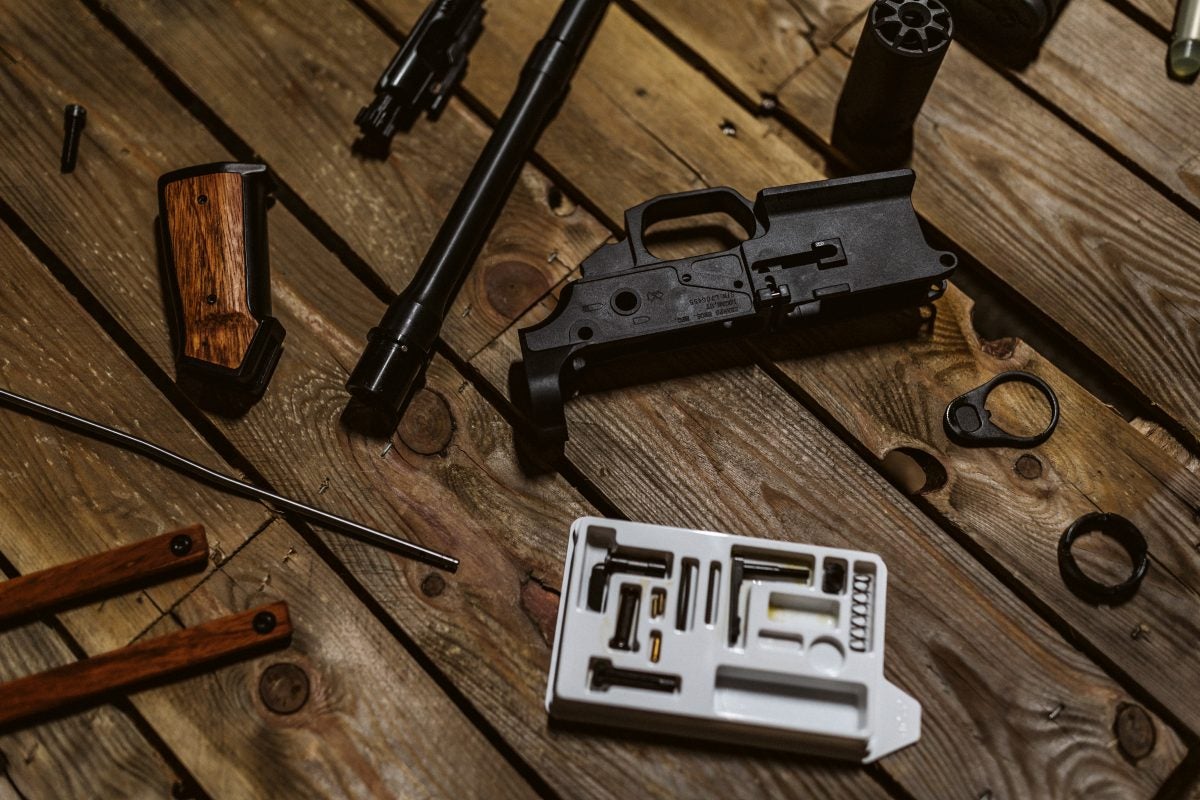 Video and Photography
All of the quality photography for this review was completed by the accomplished and wonderful Savannah Pierson of Savvy Photage while the video work was achieved by the versatile and gifted Jens Kallgren of High Shine Media. They are both pinnacles of knowledge and expertise in their field, and their assistance was greatly appreciated in this review.