When it comes to our hunting gear we want it to be as versatile and useful as possible. It nearly impossible to do so, but it would be wonderful if all of our "tools" were a Swiss Army Knife (metaphorically speaking). Being able to accomplish multiple tasks for us to increase their own value. That is what a good hunting blind can do for you. Deploy it for turkey hunting in the spring, bird watching in the summer, deer hunting in the fall, and late season goose in winter. A good hunting blind can roll with the seasons – roll with the punches Mother Nature deals out – and be an end-all, be-all mobile solution for hunting. With all of that being said, we recently had the opportunity to take a long-term look at one of Rig 'Em Right Outdoors' hunting blinds in the Hydeout XL. So, today we will review our experiences with it, and share with you whether this is a blind one you should purchase or pass on. Let's dive in!
Hunting Gear Coverage on AllOutdoor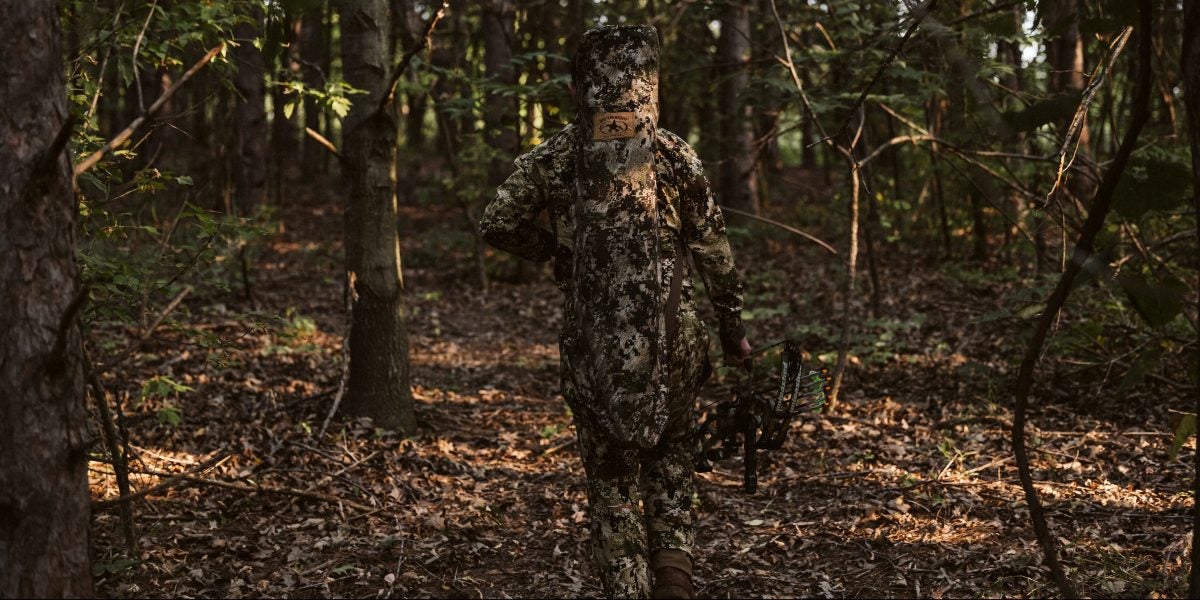 Specifications – Rig 'Em Right Hydeout XL Blind in Gore Optifade SubAlpine Camo
The Rig 'Em Right Hydeout XL hunting blind is offered in Gore Optifade SubAlpine or Gore Optifade Timber camouflage patterns. It weighs in at a moderate 26 Lb and is capable of housing 2 – 3 hunters/huntresses at a time (65"W x 65"W x 72"H). For anybody who is familiar with these hub, "pop-up" style ground blinds they are incredibly easy to setup and bring out into the field. The Rig 'Em Right Hydeout XL is no different. The rest of the essential specifications for the Hydeout XL can be read below as presented by Rig 'Em Right:
Camo interior allows you to wear your camo inside the bind and reduces the "black hole" effect.
360-degree views
Large windows for multiple shot and archery angles
Silent entry and exit option
High visibility window latches for quiet, low-light situations
Premium see-through camo mesh windows that open quietly
Orange center hub for easy set-up
Camo backpack with padded shoulder straps
Straps for adding vegetation
Removable reflectors on all sides to locate in the dark.
Heavy duty steel tent stakes
You've invested hard-earned money on your SITKA Gear to help you stay warm, dry and invisible and our new HydeOut XL Blind will help you to do just that. Our all new blind boast a camo interior to help you disappear inside without having to wear a basic black hoodie, and all the while eliminating the "black hole effect" that just doesn't look natural in the woods. Additionally, we wrapped our carrying case and backpack in camo to help you sneak through the woods undetected, because let's face it, a crummy black backpack sticks out like a… black backpack. Other features like silent entry and exit system, high-viz orange window attachments, one-way camo mesh windows, 360-degree views make this the baddest blind hunting hunting ever.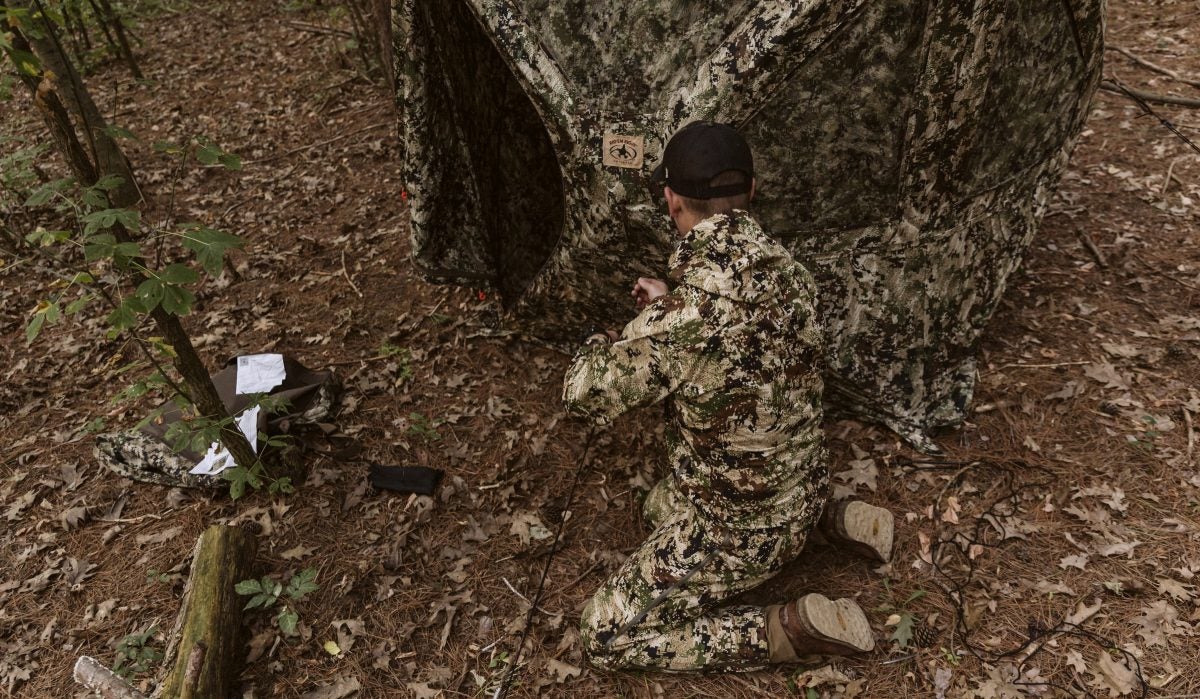 The Rig 'Em Right Hydeout XL Blind in Gore Optifade SubAlpine camouflage that we are reviewing here today retails for $529. Also, Rig 'Em Right always has your back in the rare event that you should ever need service. With their Limited Warranty, Rig 'Em Right stands behind the quality of their products with a 1 Year Limited Warranty on all products. They will replace the item with the same or similar product at no charge. "We're here to fix problems so you can get back into the field, blind, or boat" is their motto.
Field Use – Rig 'Em Right Hydeout XL Blind in Gore Optifade SubAlpine Camo
When it came to getting out in the field and testing this "pop-up" hunting blind we had quite a bit of fun doing so. For starters, anyone who has ever used a "pop-up" or collapsible hunting blind before understands the pain of getting a blind back into its carrying bag. Most carrying bags are small and you can never get a once-used blind back in the bag again. With the Rig 'Em Right Hydeout XL, they made your carrying bag spacious enough where you can fit tent stakes/blind stakes inside, the entire blind, and maybe even an emergency Snickers bar or two. Point is, I appreciate it (and Rig 'Em Right is obviously a true legion of hunters) that they knew to create a bag big enough to fit there product after it leaves the factory.
Secondly, and this is a rather simple compliment or tip of the hat to Rig 'Em Right, but I appreciate that they utilized and partnered with Sitka to bring out some of their camouflage patterns in their Hydeout XL. I am entrenched in Sitka clothing because it is some of the best in the clothing-hunting industry; its the Gucci apparel brand for hunters. So, I now have a blind that matches my clothing (not so much for stylistic points in front of the bros), but now when you are inside the blind you "melt" or disappear into the background when a shooting window is open.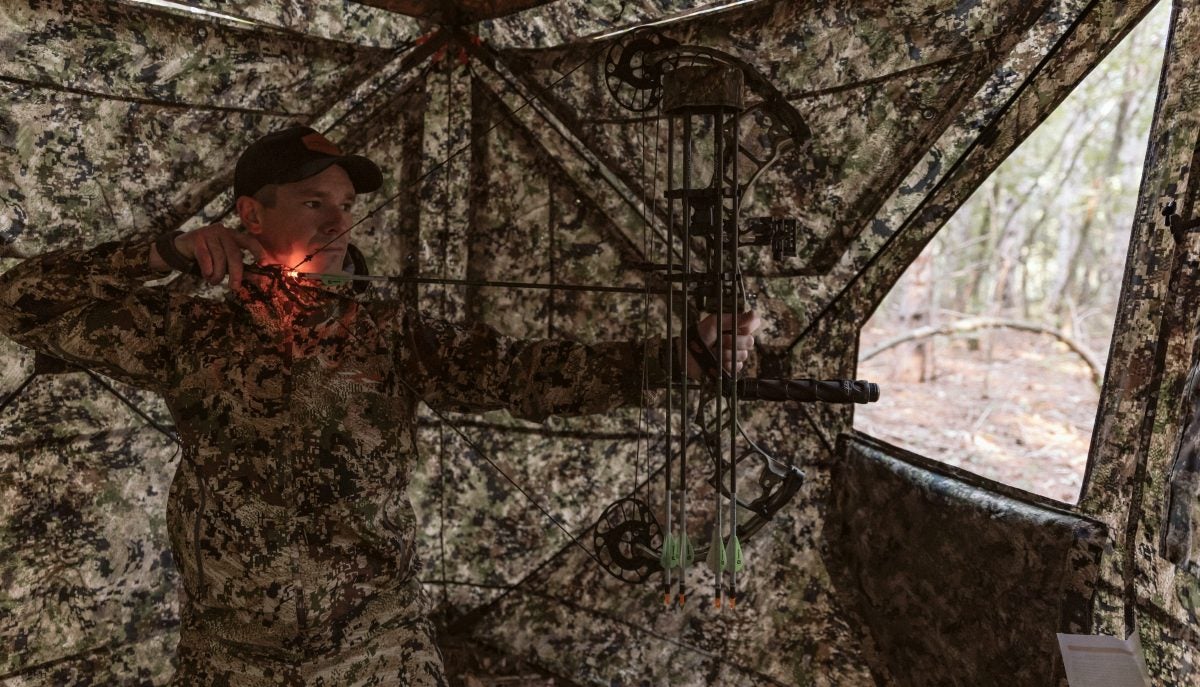 You need to think from the game animal's perspective that you are hunting; play devil's advocate for yourself.
If a deer walks by and sees a spherical, bale object along a field line that is of a natural forest or camouflage color, it is not that weird…
If a deer walks by and sees a spherical, bale object along a field line that is of a natural forest or camouflage color plus a 2nd non-matching figure is inside… sort of looks like a scary human silhouette even though its a different camouflage, that's mighty suspicious…
Now, back to the design of the Hydeout XL. I like that the blind is 6′ tall inside. Not that it allows me (a medium-build, 6′ tall male) to be able to stand up inside – but rather – from a kneeling or seated position, I could fire a compound bow, crossbow, rifle, shotgun, etc. If you don't have that much height (what feels like almost too much height) then you cannot draw and safely fire a bow inside a blind. One of your limbs might hit the ceiling and cause you to miss or injure a game animal. Or, worse yet, hurt yourself. We all want to be good stewards of animals in the outdoors. So, it is best that we humanely and swiftly harvest that animals we intend to hunt and never allow for the chance for such things – like a bow's limb – to hit something and maim the animal or injure you.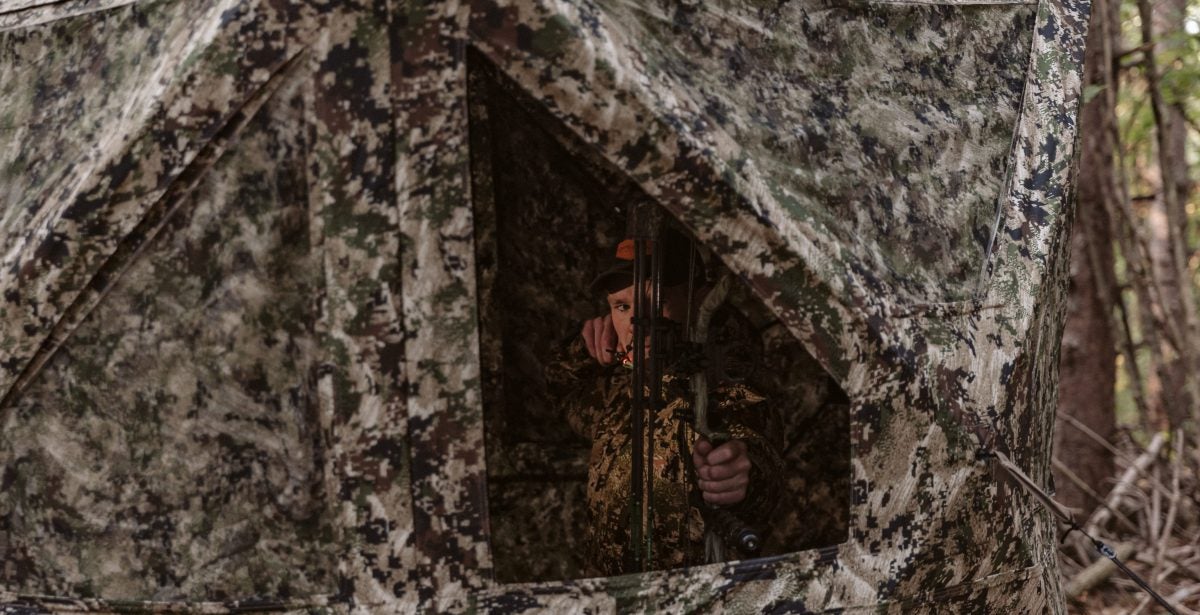 What I also appreciated about this blind is the secure tie-down system. I have been hunting on some pretty blustery days afield and you need to make sure your blind is staked-down/tied-down well enough that you don't become a tumble weed on the prairie. The Hydeout XL I was able to secure it down to the forest floor well enough that high, strong winds would not make me get sucked away.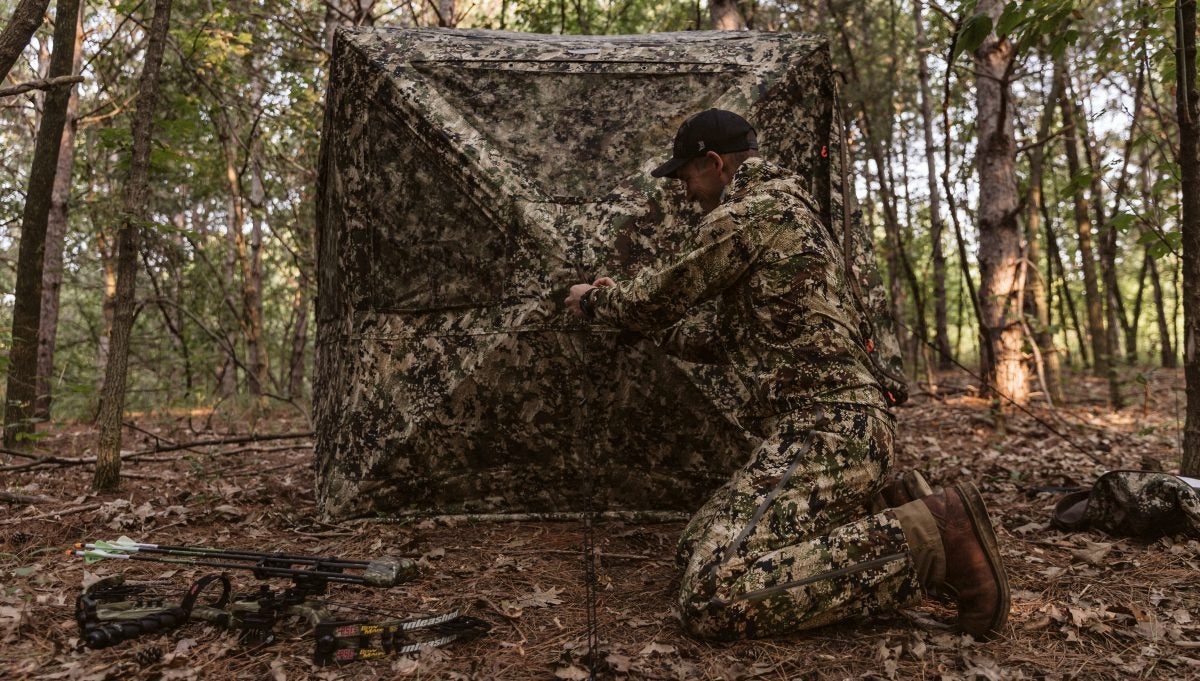 Finally, and we're getting into small nuances here, but I liked that there was a shoulder strap to the carrying bag of this blind because I am often "arms full" heading out in the field when I am hunting: bow, decoys, Backpack, snacks, flashlight, blind, chair, etc. So, being able to sling this blind over my back as opposed to carrying it with my hands is helpful at the end of the day.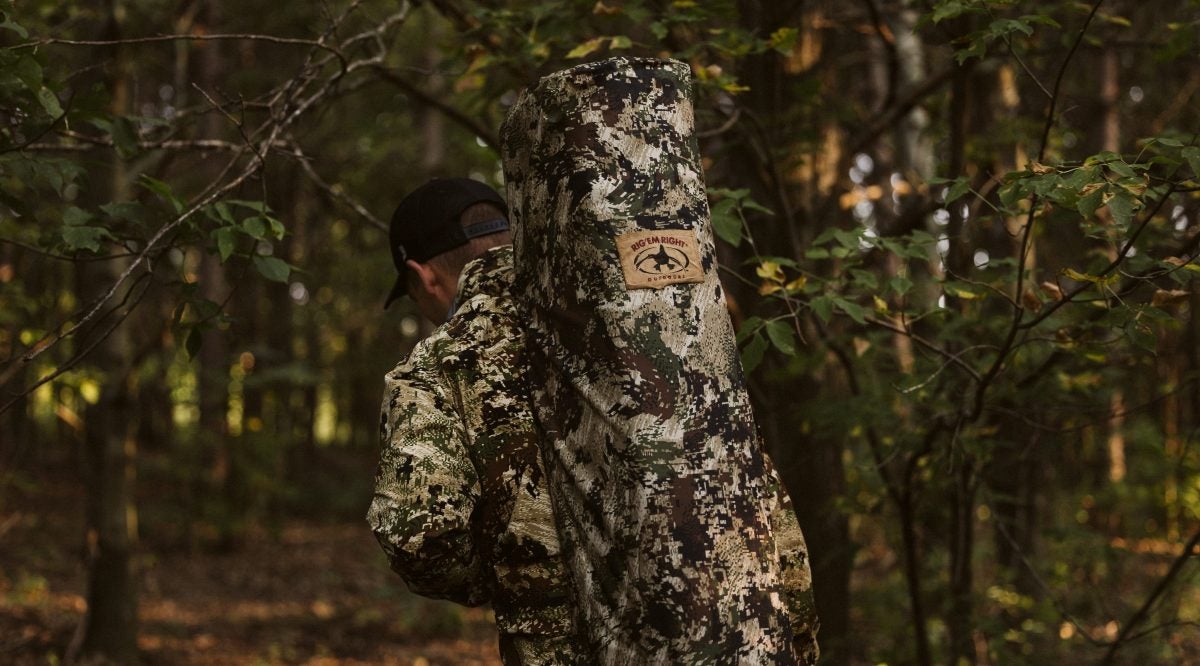 Final Thoughts – Rig 'Em Right Hydeout XL Blind in Gore Optifade SubAlpine Camo
So, what are my final thoughts on the Rig 'Em Right Hydeout XL hunting blind in Gore Optifade SubAlpine Camouflage?… Overall, this is a phenomenal hunting blind. Its weight is on par with most all blinds on the market today, Rig 'Em Right was forward-thinking in pairing with Sitka on camouflage patterns which I love, and there is value in their price of $529. If you are in the market for a hunting blind, I would highly suggest taking a look at the Rig 'Em Right Hydeout XL. You will not be disappointed.
In closing, I want to say thank you to Rig 'Em Right for allowing AllOutdoor and myself the opportunity to try out their Rig 'Em Right Hydeout XL Hunting Blind in Gore Optifade SubAlpine Camouflage. That is greatly appreciated. Also, we would like to know what all of you guys and gals think? Do you believe that the Rig 'Em Right Hydeout XL Hunting Blind in Gore Optifade SubAlpine Camouflage is something worth spending your money on? Would you use it for hunting, scouting, or creating a little backyard adventure for your kids? As always, let us know all of your thoughts in the Comments below! We always appreciate your feedback.
---
Video and Photography
All of the quality photography for this review was completed by the accomplished and wonderful Savannah Pierson of Savvy Photage while the video work was achieved by the versatile and gifted Jens Kallgren of High Shine Media. They are both pinnacles of knowledge and expertise in their field, and their assistance in reviewing the Sitka Gear Kelvin Aerolite Jacket in Optifade Open Country camouflage is greatly appreciated.