Mystery Ranch is a brand that needs no introduction at this point, but I think most people associate them with their large Military style pack or well-thought-out EDC bags. The brand also makes top-notch fire fighting and trekking packs and while I'm no firefighter or ATC thru-hiker I can fully endorse the In and Out.
The In and Out was independently purchased by the reviewer. Mystery ranch did not send a review copy and had no say in this written review.
Mystery Ranch In and Out Backpack – How it was Tested
The In and Out was tested over the last 2.5 years in a variety of roles including a hiking daypack, distance running bag, and travel pack.
Mystery Ranch In and Out Backpack – Specs
Multiple colorways are available to include Black, Dark Khaki, Eggplant, Flame, Forest, Grass, Lemon, Mystery POP, Strom
Height 20" or 51cm
Width 13" or 33cm
Depth 9" or 23cm
MSRP $79
Volume 1145 cu ins or 18.8L
Weight 0.8lbs or 0.4kg
Mystery Ranch In and Out Backpack – Quality and Comfort
The In and Out is constructed from mostly 100D CORDURA® Mini Rip and this gives the bag great resistance to common types of wear while still keeping it relatively light. Coming in at 13 ounces it's certainly not the lightest packable bag on the market but I believe it strikes a great balance between durability and weight savings.
Obviously, this bag does not have an internal frame or back support system. Going into this review I thought this was going to be a real issue for me and the bag would be uncomfortable most of the time but I'm happy to report that is not the case, mostly. In my testing with this bag I used it for travel, trail running, climbing, and fast-paced day hikes. Carrying anything large or heavy like a camera (DSLR) on this bag was good as long as I packed the bag properly. This required me to make sure I placed softer items like a jacket on the interior back of the pack so the heavier items didn't always hit me in the back as I walked around. I don't think this is a dealbreaker but just something to keep in mind when packing up for the day. Overall I think this pack is very conformable and the contoured shoulder straps with adjustable sternum straps are very nice for their size. My one big complaint about this pack is that there is no hip strap. Once upon a time Mystery ranch did make a very similar back to the In and Out called the Ranch Ridge Ruck in a 25-liter configuration and this bag is functionally similar to the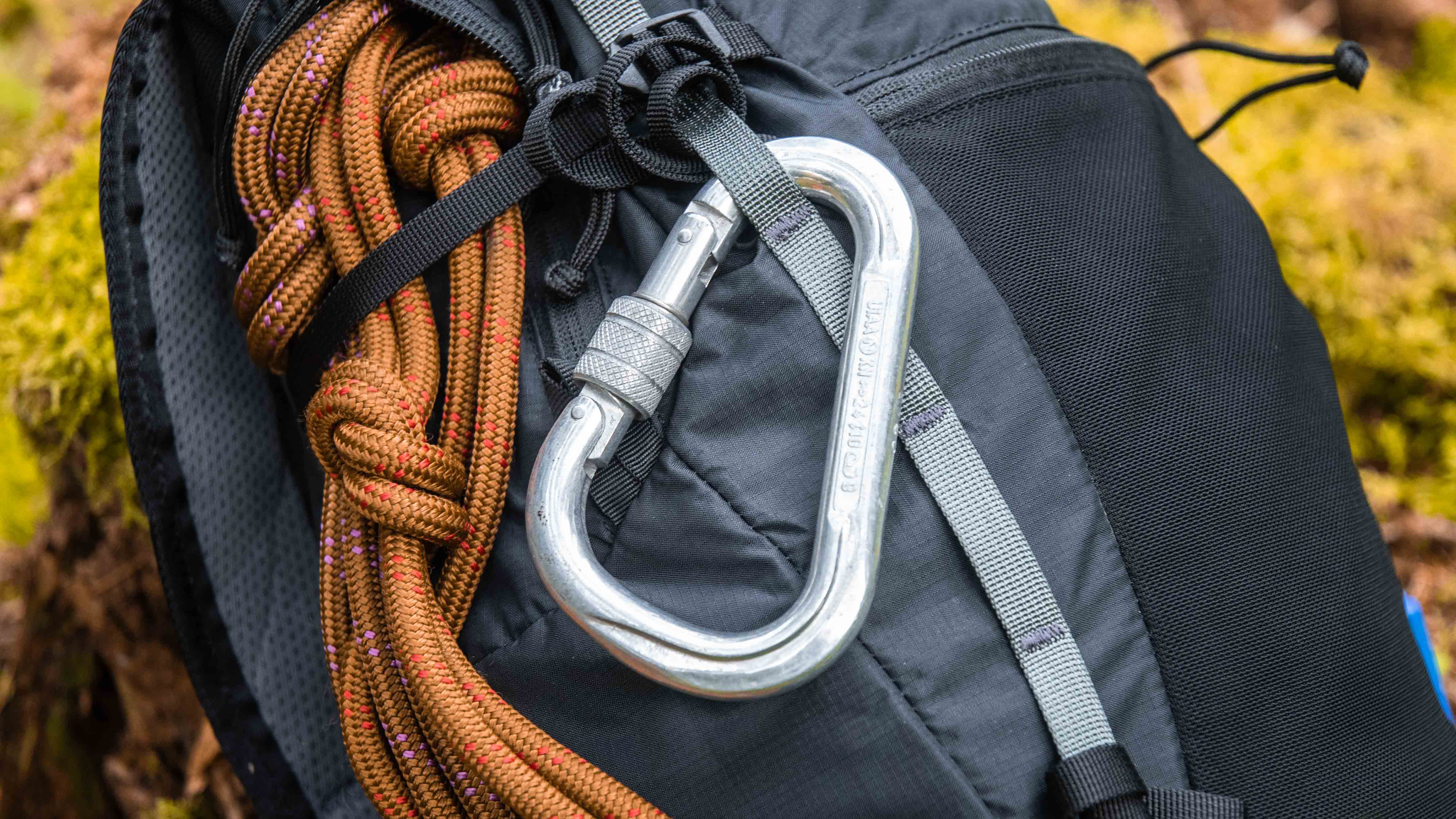 In and Out. The only big difference is the size and a dedicated wait belt. Maybe I'm in the minority on this feature became the Ranch Ridge Ruck is no longer in production.
For me, the In and Out really shine in a few very specific jobs or activities. For traveling especially when on planes, this bag is fantastic. You can load up your checked bag with all the stuff you don't need on your flights and then put what you need while in the terminal and on the flight in your pack. Personally, I hate having even a normal-sized backpack (20-30 liters) on tight flights as it usually steals away my already limited legroom.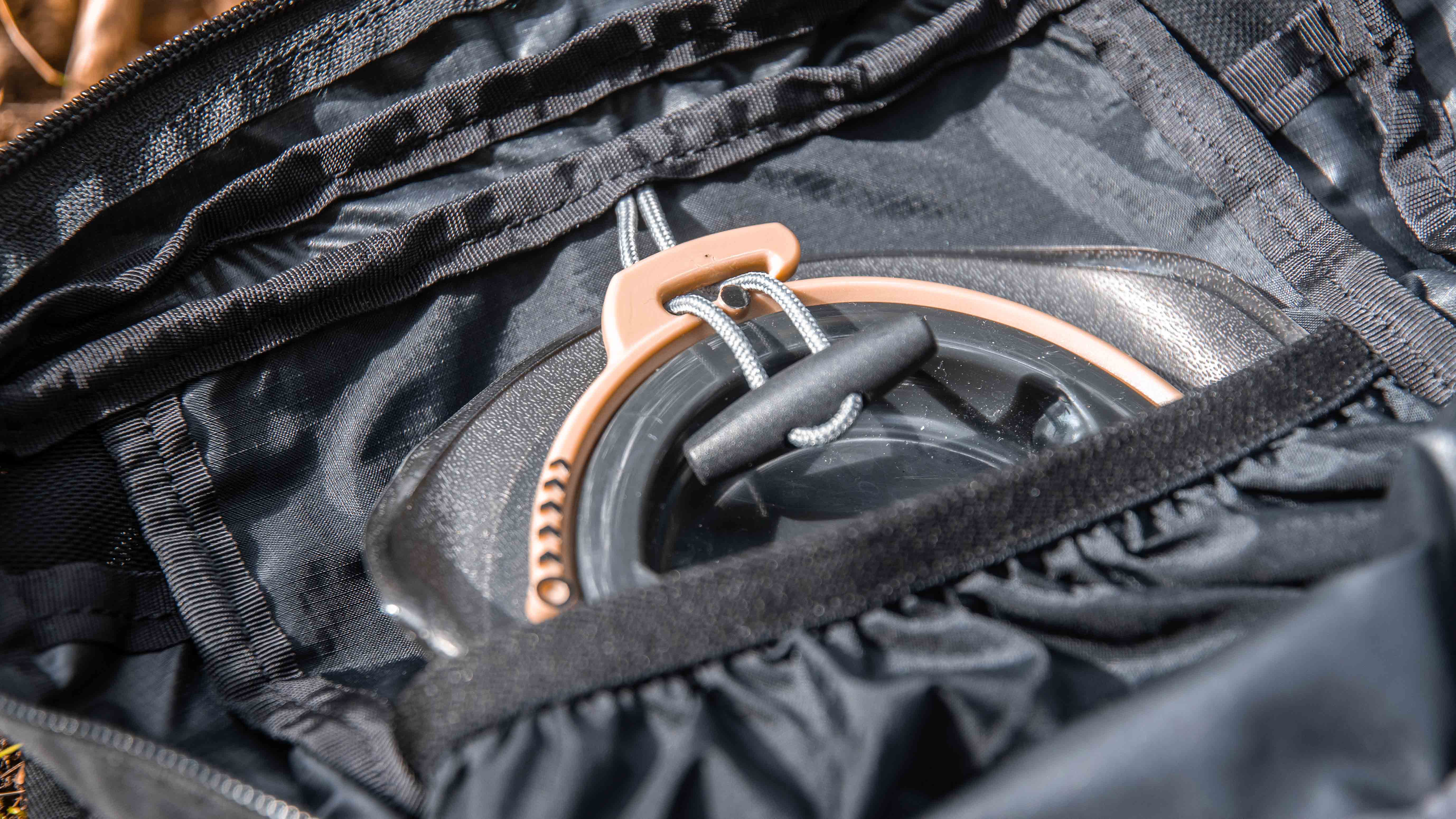 As an avid runner and hiker, I'm always trying to find the gear that is lighter for days on the trails. This pack is light and roomy enough for me to do a full day hike during the summer months. This really surprised me as I'm one of those people who usually brings everything but the kitchen sink on his day outings. When I transitioned to using this bag on my long day runs It worked great as it kept the weight on my back down and it provided me a place to put snacks and water.
Unfortunately, I can't fully endorse the pack for this activity to most people because of a few issues. The biggest one being there is no waist belt on this pack. When running you want there to be as little movement on your back as possible as not to impede you're running and so you don't have a big-hitting you in the back all day. The In and Out does offer a nice sternum strap with does help elevate this problem but not to the level of comfort on a dedicated running vest like the Salomon ADV Skin 12.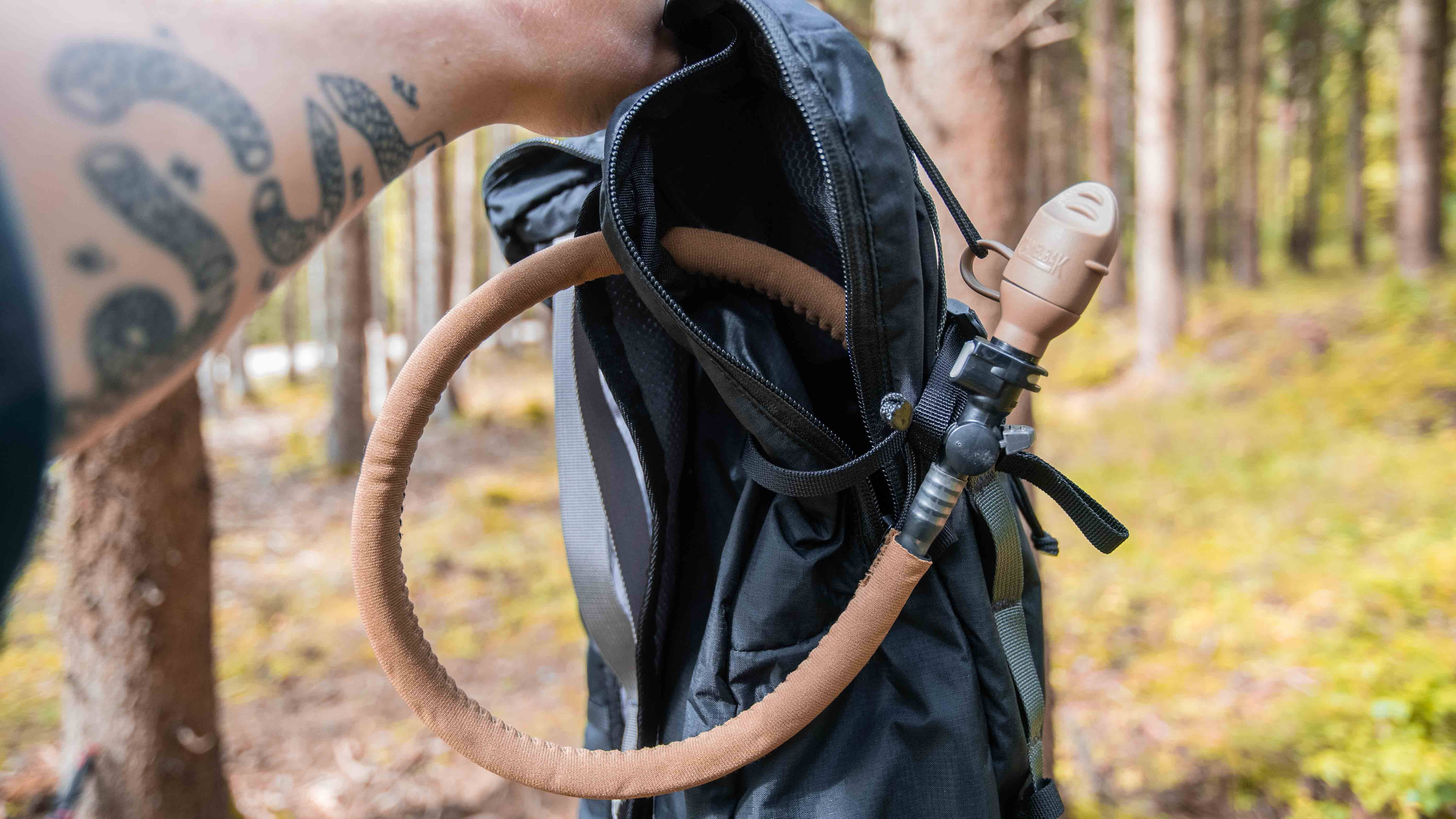 The other reason I don't endorse this pack for running is that you will quickly turn your hydration warm bladder as there is no thermal layer between the bladder sleeve and your back. So unless your exclusively running in the winter and need some warm water from your camel bak to thaw off your toes, I don't recommend this bag.
On the flip side, an activity where this bag really shines is in Climbing/Bouldering. There are plenty of attachment points on the exterior of the bag for ropes and harnesses or even climbing shoes. The pack is perfect for a day of climbing with space for extra layers and snacks while not being too big to weigh you downs or make you unbalanced during a climb.
Mystery Ranch In and Out Backpack- Organization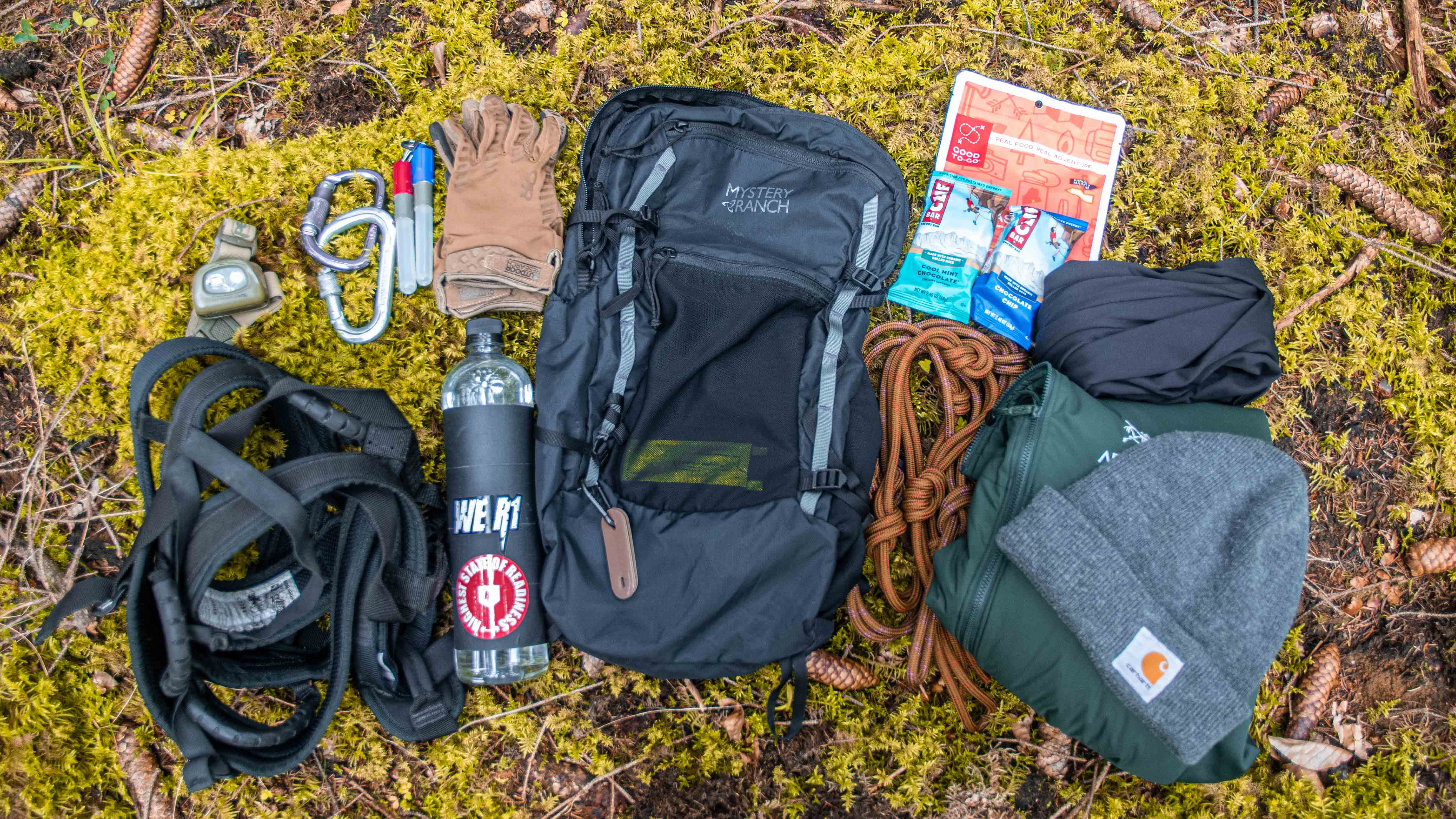 The mystery ranch in and out has a surprising amount of organization for a packable minimalist bag, in my opinion, the top of the pack has a very generous zippered pocket for your smaller items. Keys, sunglasses, and wallets fit well in this pocket. Directly below the previously discussed pocket is the mesh, zippered stuff pocket that the bag collapses into when that option is desired. The mesh pocket is also very large for the size of this pack but the only downside is that it's external meaning you shouldn't put anything in there that you don't want being seen or getting wet from the elements.
On the left side of the bag, there is a stretchy mesh side pocket that is good for hydration sources and bottles. Unfortunately, this pocket is very slim and will not fit any of your wider water bottles. I could fit a 20 oz hydro flask and a SMART water bottle in this pocket no problem but you're not going to be able to fit a Gatorade bottle in this. Rounding out the exterior of the pack we have daisy chain webbing running from top to bottom on the sides of the pack.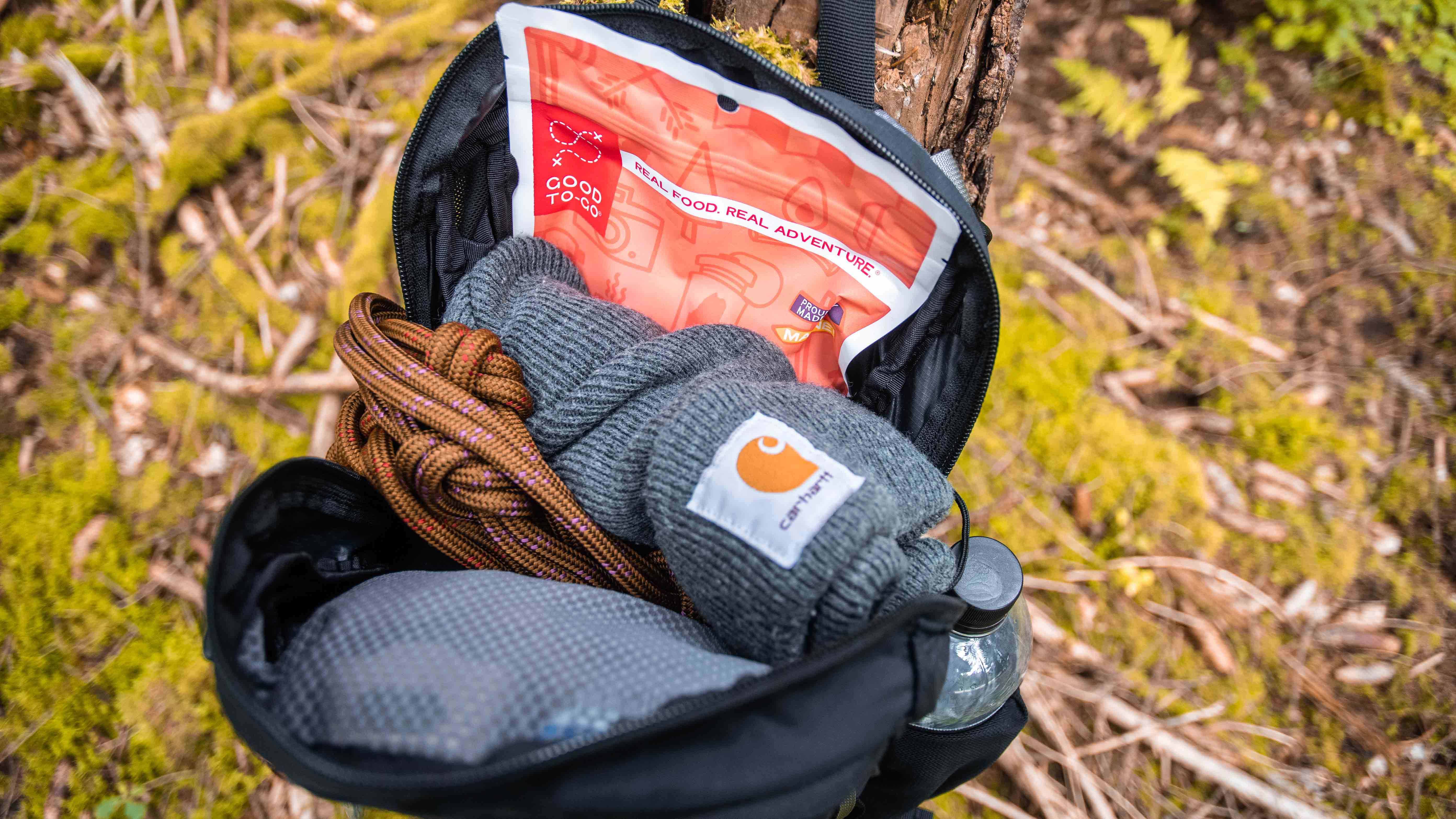 I appreciated this feature as it allows the user to attach attentional equipment that wouldn't normally fit inside this pack, like ice axes, tracking poles, or ropes. The interior of the pack is one large compartment that is a half clamshell design, with a very small slim sleeve designed for a hydration bladder. Overall I've been very impressed with the number of items I can conformably pack in this 19-liter bag. On one hiking outing, I was able to cram a small DJI Drone, extra jacket, base layers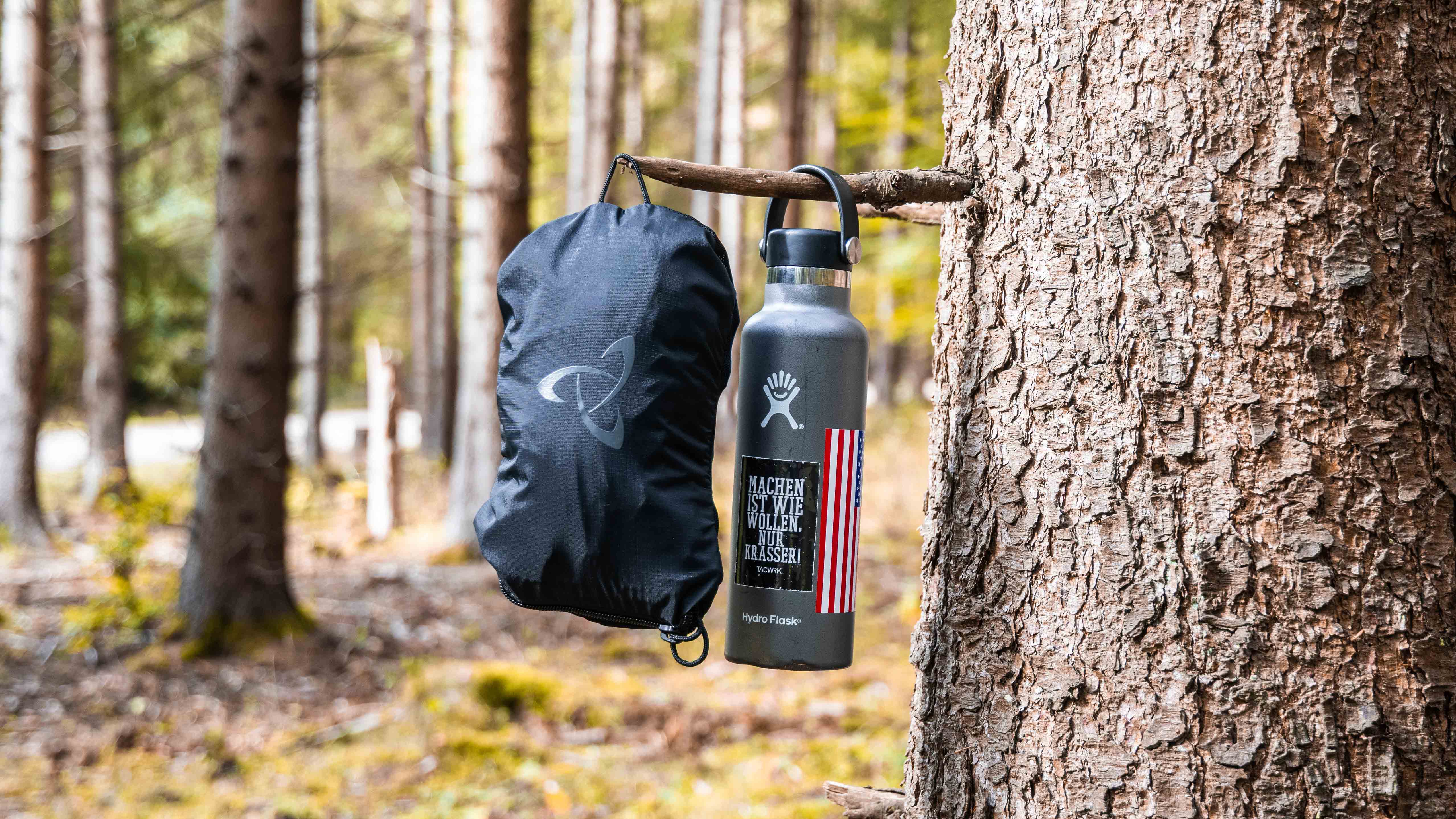 Likes
Price, very competitively priced and one of the cheapest Mystery Ranch packs you can get
Packability
Well thought out for most tasks
Lots of color options
Built like a tank with 100D CORDURA®
Dislikes
No Waste belt
Heavier than its competition
Water bottle compartments are small and slim.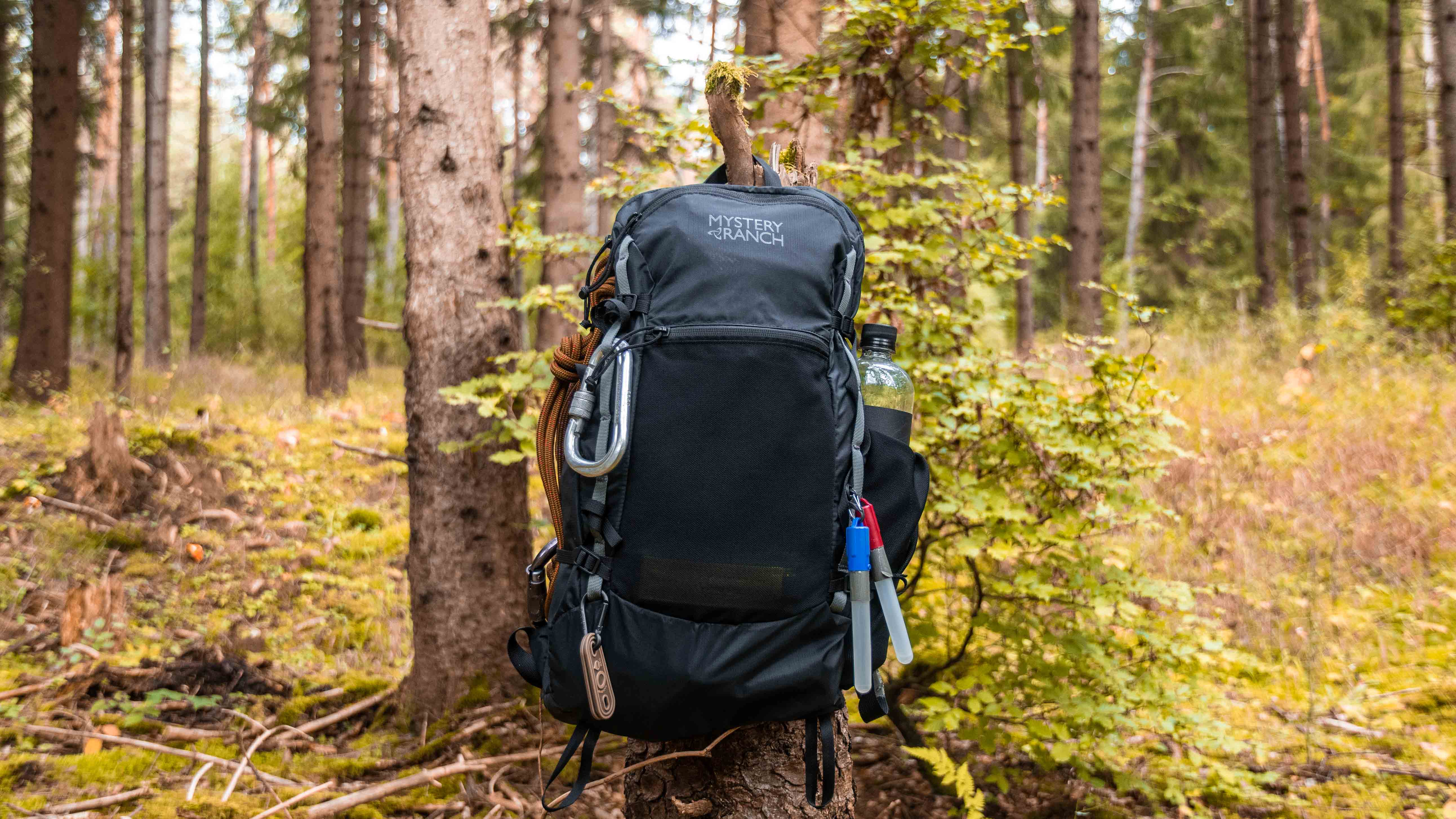 Mystery Ranch In and Out Backpack – Wrap-up
In my former line of work, I got to interact with a lot of gear-oriented people. On one of my assignments at a Special Forces sniper course in Austria, I noticed one of the instructors using the In and Out while moving up and down the range. During some downtime, I had a chance to speak to this instructor about the In and Out and why he chose it.
Now I didn't record our conversation his answer was something like this. "I like this bag because it is very versatile for its size, I can take it on vacations and work trips and it doesn't scream Tactical Operator. It fits everything I need and nothing more so it helps me pack efficacy." I think this sums up the In and out perfectly. It's a light, jack of all trades pack that you can stuff and hide away when you don't but pull out for when you do.