When it comes to our vehicles, how well equipped are they for your day? No seriously. If you live in the frigid tundra of Minnesota like myself you might pack a windshield scraper for that morning frost, maybe a compact/folding snow shovel (for unexpected, off-road excursions), and possibly a few Snickers in the glove box for good measure. What about other equipment? That word – "other" – is incredibly vague, but it all depends on what you believe you need to not survive, but thrive everyday. Sometimes you may need creative storage to bring along everything you think you need without it cluttering up your vehicle. That is where Gray Man Tactical comes in. They make storage solutions for your vehicles, backpacks, and other locations like your house and garage. More importantly, their uniquely crafted designs can store fire extinguishers, firearms, medical equipment, and more. So, today we are going to review one of their most popular product packages in the Gray Man Tactical Vehicle Seatback RMP package. Let's dive in!
Gray Man Tactical Coverage on AllOutdoor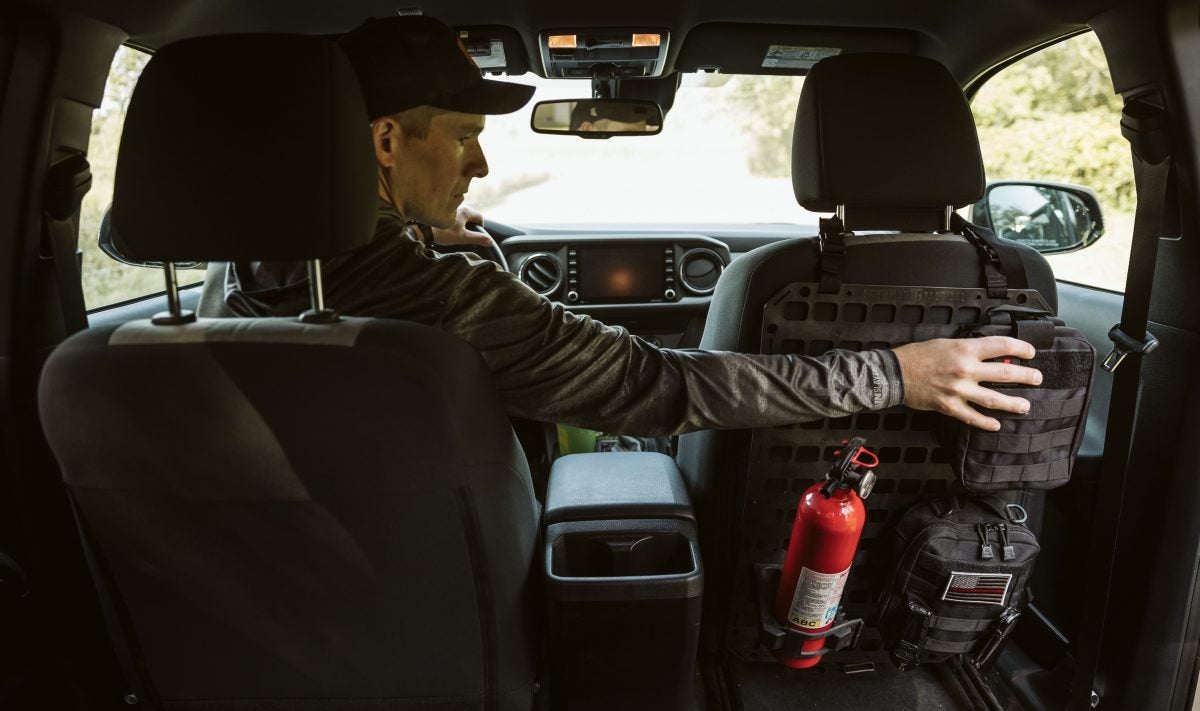 Specifications – Gray Man Tactical Vehicle Seatback RMP Package
If you are wondering if a cool Gray Man Tactical Vehicle Seatback package will fit your vehicle, any vehicle seat with seat back dimensions equal to or greater than 15.25″ wide by 25″ tall would work. Some common vehicles that it has been known to fit are boats, helicopters, compact cars, SUVs, and most trucks. When it comes to gear from Gray Man Tactical they have a unique à la carte buying process so you get to decide what you would like to have in the package you build and select. The 15.25 X 25 RMP with Headrest and Seat Bottom straps is one of their most popular packages, and you receive those base components PLUS one choice from three of their most popular attachment categories:
Option #1 [GEAR]

3″ QuickFist Clamp w/ Hardware (for Fire Extinguisher) or
Dual QuickFist Original Clamp w/ Hardware $48 (for Shovel, Ax, Maglight, etc)

Option #2 [UTILITY]
Option #3 [MEDICAL]

Empty Medical Tear Away Pouch or
Medical Tear Away Pouch w/ BaseMED First Aid Kit Fill
This is a $284 value that you get for $199 by kitting up. Start here to get your rig built and ready to roll.
Gray Man Tactical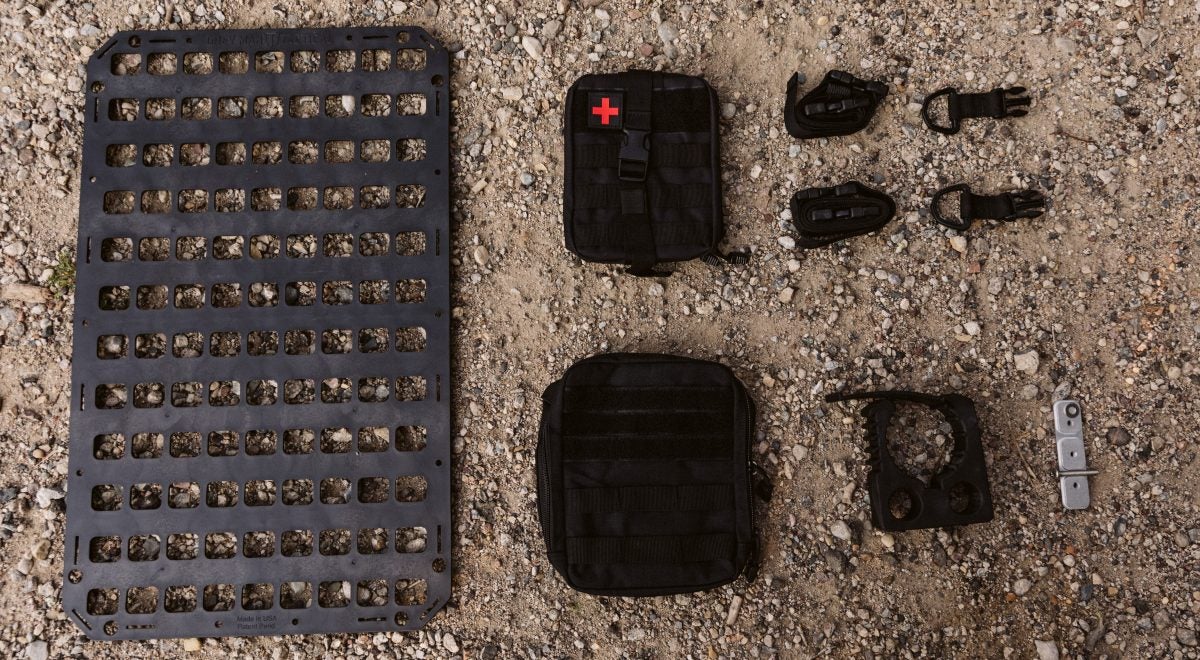 As an example for everyone here today, we have a couple of those options displayed at once to show how you can build out your vehicle storage solution. Gray Man Tactical always has your back – and in the rare event you ever need service – they will repair or replace any defective Gray Man Tactical gear at no cost to you. If something does not meet your specifications and you wish to return it, you can ship it back to Gray Man Tactical within 30 days for a refund of the purchase price (shipping costs, unfortunately, are not refundable). The package that we are reviewing here today retails for $219.99 and all Gray Man Tactical gear is made in the USA.
Field Use – Gray Man Tactical Vehicle Seatback RMP Package
Like many of you reading this, I wear many "hats" in my daily life. I manage a gun store, I am a firearm addict/gun writer, I participate in local government, and I am a firefighter. So, between my random daily activities and hobbies I am a "tool guy." I always have a truckload of stuff I believe I need (and probably a lot of stuff I don't). I – like many of you – am a target customer for Gray Man Tactical because they can cut through the clutter and bring sensible and intelligent organization to our lives.
I sought to check out the Gray Man Tactical Vehicle Seatback RMP Package because it could carry for me a small fire extinguisher, a large IFAK (Individual First-Aid Kit), and an additional tool pouch. Then, whether I am amongst friends, traveling for work, or generally running errands around my hometown, I can have a bevy of vital tools immediately available to me from the driver's seat.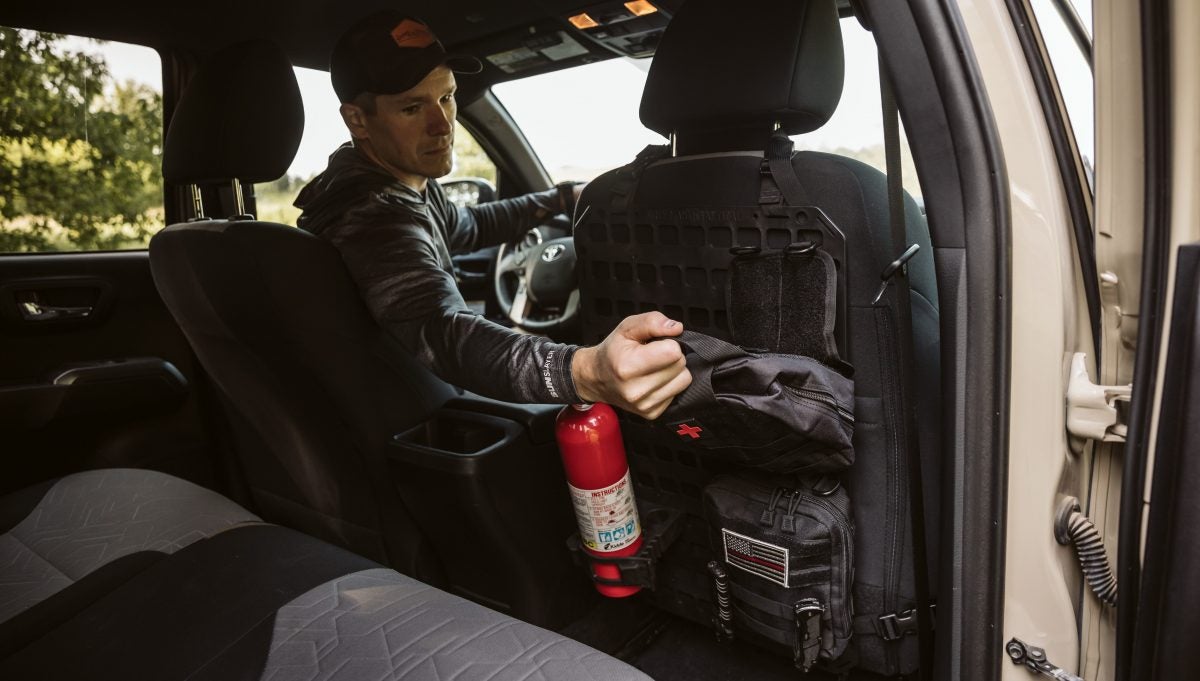 When it came to the installation of the panel and tie-down straps it was extremely intuitive. From start to finish it took maybe 5-6 to get this installed inside of my 2020 Toyota Tacoma truck. Then, it was simply up to me and my preference of how I wanted to layout the various items I had decided to store on the panel.
My logic was to have the fire extinguisher closest to the driver because that required more gross motor skills to unlatch (a strong rubber hook/bungee holds the fire extinguisher in place). The other gear of a large IFAK and tool pouch I could afford to have further away from the driver because they have tear-away packaging.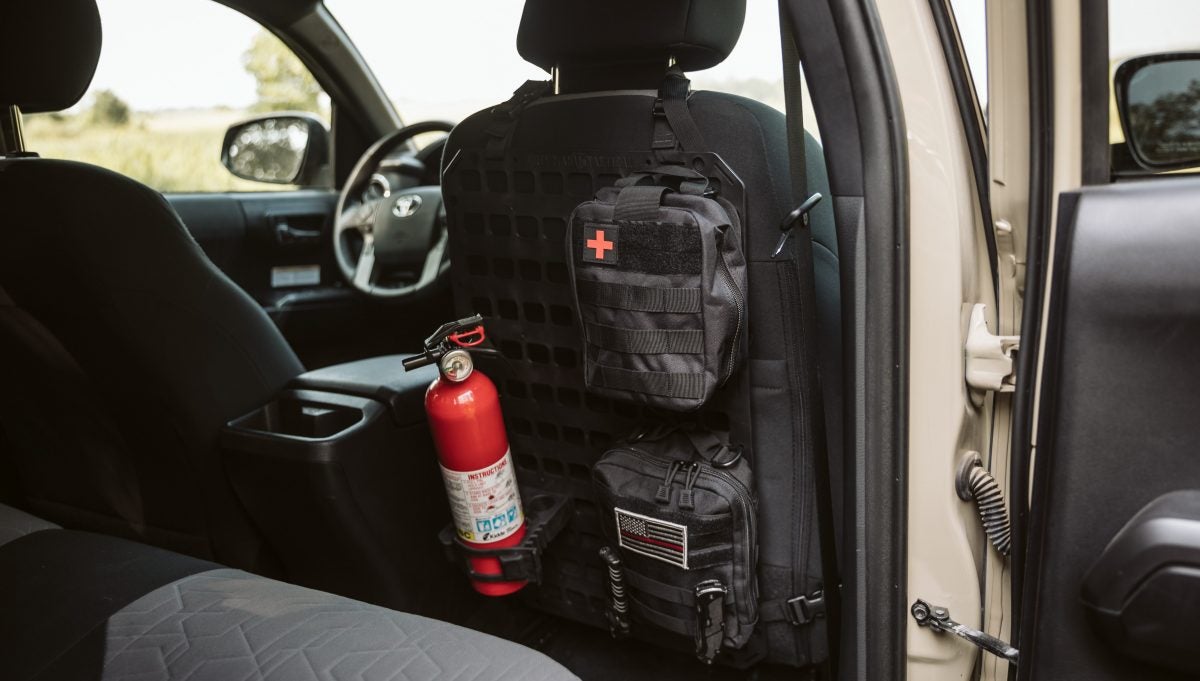 What I mean by tear-away packaging (my made-up word; not Gray Man Tactical's) is that some of their pouches are Velcroed into position and can be ripped away at a moment's notice or need. Or, other elements like the tool pouch have metal buttons that can just as easily pop free if you need equipment right away. In either scenario, smaller and slightly less vital tools can afford to be further away from the driver because they are easier to peel off the panel.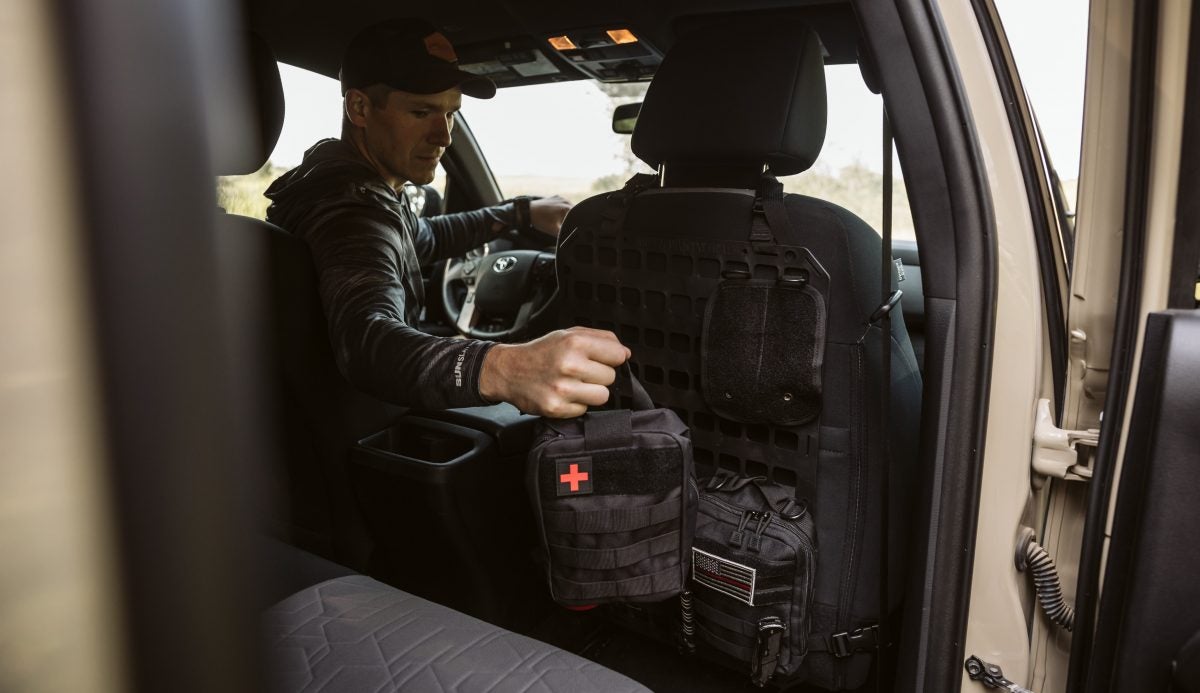 I have had the Gray Man Tactical Vehicle Seatback RMP Package in my truck for several months now and I like it a lot. If someone actually needs to sit directly in front of the Gray Man Tactical Vehicle Seatback RMP Package you can move the front passenger seat forward and there is, in fact, enough room in the back for a passenger (not a child, but an actual adult passenger).
I also do a lot of ranching, hunting, and gear reviews similar to this so I am continually chucking random gear in my back seat. Some stuff ricocheted off the side of the Gray Man Tactical setup, some stuff squished it, and other things squashed into it. All the while none of my Gray Man Tactical stored gear came loose or incidentally fell off; it all stayed in place as intended.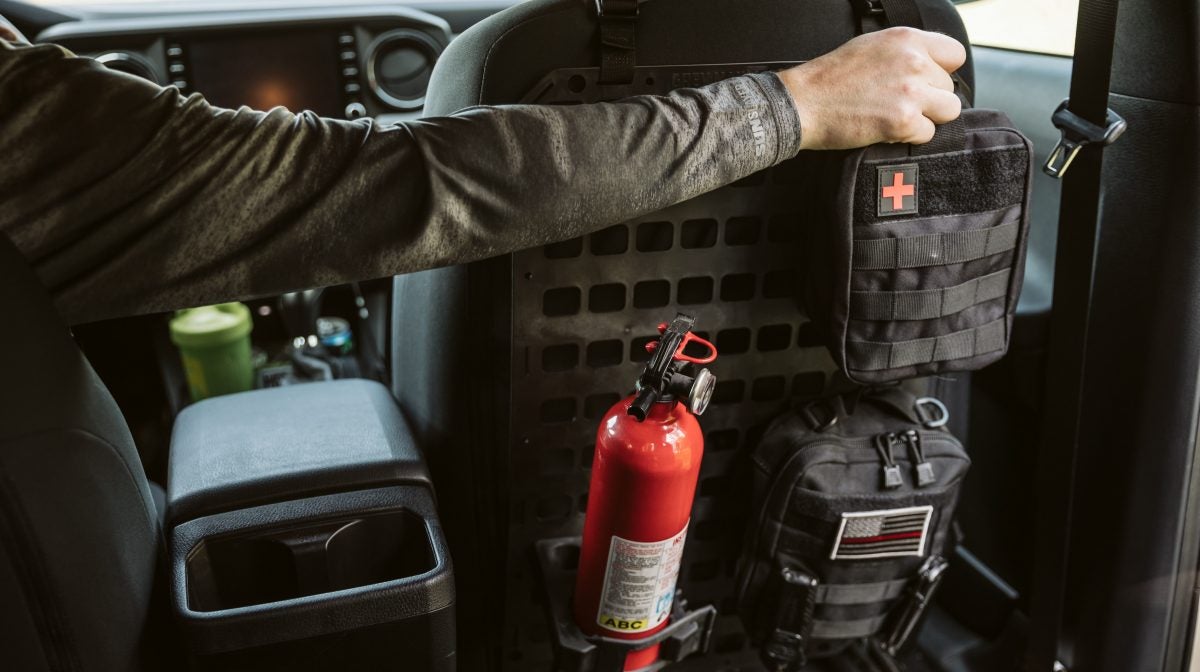 Final Thoughts – Gray Man Tactical Vehicle Seatback RMP Package
So, what are my final thoughts on the Gray Man Tactical Vehicle Seatback RMP Package we have reviewed here today?… Overall, it performs as advertised, I don't see anything comparable on the market in this type of storage category, and for what the Gray Man Tactical Vehicle Seatback RMP Package is, the asking price of $219.99 is not too much in mind. The value, security, and thoughtful design is absolutely. For anyone who wants to carry a fire extinguisher, medical equipment, other tools, or even a firearm, I highly recommend the offerings that Gray Man Tactical has to offer.
In closing, I want to say thank you to Gray Man Tactical for allowing AllOutdoor and myself the opportunity to try out their Gray Man Tactical Vehicle Seatback RMP Package. That is greatly appreciated. Also, we would like to know what all of you guys and gals think? Do you believe that the Gray Man Tactical Vehicle Seatback RMP Package is something worth spending your money on? Would you use it for work, put it in a four-wheeler/side-by-side, or look to more creatively attach it somewhere in your garage or shed? As always, let us know all of your thoughts in the Comments below! We always appreciate your feedback.