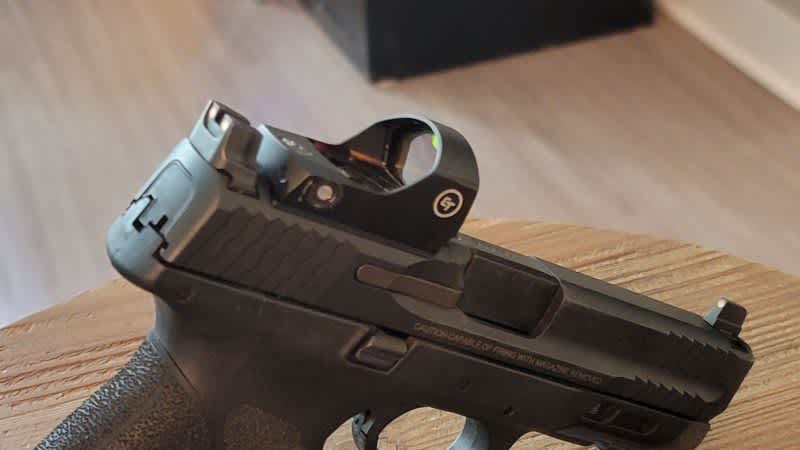 +
–
Table of Contents

1. Trijicon 6.5 Red RMR Type 2
SALE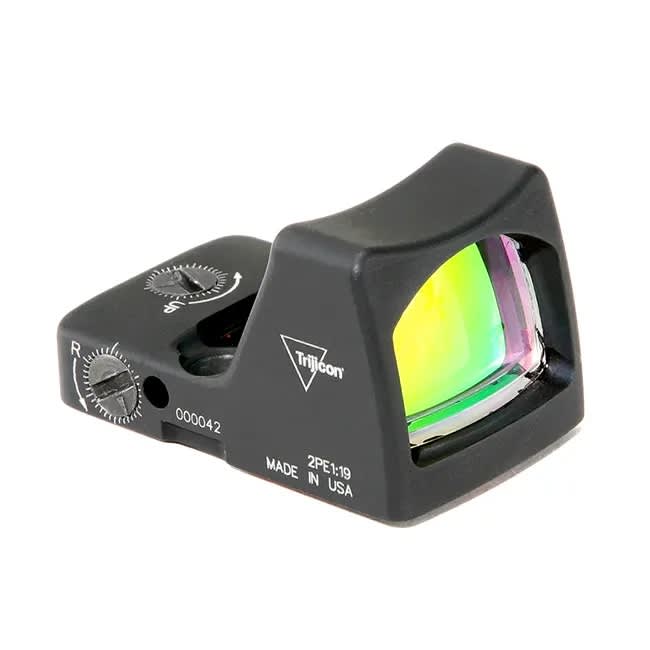 The Author's Pick
Possibly the very first pistol-mounted red dot to see widespread adoption, the Trijicon RMR Type 2 is a durable, dependable and high-quality red dot optic that can do just about anything. It is a popular choice as a backup optic for rifles, a dedicated duty optic for law enforcement, the military, and a common choice for concealed carriers and competition shooters as well. The Trijicon RMR excels at durability and battery life is made from a durable one-piece aluminum frame and featuring very intuitive windage and elevation adjustments, the RMR can do just about anything you want it to.
Pro/Extremeley durable with up to 2-years of battery life on a medium setting.
Cons/On the higher end of cost when it comes to pistol mounted red dots.
Bottom Line/When your life depends on something and you want a red dot optic that can keep up with any situation it finds itself in, the RMR is the way to go.
2. Holosun HE407K-GR-X2
SALE
Splitting the middle of "cheap" and "high end" is the Holosun HE407K-GR-X2. Holosun has been gaining a lot of favor within the firearms community after a fairly rocky start to its debut within the US. Holosuns are made in china but they are still quite durable and reliable. The HE407K-GR-X2 features a green laser and if green isn't your flavor then they also have a red version as well. Holosun's red dot optics also feature "shake awake" technology which helps to conserve your battery life so you have to worry less about having to swap it out. The HE407K-GR-X2 is meant for the newest breed of micro-compact red dot ready pistols.
Pro/Ultra small footprint and affordable to boot.
Cons/Made in china, optic's window is much smaller than a 507K or a Trijicon RMR.
Bottom Line/An affordable and reliable option for micro-compact concealed carriers – if you get one make sure you train with it.
3. Leupold DeltaPoint Pro
SALE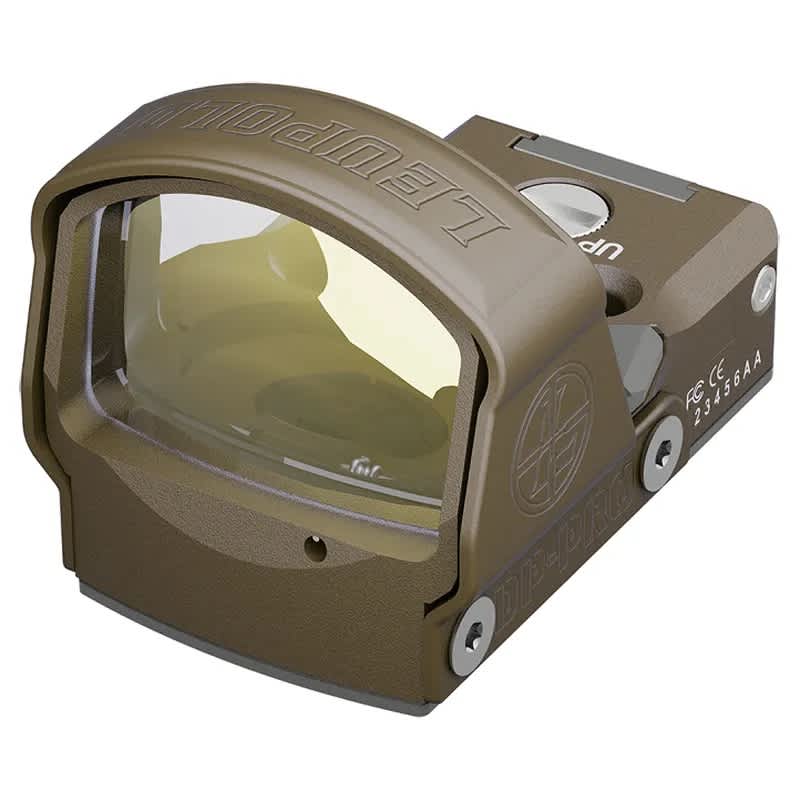 The Leupold DeltaPoint Pro Reflex sight makes for one of the best aiming solutions for nearly any weapon platform. Its compact size makes it pistol compatible but is still rugged enough to tolerate heavy recoil for use on shotguns and rifles. Regardless of the platform, the DeltaPoint Pro delivers a wide field of view for rapid target acquisition and accurate shot placement. Delta point pros tend to be most popular within the concealed carry and competition worlds from my observations.
Pro/Wide viewing window making it suitable for use on almost any platform
Cons/Quality control has mixed reports depending on who you talk to
Bottom Line/A great option if you just want to use one dot for multiple applications
4. Crimson Trace RAD Micro Pro
SALE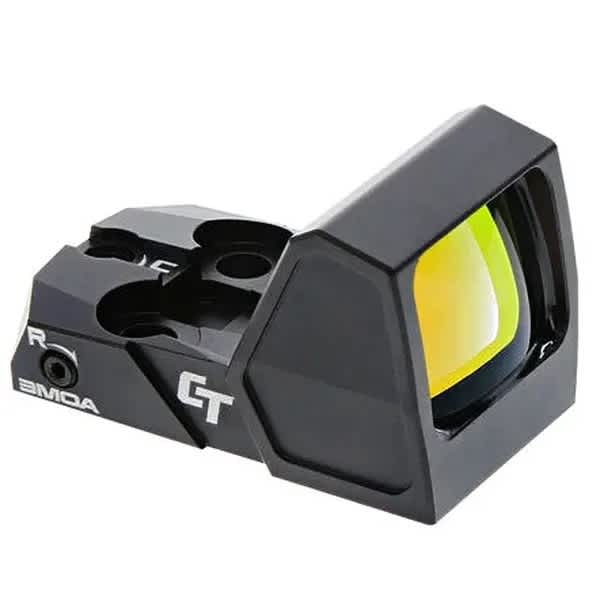 My self and TFBTV's Hop got a good look at the new CT RAD Micro Pro and its bigger cousin the RAD pro at SHOT 2022. Both optics are the latest offerings from Crimson Trace and they really demonstrate that the company has made massive improvements to both its quality control and its development process. The result of those improvements is the new CT RAD lineup which features shake-to-wake technology, an auto-adjusting brightness setting, and a rear notch cut in the back to co-witness with your existing iron sights. Crimson Trace even made accommodation for 3 different night vision settings which is something that not even the Leupold Delta Point pro does and something that the Trijicon RMR series has been doing for years.
Pro/Ambient light sensor to audto adjust the dot brightness to the best setting, small form factor similar to an RMR or RMRcc
Cons/New product, jury is still out on whether or not these will prove to be reliable in the long term
Bottom Line/A great new optic on the market which gives you further options in terms of price and feature choices
5. HOLOSUN HE507C-GR X2 Green Circle Dot
SALE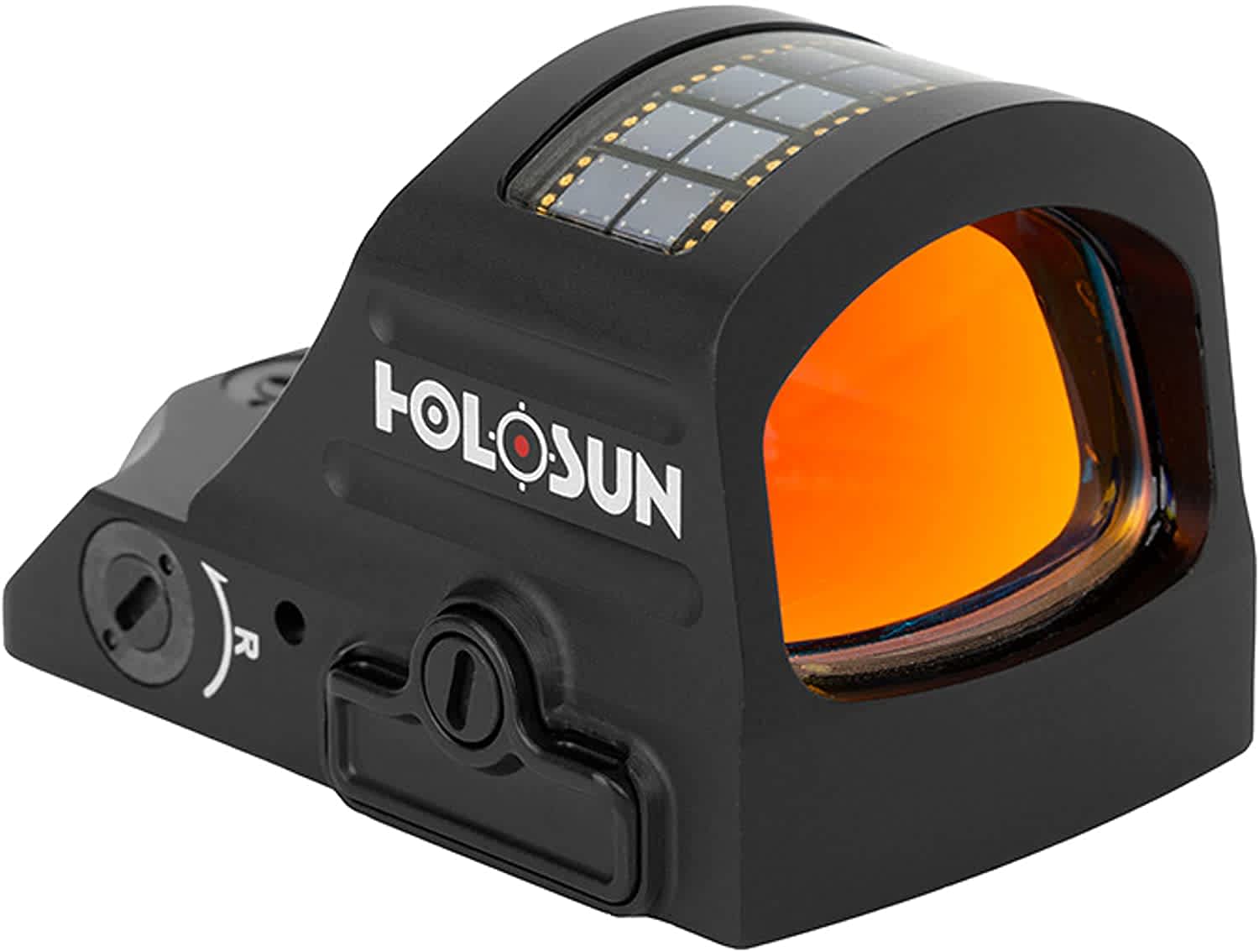 A great addition to the 507 lineup of Holosun's optics and a larger version of the 407K that we talked about earlier. The 507c is a great choice for compact-sized pistols like the Glock 19. This version of the 507 features an easier-to-use dot due to its "circle dot" design which still features the familiar center dot but with a much larger 32 MOA circle around it meaning you can more easily find the dot if you don't get it right from the draw. Like other Holosun optics, the 507 also has a solar failsafe which can keep your circle dot alive even if your battery runs out.
Pro/Solar Failsafe, Easy to use circle dot design
Cons/Still made in china
Bottom Line/A great dot for concealed carry or those who are new to carrying with a red dot
6. Trijicon SRO
SALE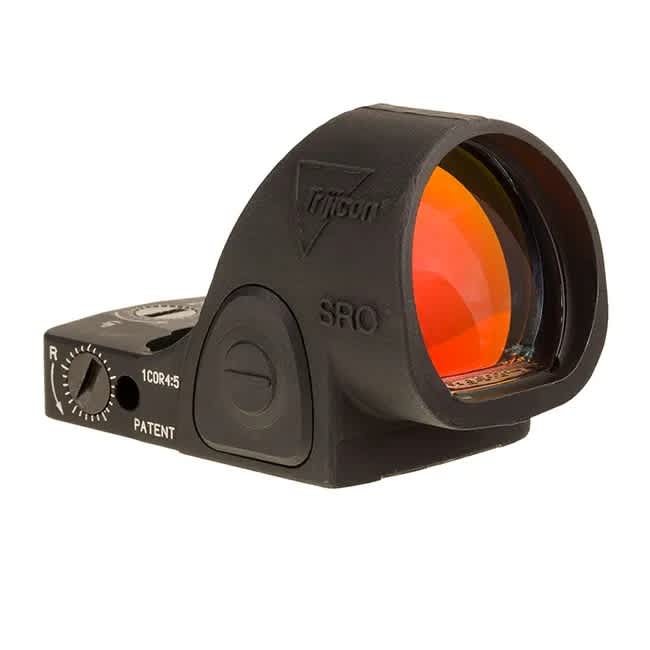 The Trijicon SRO (Specialized Reflex Optic) is specifically designed for pistol use. Improve shooting accuracy and speed with the wide circular field of view and clean, crisp dot making it easy for users to find and track while shooting. Every SRO has 8 brightness settings with "Lock-In" and "Lock-Out" modes and 3-year battery life. The SRO similar to the Trijicon RMR easily mounts to popular red-dot-ready pistols, is compatible with most RMR mounts, and does not require a sealing plate. There is no need to dismount the optic for battery changes with a quick-change top-loading battery.
Pro/Extremely efficient dot with a large window, lots of features, and a top loading battery tray
Cons/Much taller than other red dot optics and not quite as durable as its cousin the Trijicon RMR
Bottom Line/A great competition red dot but also makes for a great hunting optic due to its combination of large window and top loading battery tray
What is the best size for a pistol mounted red dot?
My advice would be to have a larger dot for defensive use or close-range shooting. At closer ranges, this will allow you to have a faster time to target speed and still give you enough precision to reliably hit your target. If your aim is to hunt then you could get a model with a smaller red dot for more precision. These are usually smaller dots like 2.5 to 3 MOA in size and they can be insanely precise even at long ranges when properly sighted in.
What is considered "good" battery life for red dots?
The unwritten industry standard for what constitutes a good red dot battery life is around 50,000 hours of battery life. However, with improvements to the technology, there are now pistol-mounted red dots out there that are getting even more battery life than that with regular use. Even if your red dot advertises a certain amount of hours for it to operate, I would still schedule your battery swaps on a regular basis at least a month or two in advance of your anticipated change date just in case you have a bad battery or something else has gone wrong – better safe than sorry!
Should I have a co-witness for my red dot?
The short answer here is yes. However, it's not strictly necessary if you can't manage or afford it. However, as advanced as red dot optics are and as durable as many of them are, there is always a chance that they could become damaged or be rendered inoperable by unforeseen circumstances. In case that happens, you'll be happy that you have backup iron sights that co-witness with your red dot.
Some red dots that normally replace your rear iron sights incorporate their own set of rear irons so that you don't have to have both on your pistol. If your pistol has a red dot cut on it that doesn't remove your rear irons, then there are now dedicated co-witness sights out on the market at various heights depending on how high you want your co-witness to be.
We are committed to finding, researching, and recommending the best products. We earn commissions from purchases you make using the retail links in our product reviews. Learn more about how this works.